Quick Tips for Writing Emails That Make It Through the Blockade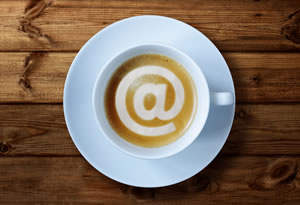 "A bad email reputation is like a hangover — hard to get rid of, and it makes everything else hurt."

— Chris Marriott
Email marketing has become such an integral part of virtually every business's marketing strategy. And, there's a laundry list of considerations that go into making email marketing successful.
Copy structure … tone of voice … format … purpose … spam filters … and more.
So, I asked myself what's the most overriding desire of email marketers? What needs to happen first and foremost when it comes to email marketing? The answer became apparent when I saw the following quote from master copywriter, Nick Usborne:
"The need to get it absolutely right increases day by day. It's not just that everyone is receiving more and more emails from companies online; it's that most of those emails are intrusive, unwelcome, and uninvited … when that happens, when customers feel that the majority of emails they receive are uninvited, it poisons the pool. The email inbox — once that most personal of places becomes clogged with messages, people simply don't want to read." "Intrusive, unwelcome, and uninvited …"
Bingo! That pretty much says it all.
You could be giving something away, but if the message is viewed as intrusive, unwelcome, and uninvited, no one is going to stick around long enough to take you up on your offer.
So, the answer to what's the most overriding desire of email marketers is simple: It's for the email recipient to, first and foremost, welcome the email into their inbox.
One of the primary factors in determining if that happens is how reader-friendly the email is, including all of its components.
What follows are 13 proven techniques for maximizing the number of email recipients who are willing to read your email and click on the links it contains (or otherwise respond to your call to action). If you concentrate on implementing these techniques, your response rates are sure to surge.
1) Craft a compelling "SUBJECT" line — Every email needs a "SUBJECT" line. This is common knowledge. But as a copywriter, you need to think of the subject line in terms of an envelope teaser. You want to make it short, attention-grabbing, and curiosity-arousing. When your prospect sees it, they should feel compelled to read further. But you don't want to write a subject that's so promotional and filled with hyped-up language that it turns them off. This is the place to pique reader interest by alluding to a big benefit. Save the sales language for later.
One more thing about the subject line: Despite the fact that the word "free" is a proven, powerful response-booster in traditional direct marketing, knowledgeable marketers avoid FREE in email subject lines. Subject lines using the word FREE can trigger spam filter software and may prevent your email message from reaching your recipient.
2) Identify the sender in the "FROM" line — The "FROM" line identifies you as the sender if you're emailing to your house file. If you're emailing to a rented list, the "from" line might identify the list owner as the sender. Some digital marketers think the "from" line is trivial and unimportant, while others think it's critical. I tend to agree with the latter.
Anything that's included as part of your email should serve to validate you or the company you're working for. Internet copywriter Ivan Levison often uses the word 'Team" in the "from" line preceded by the company name. For example, one of his "from" lines might read, "FROM: The Dreamweaver Team." It makes it sound as if there's a group of bright, energetic, enthusiastic people standing behind the product.
3) Lead with a big benefit — Once you have your reader into the body of your email, the next step is to propose a big benefit right up front. One way to do this is to lead off your copy with a killer headline or lead-in sentence. You can tie this into the benefit you're presenting in your subject line, if desired. Pretend you're writing a headline for a direct sales letter. With the extremely limited amount of time an email recipient spends deciding to read your email or move on, you need to capture their attention immediately and in a big way.
4) Summarize your message in the first paragraph — Deliver a mini-version of your complete message in the first paragraph of your copy. This is similar to a "lead" in a direct-response letter. Except where the lead is intended to pique a reader's interest, the first paragraph in an email should state the offer and a way to respond immediately following it — like an order button. Taking this approach will help you get a response from prospects with short online attention spans.
5) Follow the first paragraph with detailed information — After the first paragraph, present expanded copy that covers the features, benefits, proof, and other information the buyer needs to make a decision. This appeals to your prospects who need more details than a short paragraph can provide.
6) Repeat the offer and call-to-action — Similar to a traditional direct-mail letter, the offer and response mechanism should be repeated in the close of the email. Unlike direct mail, however, they should almost always appear at the very beginning, too, as well as dispersed throughout longer emails. That way, busy Internet users who don't have time to read your email in its entirety can click through to your purchase link at the point where they have enough information to make a buying decision.
7) Make the first two response links the strongest — If you put multiple response links within your email message, it's likely that 95 percent of click-through responses will come from the first two. In most cases, it's smart to limit the number of click-through links in your email to three. An exception might be an e-newsletter or "e-zine" broken into five or six short items, where each item is on a different subject and so has its own link.
8) Use wide margins — You don't want to have weird word-wraps or line-breaks. This is a danger when sending text-only emails. Limit yourself to about 55 to 60 characters per line. If you think a line is going to be too long, insert a hard return. To be safe, set your margins at 20 and 80, which will keep sentence length to 60 characters and ensure the whole line gets displayed on the screen without odd text breaks.
9) Keep all-cap words to a minimum — Words written in capital letters can be a little hard to read. Also, in the world of email and online communication in general, ALL CAPS GIVES THE IMPRESSION YOU'RE SHOUTING. If you need to use an all-cap word here and there for emphasis, that's fine. But use them sparingly.
10) Watch the length of your emails — In general, shorter is better. This means your writing must be extremely tight. Email is not like a classic direct-response promotion, where the rule of thumb is "the more you tell, the more you sell." Email is a unique environment. Readers are quickly sorting through dozens or hundreds of messages a day. They aren't inclined to stick with you for a long time, so make your message as brief and compelling as possible.
11) Get to the point quickly — Regardless of your email's overall length, get the important points across quickly. If you want to give a lot of product information, add it further down in your message. People who need more information can always scroll down for it. Communicate the key benefits and the offer as early in the email as possible.
12) Use a friendly tone of voice — Your tone should be helpful, conversational, friendly, informative, and educational. Not promotional. Trying to sell readers with a traditional hyped-up sales letter embedded in an email rarely works. Which isn't to say you can't sell in an email. Just keep it conversational. Back up your claims. And make every message exciting … or at least interesting to read.
13) Include an opt-out device — This is very important: Include an opt-out statement for recipients who no longer want to receive emails from you. State that your intention is to respect their privacy, to only send them messages they want to receive, and to make it easy for them to get off your list if they wish to.
Remember, despite the proliferation of spam and resulting spam laws, and despite assumptions about the validity of email marketing and whether it can work, enormous opportunities in email marketing remain untapped. Why shouldn't you be the one that takes advantage of it? These 13 techniques will have you pointed in the right direction.
Till the next time, good health and good writing!
This article, Quick Tips for Writing Emails That Make It Through the Blockade was originally published by Wealthy Web Writer.

The Professional Writers' Alliance
At last, a professional organization that caters to the needs of direct-response industry writers. Find out how membership can change the course of your career. Learn More »

Published: April 19, 2017