Yes, You Can Build Your Own Freelance Website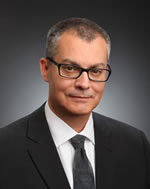 Jim Wright
I spoke with a friend last evening and found out she's losing her job at the end of the month.
I also know she's had an idea to start a service and consulting business for a while now. So, I mentioned this might be a great time to take that more seriously.
She had already taken a few steps toward that goal — creating a Facebook page and Twitter account for her new venture.
But when I asked her about her website, she told me she didn't have one yet.
Of course, my first thought was, "she really needs a website!"
Almost like she knew what I was thinking, she looked at me and said, "I know … I need a website."
When I asked why she didn't have one yet, she explained that she didn't really know how to go about getting started, and feared it might be too technical.
"It used to be," I said, "but it's easier now than it used to be."
"But you're a technical person," she said, "That stuff's easy for you."
And to a certain extent, she was right.
But, I have a confession to make …
It didn't seem so easy to me when I first started freelancing.
Yes, I had the benefit of years of tech experience, but new technologies, as much as they can make things easier in the long run, also have a quirky way of leveling the playing field.
Let me explain.
Although I had been dabbling with websites for years, when WordPress first came along, I didn't really know anything about it. So, from that point of view, I was essentially starting from scratch.
Content Management Systems (CMS) in general, and WordPress in particular, were a new way of doing things … with new things to learn.
But here's what I found. And it's good news for my friend … and for you, especially if you haven't put up your own freelance writing website yet.
In the old days (if you can call the late 90's the old days), it might have taken months or maybe even years to master the coding skills and tools required to build your own website.
But with WordPress and modern hosting companies, what used to take months or years, now can be learned in weeks, or even days.
I know. I've done it myself … in just four days.
And what I gained, in addition to my new website, was a sense of pride in doing it myself, and more than that, a sense of confidence and faith in myself which has since carried over to new endeavors.
Want to know how I conquered my early frustrations? By getting the right help.
And for me, that help was the Build Your Freelance Website in Four Days Webinar Series from AWAI. I followed along with Rebecca, and Nick Usborne, and they showed me both what to do and how to do it.
With their help and support and feedback, I created my WordPress freelance website. And it is mine.
And that's important.
As wonderful as Facebook, Twitter, and LinkedIn are (and I can barely keep track of all the new platforms out there), the one problem with all these is they're not yours.
Though I wouldn't put any money on any of the big three disappearing anytime soon, in reality, you don't have ultimate control over all these platforms. It's like building your house on someone else's property — something Brian Clark from Copyblogger refers to as 'Digital Sharecropping.'
But your website, is, well … yours.
It's also your first and best sample for potential clients. And for many people, your website acts as your "Director of First Impressions."
Websites have long ago passed from "nice-to-have" to "must-have."
So now you know … yes, you need a freelance website.
And yes, if I can do it, you can do it!
I not only built my own freelance website, I now build websites for my clients all the time.
Today, there's no reason to shy away from building your own website … especially when you have the right resources and support.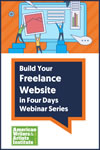 Build Your Freelance Website in Four Days
No matter what niche you're in, if you're a freelancer, you must have a website that showcases what you do. You can launch your own professional website in just 4 days. Experts show you every step. Learn More »

Published: April 11, 2017