4 Easy Ways to Get to Know Your Target Audience Better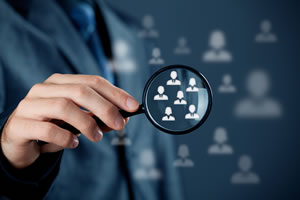 Determining your niche is only the first step in building a successful marketing strategy for your web-writing business. Once you've decided on your niche, your next step is to research your target audience. In other words, your niche's niche.
Before discussing some research ideas, I want to make sure we're on the same page. A niche or target market is the group of people or the industry for whom you wish to write.
For example, I write for industrial manufacturers, particularly focused on the mechanical, electrical, and safety fields. I chose that target market because I have 30 years' experience in that industry. More on that in a moment.
Some people consider a writing format to be a niche. I don't. To me, that's more of a specialty than a target market. Yes, you can focus on a writing format such as white papers, case studies or email marketing.
However, it's easier if you also concentrate on a market or industry.
You'll discover why as we discuss these research tips for getting to know your target audience … the people your ideal clients want to reach.
Tip #1 – Start with your client's website
Or, if you don't have a client yet, start with the website of a company in your target market. (This is one of the reasons choosing a niche is so important — it's hard to research an audience if you don't have one to begin with.)
Go to their website and read it. Study it to see what types of products or services they offer. Read their blog articles and download some case studies or white papers, if possible.
I know what you're thinking.
"Steve, this sounds like you're telling me to research my niche, not the audience. What's up with that?"
I want you to understand something. You're not riding in on a white horse and saving the day for your client. You're not telling them what their customers and prospects need to hear.
They. Already. Know.
Unless they're a brash, young startup, they know their audience inside and out. They've developed products and services to fill their needs. Therefore, what they have on their site is the result of their own market research.
What most are looking for is help generating the reams of high-quality content necessary in today's online marketplace.
Or, they may need help putting what they know into words their audience will appreciate and understand.
Don't try to reinvent the wheel. Take what they've done and drive it more effectively.
When reading their articles or blog posts, don't forget the comments. For the most part, these will be from actual customers or prospects. They often express genuine concern or praise.
It's a wonderful place to mine for audience research gold.
While we're still on their website, don't forget the Frequently Asked Questions or FAQs.
Why?
Well, because they are … frequently asked questions, that's why! Think of it. Your target audience has already contacted the company with questions. And the company is handing out the answers.
Personally, I often print out or copy this page to use as a reference.
Tip #2 – Talk to sales and customer service
This treasure trove of information is often overlooked. But, if you want to peer deep inside your audience, here's where to dig.
After all, who better to give you the insider's look at your audience than the people who deal with them directly? Who actually talk to them on the phone and answer their questions? It's a golden opportunity to ask the questions your client might be hesitant to answer.
If you really want to know what makes your audience tick, this is where to put your stethoscope. Sales and customer service representatives have their fingers directly on the pulse of your target audience.
So, what should you ask them?
That's going to depend on the industry and who the audience is. That's one reason I chose my target market. I've been in the industrial manufacturing industry for over three decades. I've been the ideal customer.
Believe me, I know what to ask.
But you do want to find out what concerns the audience. What keeps them up at night. What delights them. Craft your questions to squeeze out as much about your audience as possible.
Don't worry … most sales and customer service reps are more than willing to tell all. In fact, you may have trouble getting off the phone once they get started!
But, let's move on to another valuable resource.
Tip #3 – Extra! Extra! Read all about it!
You guessed it … publications of all sorts are valuable research tools. Even your local newspaper may be a good research source, depending on your target audience.
In my case, trade publications are invaluable. Trade pubs present current news and happenings in and around my industry. Regulatory changes? Those will come out in trade magazines to keep their readership informed.
Here's the cool part … their readership is also, you guessed it, your target audience. By keeping up with industry news, your articles, posts, and even sales copy take on a more credible stance.
I subscribe to several online magazines in my industry. Reading them keeps me informed about what's important to my audience. Since most email newsletters have a web-based counterpart, I can go there as well. Often the online version will allow comments.
And you already know what I think about reader comments, right?
I actually write for one of these publications. They've been a client for almost a year and a half. I write two articles a month about electrical products and procedures.
Now, I could leave it at that. But, I don't. I'm subscribed to the newsletter, and it arrives in my inbox twice monthly. I don't get it to have samples or see my name in print. (Although, seeing my byline in every issue is kind of cool.)
But more importantly, I get it so I can read what the other authors are writing about. They normally have other topics, some more along the sales-type copy. Reading them keeps me informed on my audience from a different perspective.
Don't forget … many of these options can be accessed from your local library as well. If you don't want to spend money on subscriptions, current and past issues of print magazines are often available.
Don't see what you need? Ask them.
Finally, put the largest researcher in the world to work for you.
Tip #4 – Set up Google Alerts
Let Google help you research your audience. Of course, you can always click the News tab. But, it's good to set up alerts as well.
Just go to https://www.google.com/alerts to access this option. There are some already there that you can subscribe to for information. However, you can set up a customized alert that gives you better results.
If you want to know about compliance issues or regulatory changes that affect your audience, type it in. Not only will you get results immediately, but Google will send you an email when it finds something new.
The final tip … it never ends
Don't think for a minute that research is one and done. It's an ongoing process. So, it's good to use some method for filing and categorizing your findings.
If your research is digital (or can be transferred to digital), using some kind of virtual notebook works best.
You might use OneNote® that comes with Windows 10 and MS Office. I used it for years with good results.
However, my notes keeper of choice these days is Evernote Premium. I've got it installed on all my computers and my tablet. Because it synchronizes automatically, my information is available whatever I'm using, wherever I am. And if I'm not using my personal devices, I can log into Evernote online and get what I need.
The Web Clipper in Evernote is an amazing plugin for my browser. If I find a useful article, I can "clip" it, stripping out the ads if wanted. I can add tags that help me find article topics quickly.
The premium version also suggests related topics and articles to me.
The point is … if you're going to write useful copy and content marketing that really helps your client, be sure to study your audience, too.
After all, they're the people that buy the products and services you're writing about. And that's the only true proof of success.
This article, 4 Easy Ways to Get to Know Your Target Audience Better was originally published by Wealthy Web Writer.

The Professional Writers' Alliance
At last, a professional organization that caters to the needs of direct-response industry writers. Find out how membership can change the course of your career. Learn More »

Published: May 25, 2017