Don't Break the Chain – 5 Ways Jerry Seinfeld Can Help Grow Your Web-Writing Business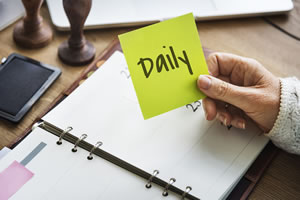 Committing to a daily action can produce tremendous results in your business and personal life.
Famed comedian Jerry Seinfeld calls it the "Don't Break the Chain" approach to moving toward a goal.
You may already be familiar with Seinfeld's story, but just in case you're not, here's a quick recap …
When Seinfeld was an up-and-coming comedian, he determined that the best way to get better at his craft was to write better jokes. And the best way to write better jokes was to practice. Every day.
He got a big wall calendar — one that had the whole year on a single page — and hung it up where he would see it every day.
Then he got a big red marker. Every day, he would write a joke. And then he would put a red X through that day's box on the calendar. After a few days, instead of a bunch of red Xs, he had a chain. And with each X he added to the chain, he became more determined not to break his progress.
One joke. Every day. Whether he was sick or on vacation or busy or tired. He wouldn't go to bed until he'd completed the task and added to the chain.
And every day, he had more incentive to keep up his progress, because it would seem such a shame if he were to leave a gap in the chain.
It's kind of like the signs they have in factories showing the number of days the work floor has been accident-free. You never want to roll that number back to zero.
Jerry Seinfeld used this technique to become a better joke writer. You can use it to become a better freelance writer.
If you sit down and brainstorm, I bet you can easily come up with a dozen or more ways to add a link in your own freelance writing chain.
But I'm going to start you off with five …
#1 – Make a new contact
Imagine if, every day, you reached out to someone new and let them know about your services.
Not in a pushy way. Just by introducing yourself, sharing something you find interesting about their company, and telling them about what you do in a sentence or two.
Some of these folks will just ignore your message. Some will reply back to say thank you and nice to meet you. And a few will respond with an interest in your services.
If you keep track of the ones who reply in a positive way — even just to say thank you — and then follow up with them regularly (once a month or so) to say hello, to share a useful article, or to congratulate them on something good they've done, before you know it your pipeline will be full of people you have a relationship with. And these are the people who will turn to you first when they need writing services.
Not bad for sending out a single email a day.
#2 – Send an email message to your list
If you have an email list, you could use Seinfeld's "Don't Break the Chain" method when it comes to mailing your list.
Yes, this would mean mailing to your list every day. However, if you're writing entertaining, interesting and useful messages, most of your list won't mind. Give the ones that do mind an easy way to unsubscribe — even warn them ahead of time that you plan to increase your frequency — and then focus your energy on the people who really want to hear from you.
This is the strategy Ben Settle uses. He emails his list every single day … and he gets great results from the effort.
When you contact your list every day, you'll keep yourself always at top of mind. You'll also become a better writer, because you'll be doing that every day, too, so it's a double win.
#3 – Hand copy a control
The "Don't Break the Chain" technique is a good way to improve your writing.
One of the best ways to become a better writer is to study the kind of writing you want to do. If you want to write long-form sales letters, study those. If you want to write amazing blog posts, study those. If social media is your thing, study great social media posts.
Hand copying samples of top-notch work is an effective way to study and to internalize the structures that work best.
Just select samples you know have performed well and write one out by hand each day. You'll cement the structure and style into your brain's "muscle memory," which will make it easier for you to write effortlessly in the future.
#4 – Write for 15 minutes
Studying existing samples is one way to improve your writing. Another way is just to write. The more you write, the better you get.
Set aside 15 minutes each day as writing time. You can work with writing prompts or write whatever comes into your mind. The important thing is to write non-stop without censoring yourself for the entire 15 minutes.
Do that every day, and within a few weeks, you'll notice several things happening. It will be easier for you to get into your writing groove when you need to. Your thoughts will come out more organized from the start. And your words will flow better — they'll be clearer and easier to read.
#5 – Come up with a new project idea for an existing client
Another way to use Seinfeld's technique to build your business is to commit to coming up with a new project idea every day. You could come up with project ideas that will help with your business — writing a new bait piece, updating your LinkedIn profile, or putting together a webinar, for example. Or, you could focus on developing project ideas for your existing clients, so you always have something new to pitch.
By doing this, you'll train yourself to be more of an idea person — and marketers love hiring people with great ideas. You'll also be able to line up more projects, because you'll always be ready to come to your clients with a valuable new idea.
Taking small daily actions is a more effective way to create big positive changes in your life than trying to make a Herculean effort for a few days here and there. Give one of these "Don't Break the Chain" ideas a try … or come up with your own. Commit to it for at least two months and see what a difference it makes!
This article, 5 Ways Jerry Seinfeld Can Help Grow Your Web-Writing Business was originally published by Wealthy Web Writer.

The Professional Writers' Alliance
At last, a professional organization that caters to the needs of direct-response industry writers. Find out how membership can change the course of your career. Learn More »

Published: May 3, 2017