Carline Anglade-Cole to Kick Off AWAI's 20th Anniversary Bootcamp as Keynote Speaker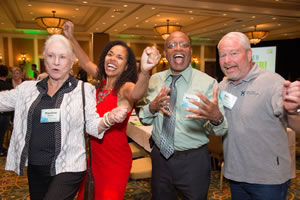 We are thrilled to announce Carline Anglade-Cole, AWAI's 2015 Copywriter of the Year, will kick things off as the Keynote Speaker for our 2017 FastTrack to Copywriting Success Bootcamp and Job Fair.
Copywriting changed Carline's life, giving her financial freedom doing work she loves. She credits great connections and working with mentors early in her career as keys to her success. Says Carline …
"Bootcamp is the only place I know where you can talk with … hang out with … and NETWORK with real working copywriters in your industry. That connection alone is PRICELESS — but …

" … Bootcamp also brings the clients to you! You get face-to-face time with the movers and shakers in the direct mail biz! You get to know them — and more importantly — they've got REAL job assignments they can offer you on the spot! That opportunity alone can launch your career!"
Carline specializes in writing copy for natural health companies like Health Resources, True Health, Healthy Directions, Boardroom, Biscayne Labs, and NeoGenis …
Yet her strategies and techniques for producing copy can be applied to many different niches — as she demonstrated when she helped launch Oprah's O Magazine!
And she's always a favorite among attendees …
"Loved, loved, loved her energy. She obviously loves what she does, but it's not necessarily the content (Who's passionate about poop?!), but the craft, the process, and of course, the results." — Michelle, 2016 Bootcamp Attendee

"Year in and year out, Carline is the most engaging and entertaining speaker. And her presentations are always filled with practical, usable advice." — Tim, 2016 Bootcamp Attendee

"Carline was fantastic! She had a lot of great tips that I can take action with right away." — Amy, 2016 Bootcamp Attendee
We can't wait for October 18th to get here …
Carline is going to kick off our 20th Bootcamp like no one else could.
Go here now to claim your spot so you don't miss out!
Hurry, the $700 "Super Early-Bird" Discount expires in just 24 hours!

The Professional Writers' Alliance
At last, a professional organization that caters to the needs of direct-response industry writers. Find out how membership can change the course of your career. Learn More »

Published: May 11, 2017