AWAI Member Lands First Copywriting Job Before Finishing
The Accelerated Program
Now He's Their Go-To Writer with a
Steady Stream of Projects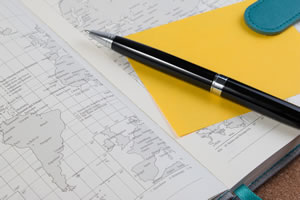 Warren Latham was severely ill … and had nearly given up hope. Living in Peru at the time, he decided to head back to Africa, where he's from, for lifesaving treatment or to at least live out his days in familiar surroundings.
He got better — and he credits much of this recovery to family support. But he was still too drained physically and mentally to return to his previous work in the parachute industry and faced, in his words, a "very bleak future."
"About this time my sister ran into a copywriter and suggested I look into it. Only had a vague idea of what copywriting (writing 'adverts' was about the extent of my knowledge)," explains Warren.

"Did quite a bit of research and thought it looked promising. I am probably an above average writer but never thought about it as a career. Found AWAI. Being a natural skeptic I looked at everything on AWAI I could find. Put my toe in the water by signing up for The Barefoot Writers Club. Basically got hooked, borrowed some money from my brother-in-law to get started with The Accelerated Program, and here I am having more fun than I can stand."
Before he had even finished The Accelerated Program for Six-Figure Copywriting, Warren had his first client. Like many new copywriters he was able to find work with contacts from past work and life experiences. One project turned into a retainer gig. He's now this client's go-to copywriter.
"Several years ago I had taken a trip with a small Peruvian eco-tourism company. Having read [and still do] every e-mail that AWAI sends me, I realized that I needed to compile a portfolio and work on a plan," says Warren.

"So, rewrote one of the company's web pages, sent it to the owner and told him I thought I could do a better job than he could and would within reason do a bit more for him for free as long as I could use his endorsement. He called me literally a few hours later after looking at what I had written and offered me a paying gig.

"The project is ongoing. As I said it has snowballed, from a basic rewrite of a few web pages, to about everything that involves writing for the company (research, blogs, social media etc.). It is proving to be a very steep learning curve."
For the moment, Warren is content to work with this client. As he's basically re-doing all their marketing, he's busy. And he's gaining plenty of experience. But he's looking forward to the future as well.
"The niche is something which is maybe unusual. I basically have a strong interest in languages and cross-cultural communication, to the point of obsession. The correct way of communicating thoughts and ideas across those boundaries without insult or looking stupid," says Warren.

"My ideas are sound and I have received nothing but positive input. Emerging markets specifically non-English speaking countries selling to the U.S. I feel this is going to be huge. From the research I have done communicating between these marketplaces looks to be underdeveloped in the copywriting world.

"My immediate plan is to travel to Peru and finish up the bulk of the project with the company, at the same time working on my own profile and visibility and refine my USP ideas. Continue with as many of the AWAI courses as I can. When I can afford it I will get stuck into the B2B and web writing suites."

The Professional Writers' Alliance
At last, a professional organization that caters to the needs of direct-response industry writers. Find out how membership can change the course of your career. Learn More »

Published: May 29, 2017