May Issue: This Might Go Down in History as our Best Content Ever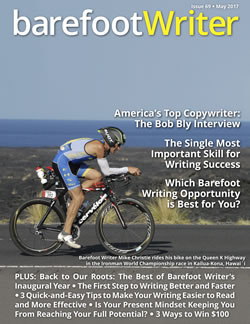 Have you ever stopped to consider how far you've come in your writer's life?
Whether you've only recently begun or you've been writing for years, you're still way ahead of folks who haven't yet made the leap. Following your passion and starting something big takes courage (and you obviously have that, or you wouldn't be reading this).
That said, it's useful to look back at where you were and compare it to where you are. Only then can you really appreciate all the progress you've made.
To back that up, we've delved into content from the inaugural year of Barefoot Writer, and we've brought some of our best copy back into the light for you. That includes:
THE Bob Bly interview — a game changer for anyone who reads it
How to figure out which Barefoot Writing opportunity is right for you
3 quick-and-easy tips to make your writing easier to read and more effective
Reach your full potential when you change your mindset to this
Which skill is most important for ultimate writing success
Click here now to read your May 2017 issue of Barefoot Writer.
If you're serious about getting paid to write for a living, consider becoming a member of our Barefoot Writer Club. Along with your 12-month Barefoot Writer Magazine subscription, you'll get …
Unlimited access to all back issues (over 1,700 pages of content designed to help you write better, faster, and for more profit!)
Access to DirectResponseJobs.com — an exclusive jobs board where marketers looking for professional writers can find the perfect writer for their project
Access to the Barefoot Writer Private Facebook Group where your fellow writers actively engage in growing their businesses, sharing advice, and answering the burning questions that might be holding you back
And of course, a whole lot more …
Membership into the Barefoot Writer Club is literally the quickest, most enjoyable route I know to life as a paid writer: Join the Barefoot Writer Club today.

The Professional Writers' Alliance
At last, a professional organization that caters to the needs of direct-response industry writers. Find out how membership can change the course of your career. Learn More »

Published: May 5, 2017