How to Make a Great Living as a Writer Without Any Clients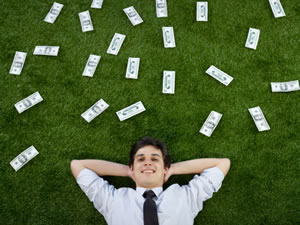 Make a living as a writer WITHOUT clients?!
I know it might sound odd …
But for many, this could be the ideal way to live the writer's life.
When you hear me or Katie … or any of the many experts here at AWAI … talk about living the writer's life … whether it's the lifestyle, the money, the choices … what we're talking about is freedom.
And at the center of it all is the fine craft of putting pen to paper or keyboard to computer. The writing.
As long as you're writing and earning a living from it, you're living the writer's life.
How you earn your writing income comes in many ways and forms.
Of course, the most pursued path is having clients pay you to write for them. After all, there are millions of companies out there looking to hire writers at any given time.
But if you aren't at the point where you're ready to go out and get clients yet … or you have clients and would like to create an additional revenue stream that isn't tied to anyone else or the time you put in, this path is something you'll want to consider.
Here at AWAI, we like to call it "client-free" living. And the benefits are a plenty …
For starters, you have no deadlines. You set your schedule. You write when you want to write. And if something comes up, you simply adjust your writing schedule. It's that simple.
Client-free writing also comes with built-in flexibility. You never need to have a meeting with a client, which means you can literally write any hours of the day (or night!), from anywhere in the world, in any time zone.
You also never have to worry about what someone else thinks is "good" writing, whether it's copy or content. Assuming your audience is happy and taking the actions you want them to take, you're good to go. After all, it's YOUR audience's response that ultimately determines what is good writing. (Funny enough, the same is true for your clients, but that's a whole other article!)
And marketing yourself so you can find paying clients? It's not necessary!
What's more, those are only the surface benefits. When you dig deeper, you find many more …
Having your own online business becomes an incredible training ground for your content and copywriting skills. You can test all kinds of things, which builds your confidence and provides you with an incredible track record to show clients, should you choose to go that route in the future.
You're also building an asset. Most types of client-free writing businesses involve a highly trafficked website and/or list of people interested in your topic. Both of these things are worth something and can be sold off if you decide you're ready to move onto to something else.
This means the time you spend today pursuing client-free living will be worth something in the future.
So how do you go about creating a client-free lifestyle? Here's three easy ways to get started …
A Money-Making Website is a simple information-style website on a topic that interests you. You make money through various marketing channels like Google AdSense, selling advertising, affiliate deals, and more.
Your website can be about almost anything … assuming people are looking for information on the topic.
For instance, Kathy Widenhouse writes about tomatoes, Karen Patry writes about raising rabbits, and Nancy Hearn writes about the benefits of water (I'm serious — she makes about $3,000 a month writing about water!).
And Nick Usborne makes about $4,000 a month writing about coffee … but a few years ago, was offered $100,000 if he'd sell his website.
He declined. :)
The passive revenue was just too great and he's since made far more than that $100,000 offer.
The list goes on and on of successful AWAI members making a living writing about what they love. (You can actually check out a bunch of them in a Success Catalog we put together here.)
Client-Free Writing Opportunity #2: Writing E-books
You're probably already familiar with e-books. But you might not be familiar with how to make a living writing them …
Mobile phones, tablets, and e-readers have changed the publishing industry. By 2018, e-books will account for a quarter of book sales worldwide, and are estimated to generate nearly $20 billion in sales.
Similar to a Money-Making Website, you can write about things that interest you and then publish and sell your e-book through a variety of channels …
You can build your own online publishing business and attract an audience of people who are also interested in the same topic.
You can sell your e-book through e-book distributors and affiliates.
And if you also do the first opportunity, you can sell them through your Money-Making Website!
How much money you make depends on how many books you publish and sell …
E-book expert and legendary copywriter Bob Bly says he makes anywhere from $12,500 to $29,167 a month selling e-books as well as other information-related products.
And based on his experience showing others how to do what he does, writers can get to about $1,000 a month within three to six months; $1,000 a week in about six to 18 months; and clear six-figures in about two years.
Client-Free Writing Opportunity #3: Email Business
This last opportunity is exciting because you have a little more control of your income after you get going …
When you want to make more, you simply write and send another email to your list.
But let me back up a second …
With an email business, just like with the first two opportunities, you create an online business and develop an audience.
Only with this one, the business is centered around you. And while you can write about something you love, the key to this one is identifying a large audience of people who are in need of a solution.
For example, Ben Settle identified business owners with lists who weren't satisfied with the money they were making from their audience. He now makes six-figures writing an email a day to his list about how to write killer email marketing copy.
And he learned it from Matt Furey, who has been called Zen Master of the Internet and Tao of Writing Email Copy. Matt is a fitness expert who took his love for all things fitness and created his own client-free lifestyle. He promotes his own products by writing emails to his list of followers.
Then there's Valerie Young. Her audience wants to change careers and reinvent themselves. She provides solutions to help them navigate their options and move forward with confidence.
Just like them, once you identify your audience and their problem, you create a solution …
You could write e-books, create information products, sell access to you, a product, or service …
And then you build a list of people with that problem, and start emailing to the list regularly.
It's really up to you how often you write and send out emails to your list. In general, Ben Settle only spends 10 minutes a day writing one email to his list …
But when he wants to make more money, he writes a few more emails!
So there you have it …
Three ways to make a living as a writer without any clients.
What I love about these client-free ways is you could choose one … or do all three!
They go hand-in-hand to build a valuable online business with multiple revenue streams.

The Professional Writers' Alliance
At last, a professional organization that caters to the needs of direct-response industry writers. Find out how membership can change the course of your career. Learn More »

Published: May 31, 2017