Newest AWAI Member Case Study: Jake Hoffberg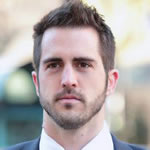 Jake Hoffberg
Jake Hoffberg sees what others don't — opportunity. Specifically, money-making opportunities.
In high school, he sold candy to classmates to pay for his school lunch. During and after college, he made a living promoting night clubs.
So when he found himself getting up at 6 a.m. every day and logging countless miles on the odometer selling college textbooks for someone else, it was time for a change.
"I made a lot of money in sales, but I hated what I was doing. I had to drive into territory and show up every day," he says. "I called my boss and quit – without a backup plan. Then the clock was ticking. I thought, 'What do I do now?'"
Read about the career change that led Jake to his own schedule — and his income from zero to $140K.

The Professional Writers' Alliance
At last, a professional organization that caters to the needs of direct-response industry writers. Find out how membership can change the course of your career. Learn More »

Published: May 23, 2017