Use the Magic of Fairy Tales to Create Powerful Online Copy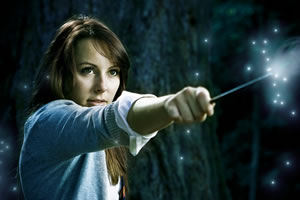 Fairy tales have been passed down for thousands of years through hundreds of generations, and today they still hold our love and fascination. Have you ever wondered what makes them so enduring and if, in today's world, they can teach you something about your online copywriting?
You may be surprised to discover you can learn more from fairy tales than just how to tell a good story or teach a lesson. They can also show you ways to make your online copy much more powerful.
Magic Mirror in My Hand, How Do I Write the Best Online Copy in the Land?
Fairy tales give you a practical and valuable roadmap to use in every piece of web writing you create. And you don't have to believe in magic or make a wish in order for it to work.
So, what does it involve, and how do you use it?
Fairy tales follow a simple six-part story structure. Learning, understanding and using each part in your web writing will help you to create effective online copy and content every time.
1. Heroes: Cinderella, Jack or Snow White — Who's Your Fairy Tale Hero?
Every fairy tale has a hero.
These heroes are human. They make mistakes and have flaws. This is what makes them appealing. Despite their faults, they're brave and push through the challenges they face to reach victory and live happily ever after.
Think about your favorite hero and why you love them. Perhaps you can relate to them because they remind you of yourself or who you'd like to become. Whatever your reasons, you root for them because, with all their flaws and weaknesses, they inspire you to tackle the challenges and difficulties you face in your life.
Each person wants to be a hero in some way, including your clients.
When you write your online copy, you need a hero.
It's easy to think your product or service is the hero. After all, shouldn't your business sweep in, save the day and let your client live happily ever after?
But think about the first fundamental rule of selling: no one wants to be sold. Instead your customers want to be in control of their buying decisions.
This means your client's customer is the hero of your copy. They are the ordinary person who has a problem and takes the initiative to change their life for the better.
As you write your copy, understand your hero's faults and weaknesses, difficulties and aspirations. Weave this into your copy so they can relate to it and see themselves as they read it. You want them to think, "Hey, I know just how that feels. I have that problem too. This person really understands me. Can they help solve my problem?"
Craft your words in such a way that you inspire your reader. They'll start to see a solution to their problem and that a better life is possible with your help.
When you do this, your reader will be drawn into your copy and want to find out more. You've hooked them.
2. Goals: Cinderella Wanted to Go to the Ball … What Does Your Reader Want?
Every fairy tale hero has a goal to achieve so they can change their life in some way. Cinderella wanted to go to the ball; Jack wanted to get the magic goose that laid golden eggs.
Your customers are the same. They have a problem to solve and a goal to achieve. And they want to do it as quickly and easily as possible. It's the reason they're online, searching for answers.
To create a successful message, story or campaign, you need to have a thorough grasp of the following:
What is your customer's goal?
How do they want to change their life and make it easier or better?
Why do they want to achieve their goal?
What do they expect their life to look like once they have accomplished it?
Armed with this knowledge and understanding, you can create copy that answers their questions and makes them see it's possible to reach their goal and achieve their dreams … as long as they enlist your help and buy your product or service.
3. Villains: Who Is Your Big Bad Wolf?
The wolf was determined to prevent the little pigs from living. He was the villain who brought obstacles and challenges. If it weren't for him, there wouldn't be a story with excitement and intrigue that keeps you reading to find out who will win in the end.
When you read The Three Little Pigs, you empathized with the little pigs who want to live happy, peaceful lives. You may have reflected on what type of house you would have built, or planned how you would thwart the wolf. Maybe you felt it was impossible for three young, naïve pigs to defeat a big wolf and wondered if they would ever make it out of their predicament.
Do you know who your customer's villains are and what obstacles they face? They could be physical, mental or emotional.
Identifying and tapping into the problem gets your reader's attention. It activates their imagination and emotions, because it threatens their path to success and living happily ever after. Another fundamental rule of selling is that people buy for emotional and not rational reasons, making problems a powerful tool for you to use.
Understanding the villains lets you show greater empathy for your reader, and a deeper understanding of what's holding them back from making the changes they desire.
The more you show you understand the challenges they face, the more you'll earn their trust as someone to help them overcome whatever's in their way. This allows you to fulfill your role, which comes next …
4. Mentors: Who's Your Fairy Godmother?
Cinderella would never have made it to the ball and eventually married the man of her dreams without her fairy godmother. She was the wise mentor who helped Cinderella overcome the obstacles she faced, so she could reach her goal.
Besides their wisdom, mentors have insight, experience and understanding of their heroes and their problems. They give help and advice, and sometimes a sprinkling of magic, to help them triumph over tough circumstances.
This is your role to your client … and your client's role to their customers. You are the wise mentor who helps your hero (your client) to overcome the challenges and obstacles before them and reach their goals.
Just as a mentor advises and guides the hero toward their destiny, you are the mentor who guides your client toward making a wise decision to help solve their problem.
Being the mentor let's your client feel like they're in control of their buying decision and are not being sold. You also bring this to the copy you write for them, helping them to guide their customers in a similar way.
Your wisdom, insight and magic come from your thorough research. Mentorshave usually walked the hero's path themselvesSo, take time to walk in your prospect's shoes so you can truly empathize with their challenges.
The greater your insight, the better the advice you're able to offer your client. In turn, they'll see why you're the best person to help them solve their problems and reach their goals.
5. Lessons: The Moral of the Story Is …
Every fairy tale teaches a lesson – something the hero learns on the journey toward achieving their goal.
As the wise mentor, you need to show your client what they'll gain by doing business with you. Create a picture of how their life will change and improve when they take your advice and use your services to attain their goals.
6. Endings: And They All Lived Happily Ever After.
Cinderella had to try on the glass slipper, the pigs had to capture the wolf in a cauldron, and Jack had to chop down the beanstalk to destroy the giant. Each of them had to take a specific action to achieve their happily ever after.
For your story to end well, you must tell your client exactly what to do in order to achieve the happily-ever-after ending they desire.
Stated simply, you need a "call to action."
Tell your prospect what they need to do next in order to obtain their happily ever after. Be clear and specific: "Try on the slipper." "Get the cauldron ready." "Chop down the beanstalk."
When I Wish Upon a Star, Will My Dreams Come True?
Using each of these elements of a fairy tale does more than help you create a story. This structure builds a solid and deep understanding of your prospect and lets you create a meaningful message that gets them to take action. It works whether your copy is for a content marketing story, brand story, home page, sales page, or email.
And the best part is …
You get to be the hero of your own story and live the writer's life you dreamed of, no wishes or magic necessary.
What is your favorite fairy tale? How does it help you to create online copy? Please share your thoughts in the comments section below.
This article, Use the Magic of Fairy Tales to Create Powerful Online Copy was originally published by Wealthy Web Writer.

The Professional Writers' Alliance
At last, a professional organization that caters to the needs of direct-response industry writers. Find out how membership can change the course of your career. Learn More »

Published: May 31, 2017