Why You Must Have Accountability Partners If You're Serious about Copywriting Success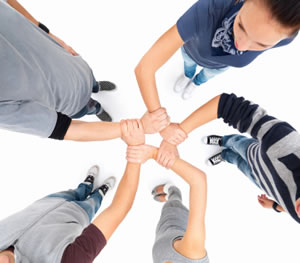 Ben Settle is a copywriter I respect. In fact, he's an outstanding copywriter, his ideas are provocative and stimulating — and certainly thought-provoking.
So it shouldn't come a surprise that Ben has stated accountability groups are "stoopid" … not important and a waste of time. Well, let me back up a minute. While he might not have a high opinion of them, he does believe that copywriters need a nudge now and then.
That nudge can mean the difference between just getting by or actually living the writer's life.
So, let me share my viewpoint on why accountability groups are important. I'll start by explaining what we mean by accountability group. The concept varies depending on where you look.
I've written about accountability groups in The Writer's Life, The Golden Thread, and my Circle of Success exclusive blogs. My definition — which I learned from AWAI — is better expressed by the term "Accountability Partners."
I like this term because being a partnership is core to its strength and success.
AWAI accountability partnerships are made up of copywriters in various stages of their journey to the writer's life. Some just starting out. Some midway. Some fully living the dream.
They all work together to let each other know when they're on the right track — either in their career or with a particular piece of writing.
They encourage each other to move forward … especially when a member hits an inevitable low period. I've seen that encouragement to keep striving for the success they deserve pay off time and again.
Ben's point of view is a little different. He says:
"In my humble (but accurate) opinion, if you need 'accountability,' you simply aren't pursuing the right mission. When you have a mission — an all-consuming goal you are pursuing — you don't need to be told to do it or be held accountable to it. You just do it."
Well, I'd propose there's another way to think about accountability groups …
When you have the right mission — or rather when our members have the right mission — is exactly when they need encouragement to "do it." Or to be held accountable for taking the steps to make that mission a reality.
As for Ben calling out names of famous people in history who didn't rely on accountability groups, here's another perspective on that too …
During George Washington's presidency, his "accountability partners" were his cabinet: Secretary of State Thomas Jefferson, Secretary of the Treasury Alexander Hamilton, Secretary of War Henry Knox, and Attorney General Edmund Randolph.
Oh, we don't want to forget about his accountability partner during the Revolutionary War: Marquis de Lafayette.
And despite public perception, Albert Einstein didn't go it alone.
Einstein's mathematics lecturer, Hermann Minkowski, was instrumental in devising a strict mathematical formalism to support the theory of relativity.
Einstein also relied heavily on his friend Marcel Grossman who worked on the mathematical calculations of the theory.
And Martin Luther King created his own "accountability group" when he founded the Southern Christian Leadership Conference.
His accountability partners were people like C. K. Steele, Bayard Rustin, Hosea Williams, Ella Baker, and his wife Coretta Scott King.
I lived during the civil rights movement. What impressed me most about this movement to this day was the way great struggle and success were built upon people holding others accountable, supporting them, and encouraging them.
Much like the accountability partners that make AWAI members so successful.
I'll end with this final point. It's a quote from one of the greatest mathematicians the world has ever known.
"If I have seen further, it is by standing on the shoulders of giants."
–Sir Isaac Newton, 1676

10-Minute Workday
If you want to be a well-paid writer without having to land clients or spend hours every day working on your business — Ben Settle's 10-Minute Workday shows you how to create an easy email business. Learn More »

Published: June 6, 2017