Looking for Fantastic SEO People to Hire (SEO Writing Jobs are HUGE)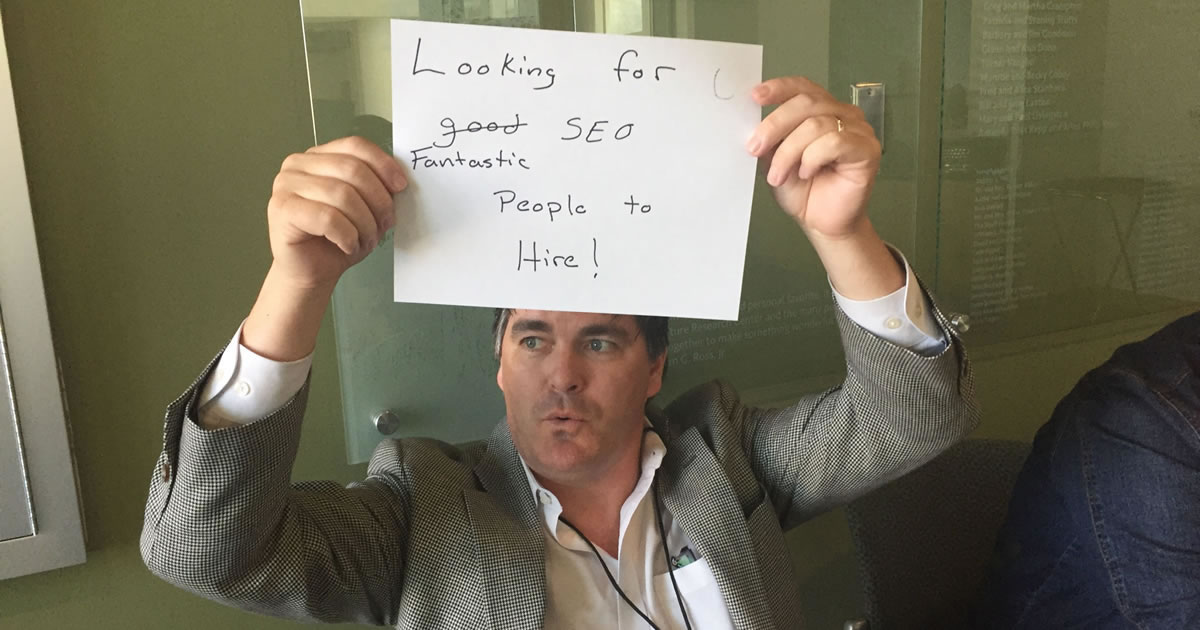 Recently, I attended a local business conference presented by Raleigh SEO Meetup.
I was among about 100 digital marketing professionals in attendance that day, but I only met a few fellow copywriters.
The other attendees were representatives from digital marketing agencies and service providers, such as media companies, web developers, social media app companies, content platform providers, etc. And, several marketers were there, too — from major hospitals and software companies to a trash recycling company (yes, they need SEO!).
As I mingled with various participants, I was asked, "What do you do?" I told them, "I'm an SEO copywriter." Every single person wanted my business card.
The highlight of the event was when Rob Delory, Senior Solutions Consultant at TheeDesign.com, held up a hand-drawn sign during our lunch break. It read:
"Looking for good fantastic SEO people to hire!"
I asked him, "What are you looking for, exactly?" He told me that his company currently has two full-time SEO writing jobs … and it would be fantastic to find quality content writers who have SEO skills.
What does all this mean? I sat down with Rob to dig deeper and ask the following questions.
What skills are you looking for?

Rob: "We need good writers. The Internet thrives on websites and social media, and our clients need to consistently put out good information.

"We need people who can write the best content … solid, easy-to-read information. And, we'd love to find content writers who understand how to optimize the content, do keyword research, and understand which topics need to be written about."

"Google and other search engines are getting better at understanding quality content versus content just for SEO, but the technical SEO tags still matter. People with both skills are exactly what we're looking for."

Rob noted that they're looking for a couple of people today, but the industry's constantly moving and changing. He said, "We could need more writers four months down the road."

What do your clients need?

Rob: "We have clients in a wide range of niche industries, from satellite companies to plumbers in Raleigh. And they need a mixture of projects.

"First and foremost, a lot of websites don't have their product/service pages fully built out. Clients will say to us, 'I've got eight pages on my website.' And I'll say, 'Fantastic, where's your other 50?'

"We want to make sure our clients have plenty of written content on the website talking about the solutions they provide. This is critical before we ever get into writing articles that touch the industry.

"Plus, we do the keyword research for our clients."

Do you feel this trend will continue?

Rob: "We've worked with and talked to a number of agencies … and we're all coming to the same consensus. Copywriting and SEO skills are extremely valuable. A lot of agencies are on the lookout for talent. We all want to offer clients valuable research and content."
Wow. So think about what this can mean for you … if you're an SEO copywriter! The writing jobs are there, right now.
And that's input from just one local agency.
To get a second opinion, I contacted another person I had met at the conference: Julie Hammer Jensen, President & CEO of 90DegreeDesign.com.
She had asked for my card when I explained that I'm an SEO copywriter. But unlike Rob, she doesn't have an in-house copywriter. Instead, she uses freelancers as needed.
I asked her, "What skills do you look for?"

Julie: "We look for someone who can take the reins with very little information from us. We give them a subject matter, tell them the basics of what we're looking for, and set them free to write an article.

"We need them to write an interesting content piece, 400-500 words. And it MUST have a unique angle that doesn't sound like everything out there, on 100 different sites.

"We also need ideas for Infographics. We use a designer for the look, but to gather the information, create bullets, and write the main points — that's where a skilled SEO copywriter is valuable. The SEO component is in the title and the content."
Julie added that the bulk of what they do for clients is on-site optimization of core websites (as Rob mentioned).
How can you find SEO writing jobs like these in your local area?
Attend local business events such as business "expos" or all-day marketing training conferences. That's where you'll meet web designers, digital agency representatives, marketing consultants, and marketers — and many of them will be happy to meet you, the SEO copywriter.
To find these events, find your local Chamber of Commerce or business association websites, where they list their events. Also look on Meetup.com for marketing groups, SEO groups, web professionals, etc. All you need to do is join these groups and follow their events.
By the way, clients and digital firms are willing to pay much more for writers who have SEO skills. Find out how much more … and how to get started now.
I love that clients "get it" and are looking for help with their SEO. Are you ready to try SEO copywriting? Share your thoughts below.

SEO Copywriting Success: Grow Your Business by Driving Targeted Traffic to Clients
1 out of every 2 writing jobs require SEO skills! Every web copywriter should know how to combine persuasive copywriting with SEO best practices. Learn this valuable skill now to make more money on your web copywriting projects. Learn More »

Published: June 29, 2017