60 Seconds that Could Make or Break Your Career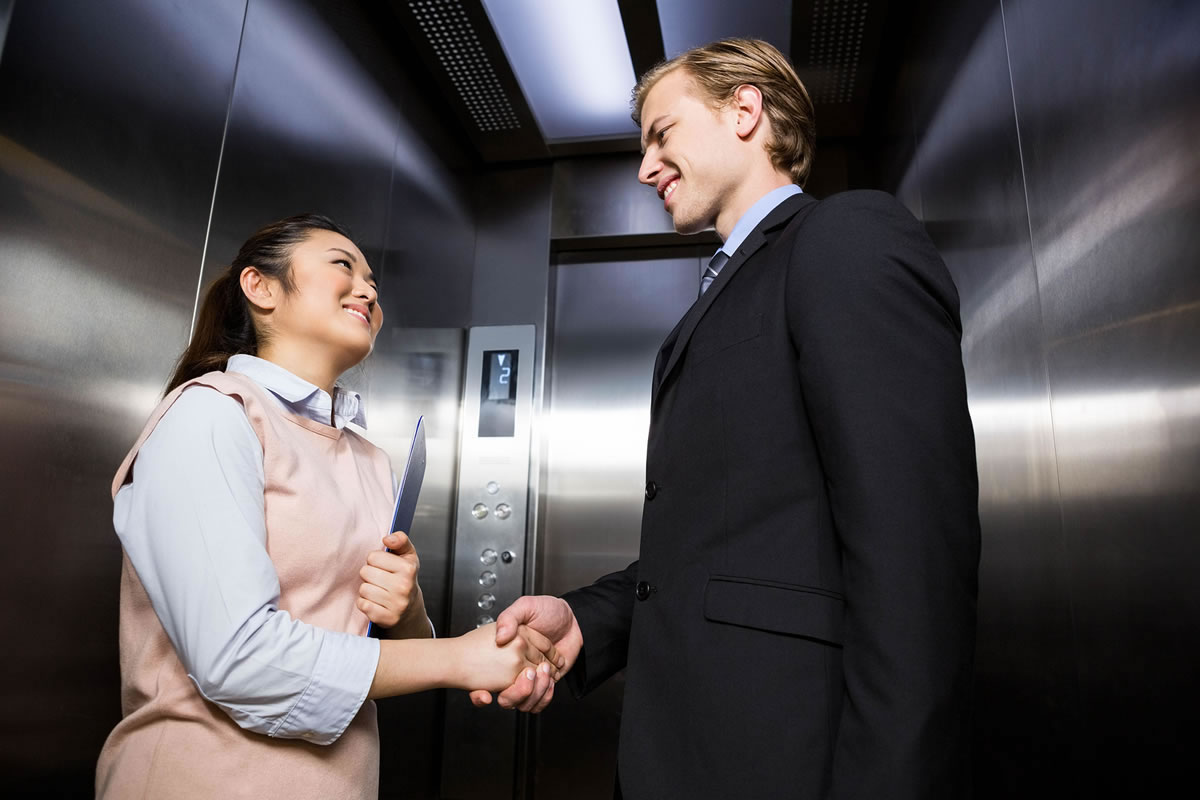 Let's say you have just 30 to 60 seconds to convince a potential client he needs your services …
Maybe you're in line at Starbucks, or riding the elevator at an event where your ideal clients are in attendance …
Are you prepared to do it effectively so he'll give you an opportunity to prove you're the one to hire?
This is where your "elevator pitch" comes in.
The idea behind an elevator pitch is this. You're in an elevator with a potential client. You have at best 60 seconds before the doors open and he or she walks out.
In that 60 seconds (or less), you must describe what you do, your core benefits, and give a compelling call-to-action.
Of course, you'll use your elevator pitch any time you tell someone what you do professionally. Like at Job Fair.
Here's how to do that …
Elevator Pitch Strategy #1:
What's your core benefit?
When you start writing your elevator pitch (and YES, you must write it out), start by writing down the five biggest benefits you offer.
Be niche specific.
Let's say you're a web writer specializing in search engine optimized copy for the pet industry.
What five benefits can you bring your client?
Once you've written them down, carve that list to your biggest, most important benefit. (If you have time in your pitch, you could add one more.)
Elevator Pitch Strategy #2:
What's your USP?
Once you have your core benefit, determine your USP (Unique Selling Proposition).
It doesn't have to be unique among all copywriters in your niche. But find something that sets you apart.
Elevator Pitch Strategy #3:
Know your audience
A good pitch depends on the audience you're trying to reach. Lead with information the recipient cares most about, and the rest will follow.
This means you won't craft only one elevator pitch … but several.
Elevator Pitch Strategy #4:
Avoid jargon
You may want to impress on a client that you're industry savvy and know their jargon.
BAD IDEA!
Prove you can communicate clearly … not only to her, but to her customers who may not know that jargon.
Elevator Pitch Strategy #5:
Less is more … keep it short
Sixty seconds spoken at a normal rate — not rushed so you can say everything you want — works out to 150 to 250 words.
Elevator Pitch Strategy #6:
Tell what you do … not who you are
Instead of saying, "I'm an SEO copywriter who …" say, "I craft SEO copy that ensures your website will …" To make sure you do this, avoid saying "I am." Instead, use an active verb after "I."
Elevator Pitch Strategy #7:
Have a call-to-action
Your elevator pitch is a short sales piece. You're trying to sell yourself. So, you must have a call-to-action.
Your call-to-action is something like, "If you'd like more information on how I can increase your web response, please call me or send an email."
Said while you're graciously offering your business card. Offering, not thrusting.
Elevator Pitch Strategy #8:
Edit like crazy
You edit all your sales pieces. And your elevator pitch is one of your most crucial. Edit. Edit. Edit some more.
Elevator Pitch Strategy #9:
Practice like crazy
Practice in front of a mirror. Practice with family and friends. Practice so the words come naturally to you when you're giving your pitch. When you do, the words not only will come naturally, they'll sound natural … and so will you.
Talking about your elevator pitch reminds me of a quote attributed to Mark Twain. (It might be apocryphal.)
"I was going to write you a short letter, but I didn't have the time. So, I wrote you a long one instead."
Writing small is difficult. It comes to fruition only after you've put in much work.
Your elevator pitch deserves the time and effort you must put into it.
Have you crafted your elevator pitch yet? Share it with me in the comments below! And if you haven't, let me know what's holding you back.

Wealthy Web Writer: The Writer's Roadmap to Making Money Online
With millions of websites and counting, the need for qualified web writers has never been higher. Get access to a growing resource designed to help web writers succeed. Learn More »

Published: July 27, 2017