Interview with a Barefoot Writer: Alexandra Sokoloff

I first met Alexandra Sokoloff on a crisp autumn day.

She was the keynote speaker at a writer's conference I attended, and her presentation was one of the most eye-opening approaches to writing I'd heard.

What struck me most was her refreshing take on story structure and connection with your reader — applicable whether you're writing a promotion or a work of fiction.

It's an approach that elevated her own books to award-level status, securing a dedicated following of readers and making her a best-selling suspense author.

Particularly notable is Alexandra's soon-to-be five-part Huntress/FBI series, which follows a haunted FBI agent on the hunt for a female serial killer.

She's also authored four other novels and is a Bram Stoker and Anthony award nominee, plus a Thriller award winner, and the coauthor of the paranormal mystery romance series, The Keepers. In addition, Alexandra has written several books on story structure, including Story Structure and Writing Love, based on her internationally acclaimed "Screenwriting Tricks for Authors" workshops and blog (www.ScreenwritingTricks. com).

Her success as an author falls on the heels of 11 years as a productive screenwriter, where she sold original horror and thriller scripts and adapted novels for various Hollywood studios. She also served on the Board of Directors of the Writers Guild of America and on the board of the Mystery Writers of America. Enjoy Alexandra's interview — and take particular note of how to become a better writer through watching movies, along with how to succeed in today's self-publishing industry.
You started out as a drama enthusiast, acting and dancing and doing musical theater. How did that lead you to writing for a living?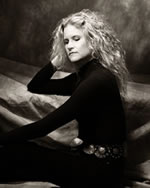 Yes, at first I was much more into performance: acting and dance, which I did semiprofessionally from the time I was eight or nine years old. But I quickly became more interested in the big picture, the actual telling of the whole story. Theater was the best training I could possibly have had for writing. Being up in front of a live audience tells you everything you need to know about what works in a story. Everything I know about creating character, evoking emotional response in an audience (or reader), visual and thematic storytelling, the rhythm of a story, suspense, stakes — I learned all of that in theater. There's nothing like being in front of a live audience and feeling every reaction as it happens. There is no question whatsoever about what works and what doesn't. Your bestselling, Thriller Award-nominated Huntress/FBI series has been optioned for television … what's it like being the original writer behind a potential television series? As a screenwriter, I know enough about the film and television business to be completely terrified about what might happen. Because of the collaborative nature of the business, even with the best people and the best of all intentions, a great project can turn into a laughable nightmare. And I am particularly anxious about the Huntress series because it directly deals with the third rail of crime: rape culture and the inherent misogyny of the legal and social system in the U.S.
At the same time, because of my experience as a screenwriter, I was able to negotiate an executive producer role on the series, so I have a better chance than most authors have of real involvement in the show. But it's a fine line to walk — making a movie or show is much, much more political and collaborative than writing a book, and I could not be more aware of that reality. And yet, all that said — I could not be surer that NOW is the time for this series, these characters, these subjects. Television has never been better, my producers "get" the show — and we need it. Women need it, and men need it. It's time to change the system and dismantle rape culture.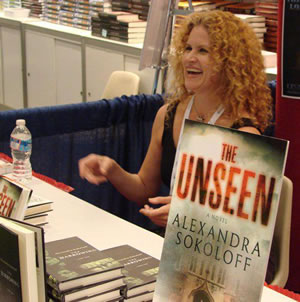 What is the hardest part of writing for you?
I'd have to say slogging through the first draft is the hardest. I love research and outlining. I love rewriting. But that first bash-through draft is torture. Mary Higgins Clark called the first draft "clawing through concrete with my bare hands." Yeah, that.
What projects are you working on right now?
I'm writing book five in my Huntress/FBI series, which follows a haunted FBI agent on the hunt for a female serial killer. Which doesn't actually exist in real life — even though I think we can all agree, especially after the recent election cycle, that women have MUCH more reason to kill than men do. So that interesting real-life dynamic lets me turn worn-out tropes of violence against women completely inside out. And, as mentioned, I'm an executive producer on the TV adaptation of the series and just finished the pilot for that. So it's all Huntress Moon for me right now, 24/7.
You're known for writing things that are terrifically original. How do you avoid being influenced by trends, other authors, and your own reading collection?
I'm always bemused by this question, since I ONLY write because I can never find the exact book that I'm craving as a reader. If I could find the books I want to read, written by someone else, you better believe I would never put myself through the torture of writing! So that means I go into any writing project with the absolute purpose of writing something that hasn't been done before — or at least, something that I'VE never seen done before. That was definitely the driving force behind the Huntress Moon series.
As a screenwriter, I was often called on to work on projects about serial killers. When I threw myself into research on those human monsters and what they do, I realized very quickly that women don't do those things. Women kill, and they sometimes kill numbers of people, but the psychology is completely different from that of serial sexual murderers like Bundy, Gacy, Dahmer, and BTK. I thought, "Well, I have to write about THAT." And that enabled me to fictionally confront rape culture in a thriller series in a way no one else was doing.
With your novels, you started out in self-publishing. What important lessons did you learn doing that?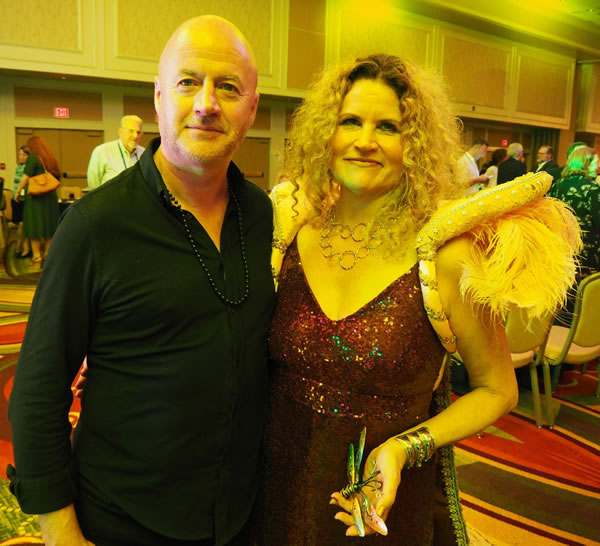 Actually, I didn't start out in self-publishing. I selfpublished the first book of my Huntress Moon series, and that was such a breakout that people tend to remember it. But my first four books — the supernatural thrillers The Harrowing, The Price, The Unseen, and Book of Shadows — were traditionally published by a Big Six (now Big Five, soon to be Big Four) publisher. But then I saw the publishing business changing … I think the biggest lesson — or reinforcement — for me was that writers have to constantly be reinventing their careers. It would be so very lovely if you could just sell that first book and then all you had to do for the rest of your life would be to write the next book, and the next, and the next. But the hard truth is that — if you want to make a living at writing — you have to be aware that the business is constantly changing, and you have to adjust to those changes to sustain your career. I shifted from screenwriting to writing novels when I saw the film business changing in a way that I knew would make it difficult for me to sustain a living as an original screenwriter (and yes, especially as a female screenwriter). And I shifted from traditional publishing to self-publishing when I saw the traditional publishing business was so far behind the curve on the e-book revolution.
In both cases, it was the absolute right shift to make. And now I'm a hybrid writer — I self publish my backlist, and Thomas & Mercer publishes my Huntress Moon series.
Looks like you have a ton of fun with other authors, performing with the Slush Pile Players, the Killer Thriller Band, and most recently, The Slice Girls. This overthrows the oft-cited stereotypes that authors are over-serious people who view other writers as competition. What's your advice to new writers about connecting with other writers?
Well, first of all, I won't speak for other genres, but crime and mystery authors are famously supportive of each other, not competitive! And my own experience is that many, many authors are big hams, and also very talented in other arts, especially music and theater. So to me it's been a natural thing to team up with other authors who love music and performance. We do have a ton of fun being able to perform with other authors and show our readers a different side of us.
My best advice to new writers about connecting with other writers is this: Go to the major writing conferences in your genre or specialty. For mystery and thriller writers: Bouchercon, Thrillerfest, Left Coast Crime, Malice Domestic (if you're more cozy). For romance writers of all subgenres: Romantic Times Booklovers Convention, Romance Writers of America National Convention (and local chapters), Heather Graham's Writers for New Orleans. For horror writers: the Horror Writers Association conference. And so on. Find out the smaller conferences and workshops in your area. Conferences are where all the business and socializing gets done. Go to the bar and make friends. Authors are great people, and it really is a friendly crowd.
Your eight-sequence story structure lesson is often groundbreaking for writers who get stuck in their projects or too often face a "sagging middle." How did you come up with it?
I didn't come up with it at all! I'm just trying to let authors in on a very basic story structure technique that was developed by early screenwriters in Hollywood to deal with the technical requirements of film and reinforced by the commercial requirements of television.
The thing is, we all have internalized this eightsequence rhythm of storytelling without even knowing it, because we've seen so many movies and TV shows in our lifetimes (many more movies and shows than we have read books). So a reader (and editor and agent) unconsciously expects this rhythm, which means it's very, very useful, even potentially career-saving, for authors to become aware of this storytelling structure. Almost every writer who hears about the eight-sequence structure defines it as "a lightbulb moment." When I became an author, I started blogging about it, then teaching workshops, and finally writing my Screenwriting Tricks for Authors series of workbooks. So investigate! You can get free articles and story breakdowns on my website.
What do you consider the most enjoyable stage of writing a novel?
By far, the best part of writing is FINISHING. I'd be a stone liar to say anything else. Everything else about it is a mostly painful struggle to bring a world and characters into concrete existence. The only thing that keeps me going is this awesome feeling of responsibility to my characters and their story — that I have to do them justice. There are some great moments about writing, yes. But most of the time, I don't remember much of my writing day, which is unnerving. Getting a book to work from start to finish is grueling.
Everything after THE END is good. I love interacting with readers, talking about their reactions to the books and the characters. Still — mostly it's a relief that I pulled it off.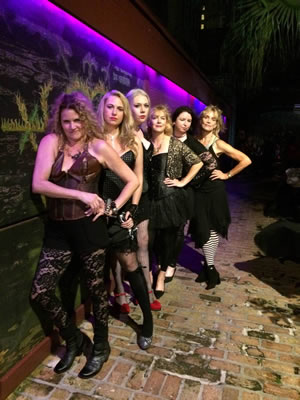 If you could pick any supernatural power to have as your own, what would you choose?
Invisibility, I think. I'm obsessed with other people's lives! That would be a good way to spy. Also mind reading would be good.
You live both in Los Angeles and Scotland. What's your favorite thing about each place?
Well, Scotland is gobsmackingly gorgeous. But so is California! In fact, there are many geographical similarities. The weather is another story. In terms of weather, California definitely wins.
I'm constantly enchanted by the living history that Scotland is. Castles, ancient bridges, stone circles — you have this constant sense of layers and layers of history. And, of course, I love Scotland's liberal politics.
Los Angeles has layers and layers of film history. L.A. is the dream factory. As Dorothy says in The Wizard of Oz: "It's not a place you can get to by a boat, or a train … it's some place behind the moon … beyond the rain …" I try to remember that when I'm stuck in the endless traffic.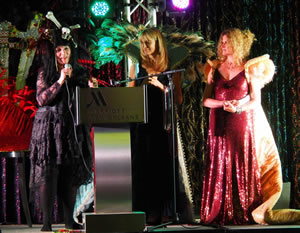 You've said that "looking at different art forms really inspires writing in every sense." What type of art exploration would you recommend for a writer in need of inspiration?
That depends on what kind of art you're attracted to! I love going to art museums and galleries, and history museums — just one hour in a museum will crack your mind wide open and reconnect you with your subconscious. Going to live theater will teach you about character, dialogue, and story structure. You can learn a lot by watching movies — IF you watch mindfully! That's absolutely why I teach authors film story structure. Once you know what you're looking for, you can relax and watch a movie and still be intensely working on your craft. But also — just spend an hour reconnecting with nature. Go for a hike. Walk on the beach. See a dance performance, or better yet — go dancing! Or work in your garden. Spend an hour watching hummingbirds, or dragonflies, or cats. Lie on the grass and look up at the sky. It's all mind expanding. Wonderful things happen when you just get off Facebook (she says to herself).
You were paid very well as a screenwriter, but have said there's even more opportunity for writers in the world of self-publishing. Do you still feel this way, even though the self-publishing market has become very crowded?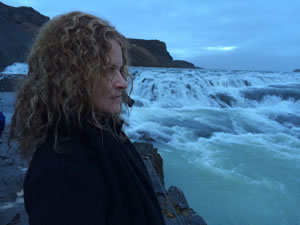 I definitely feel there's more opportunity for selfdetermination in the world of self-publishing. But you have to be ready and willing to work very hard. And I think that since the initial Gold Rush, self-publishing has, in many cases, become more useful for beginning a career and then leveraging that good start with a traditional publisher or nontraditional publisher like Amazon Publishing. Self-publishing is the new slush pile. Still, I know lots of self-published authors who are making a great living at it. They work CONSTANTLY, though. If you're not willing to do that, it's not for you.
What's the smartest step a new writer can take to get started in the world of self-publishing?
Write three good books in a series BEFORE you self-publish the first book, and while you're writing, spend at least a year studying successful selfpublished authors before you launch that series. Your best bet at making money as a self-published author is to have a series ready to go before you start. And definitely you will want to create audiobook versions of those books through Amazon's ACX program to launch alongside the books. Audiobooks are a huge potential income stream for indie authors, and the ACX program makes it incredibly easy to create a high-quality, easily marketable audiobook with potentially no start-up cost on top of the e-book publishing costs (except a small fee to modify your original book cover). Right now, if you're self-publishing, there's a good chance you will make more on your audiobooks than on your e-books. But you need to be an entrepreneur. With self-publishing you get back what you put into it
Editor's Note: Visit http://www.alexandrasokoloff.com

The Professional Writers' Alliance
At last, a professional organization that caters to the needs of direct-response industry writers. Find out how membership can change the course of your career. Learn More »

Published: July 27, 2017