2016's Copywriter of The Year and Fan Favorite to Return to Bootcamp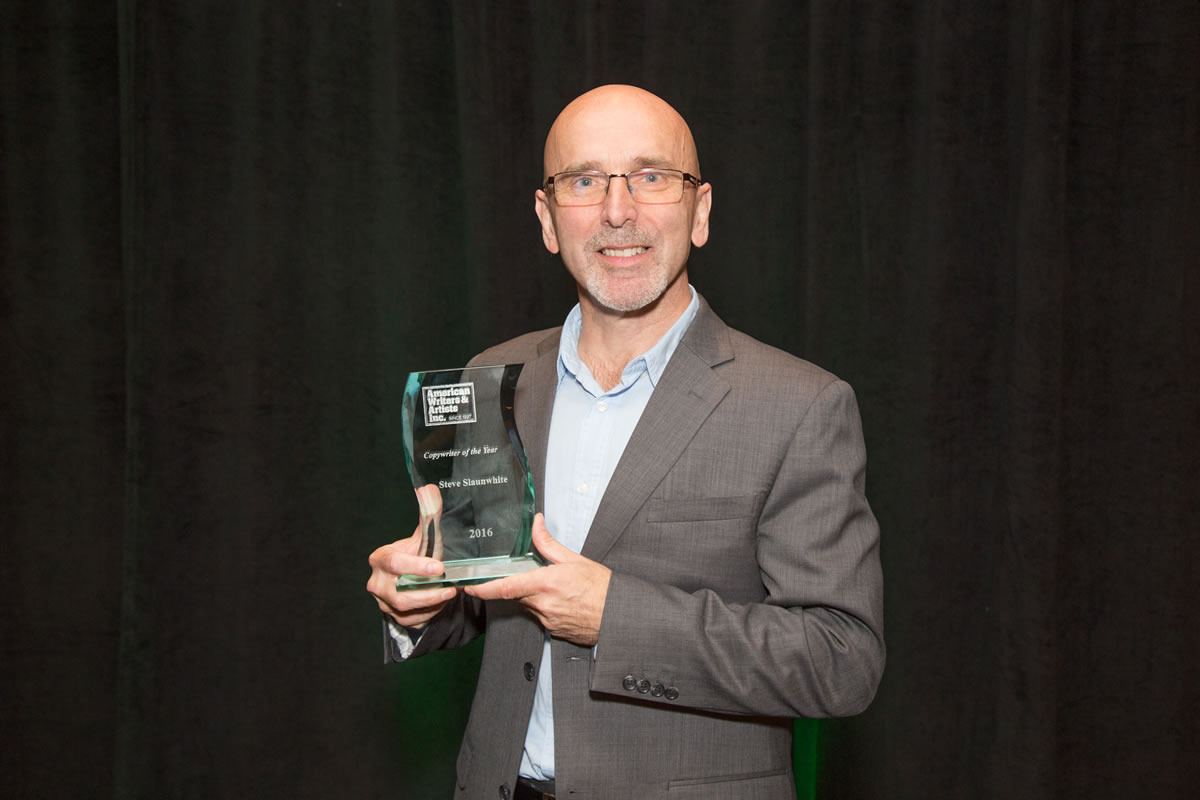 With standard fees for easy-to-complete projects like $500 for a press release … $1,500 for web copy for a sales page … and $5,000 for a white paper report, it's no wonder a typical annual income in the six-figures is entirely possible for the B2B niche.
Here's the thing. Although it's an industry with its own way of marketing, writing B2B copy is actually very straightforward once you know the "rules," says longtime B2B specialist marketing consultant Steve Slaunwhite. He says you can learn the ropes and start offering your services and landing copywriting jobs in two to three months. Talk about fast turnaround.
"That's the time you need to learn the fundamentals of B2B copywriting and also learn the specifics of writing the key marketing pieces: websites, emails, blogs, white papers, case studies, etc.," says Steve. "Of course, your learning accelerates when you start working on actual client projects."
Steve will be helping AWAI members jumpstart that process and shorten their learning curve at this year's AWAI's FastTrack to Copywriting Success Bootcamp and Job Fair. He's a fan favorite at Bootcamp, passing on what he's learned during his many years in the industry. In fact, he was named AWAI's Copywriter of the Year for 2016 at last year's event.
"I've personally met attendees who were complete newbies to copywriting and then, years later, met them again and they were highly-successful copywriters," says Steve. "That speaks volumes for Bootcamp. It's transformative. There's no other event that even comes close to it in the industry."
Even after a long career working for clients like Sage Software, The Scheduling Institute, UPS, and the Canadian Postal Service, Steve is still very excited about the opportunity for B2B writers today for two big reasons.
"One, there are thousands of B2B companies, so a copywriter will never run out of opportunities. Two, there are dozens of niche markets within B2B. So chances are, a new copywriter will find an ideal niche," says Steve, the bestselling author of The Everything Guide To Writing Copy, The Wealthy Freelancer, and The Complete Idiot's Guide To Starting A Web-Based Business.
Whether he's speaking at Bootcamp or teaching through AWAI programs like Secrets of Writing High-Performance Business-to-Business Copy, Steve is passionate about helping newcomers master the skills that will make them irresistible to B2B clients.
"Next to writing for companies, teaching is my passion. I love developing and delivering workshops. Every time I discover something new that helps my business, I want to teach it to others," says Steve.

"The downside is that I've created a lot of competitors! But I don't mind. Nothing pleases me more than when someone says I've helped them build a successful copywriting business. The way I see it, the more top-notch B2B copywriters there are in the marketplace, the better it is for all of us."

The Professional Writers' Alliance
At last, a professional organization that caters to the needs of direct-response industry writers. Find out how membership can change the course of your career. Learn More »

Published: July 10, 2017