July Issue: The O-word You Can't Live Without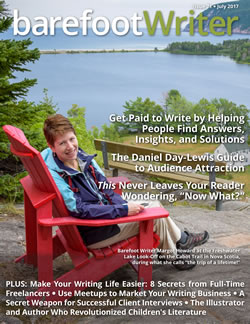 Want to know the real reason Barefoot Writing is the best life-opportunity you'll ever come across?
It's not just the money and freedom …
It's not that you get to do something you love …
It's not even the thrill of calling your own shots …
The real reason is so much simpler. It's this: Barefoot Writing gives you options. You can make what you want, write where you want, work on the projects you want …
And then add or take away from your business depending on all your other wants – like where you'd like to live or travel or how you like to spend your time.
You'll get an up-close view of those options and more in our July issue, which also tells you how to:
Get paid to write by helping people find answers, insights, and solutions
Use meetups to market your writing business
Make your writing life easier with eight secrets from full-time freelancers
Deploy the secret weapon for successful client interviews
Make sure you never leave your reader wondering, "Now what?"
On top of all that, we have an informative interview with Fred Gleeck, one of the most well-known, highly respected info marketers around.
Click here now to read your July 2017 issue of Barefoot Writer.
This month's writing opportunity shows you how a hundred different worthy roads can lead to your individual goal. See p. 16.
I'd also like to extend a special invitation today for you to join the Barefoot Writer Club.
You'll become part of a world where you can:
Quickly connect with hiring clients
Reach out to high-earning writers for support and advice
Get discounts on guides to the hottest writing opportunities
Access reports that teach you shortcuts to massive success as a freelance writer
And so much more!
You'll be welcomed into a very special group of people who can show you what it takes to earn a healthy income as a writer, while enjoying the kind of lifestyle most people only dream about.
Take the quickest route to life as a paid writer: Discover the Barefoot Writer Club today.

The Professional Writers' Alliance
At last, a professional organization that caters to the needs of direct-response industry writers. Find out how membership can change the course of your career. Learn More »

Published: July 7, 2017