"AWAI's annual Bootcamp has become our industry's most obligatory event."

"Inspiring. Comradely. Hope. Intense. Real Deal."

"I love being part of this vibrant and supportive community of lifelong learners and doers!"
You Can Still Join Top Copywriters in the World at Bootcamp — and Find Your Copywriter Success
Act Now – We're Almost Sold Out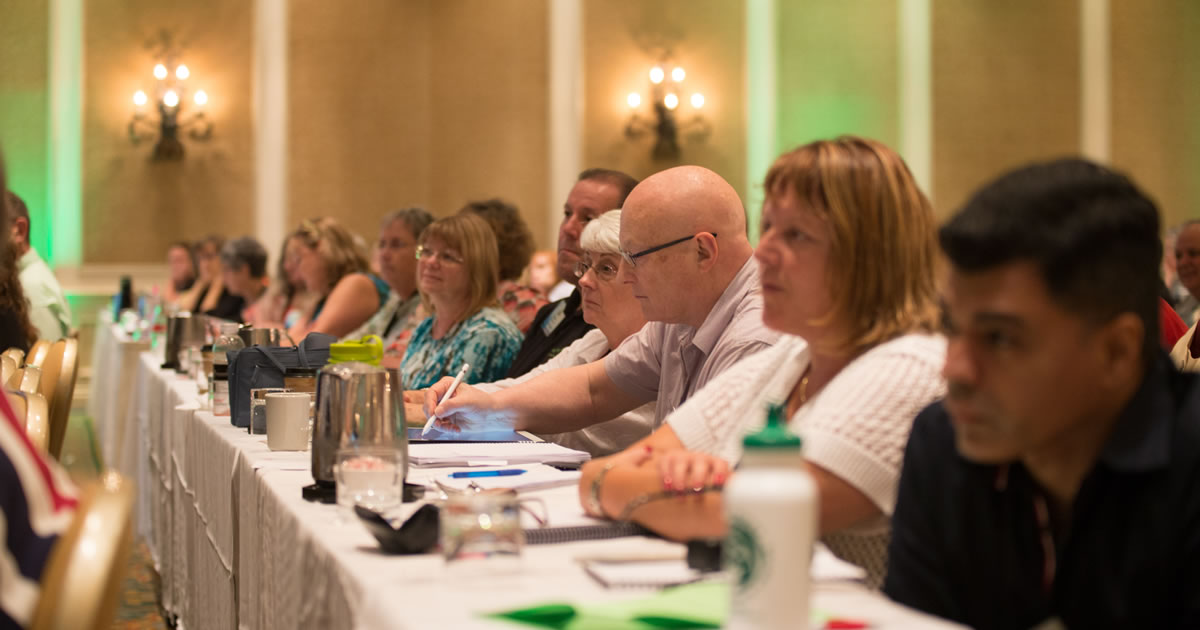 Every year, AWAI members from around the country — and around the world — gather in Delray Beach, Florida to live and breathe copywriting with a few hundred of their fellow copywriters, as well as newfound mentors.
The FastTrack to Copywriting Success Bootcamp and Job Fair is being held this year October 18-21. And as we prepare, the excitement is building. In fact, we have only a few seats left. The event might even sell out before the Aug. 31st $300 discount expires.
Every year AWAI invites six-figure experts, industry vets who not only get results for their clients but who are also genuinely psyched about passing on their knowledge to the next generation. Just check out some of the messages they've been sending in.
"AWAI's annual Bootcamp has become our industry's most obligatory event. There's no other meeting, seminar, or convention that brings together the world's best copywriters for three days of sharing, storytelling, and schmoozing. If they didn't pay me to come as a speaker, I'd pay them to come as an attendee. (Don't tell Katie I said that!)" – Richard Armstrong

"What's not to like about a meet-up of 500 writers by a gloriously sunny beach? The presenters are all top-notch, generous with their advice. But the networking really makes the AWAI Bootcamp special. Whatever your niche, wherever you are in your writing career, you'll meet dozens of people with lots in common. And if you're anything like me, you'll leave energized with tons of ideas you can put into action." – Gordon Graham

"As a writer, I have always found it fun, stimulating, and educational to both attend and speak at writers and marketing conferences, and so for those reasons, I love our annual Bootcamp. It's also great to meet and spend time with so many of my fellow copywriters — both the attendees as well as the other speakers." – Bob Bly
Bootcamp is a career- and life-changing event — the place you need to be if you want to take your copywriting business to the next level and truly experience the copywriter success you've been working towards.
"There aren't many things that will drag me out of my 'cave' in the mountains of northern California. Bootcamp is one of them. Why? Even though I've attended for ten years and have presented almost as long, I always learn new things to power my career. But even more important: I get to catch up with old friends and new among the great members who attend." – Will Newman
It's one thing to go through a program in copywriting. But it's quite another to be "in the mix" at Bootcamp surrounded by up-and-coming copywriters, and learning from and interacting with the top names in the industry.
All of these experts are approachable and ready to answer questions. Some of them might even hire you …
"AWAI's Bootcamp is the 'must attend' event of the year for copywriters — and also for everyone who hires them. The training sessions — presented by the world's most successful copywriters — are indispensable for everyone looking for a way to climb the career ladder. The opportunities to network with other writers — and also with potential clients — are unmatched anywhere in our industry.

"I have personally hired a half-dozen copywriters I met at Bootcamp — and many of them have gone on to establish stellar careers. I wouldn't miss Bootcamp — and I strongly recommend that you don't either." – Clayton Makepeace
When it comes down to it, Bootcamp helps you master the in-demand skills you need to succeed as a copywriter today … and gives you the support and inspiration required to make it happen.
"Inspiring. Comradely. Hope. Intense. Real Deal. These are all words that pop in my mind when reflecting on my first Bootcamp experience just last year. I am pumped to see what words I add to the list this year!" – Ted Capshaw
Remember, Bootcamp is nearly sold out. And the $300 discount expires on Aug. 31st.
So if you're at all interested in advancing your freelance career and finding long-term copywriter success, you should join us and all the expert speakers who'll be there.

The Professional Writers' Alliance
At last, a professional organization that caters to the needs of direct-response industry writers. Find out how membership can change the course of your career. Learn More »

Published: August 29, 2017