August Issue: Make room for the writing life you NEVER imagined …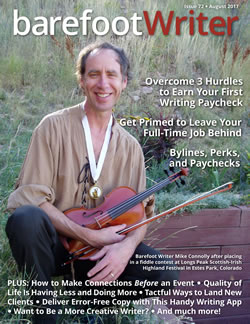 We talk plenty about writing goals …
But what about your writer's life wish list?
It's an important point, because without a list to guide what you hope your writer's life will bring you, it's hard to know what you're aiming for.
Perhaps you have a goal to reach a certain income level … but why? Or maybe you're angling to write for a few dream clients this year … but what will that mean, beyond more paychecks?
This month, we build on that concept: how to know what you want as a writer … when to let that vision go … and what to do instead.
Our August issue also dives into …
The writing opportunity that brings bylines, perks, and paychecks
What to get if you want to be a more creative writer
How to make connections before an event
Which hurdles to overcome so you can earn your first writing paycheck
Ways to get primed to leave your full-time job behind
Plus, we're honored to feature a captivating interview with travel journalist Glynna Prentice, whose insight into living abroad just might entice you to add "expat" to your writer's life wish list!
Click here now to read your August 2017 issue of Barefoot Writer.
Have you redeemed your special invitation to join the Barefoot Writer Club? Because the clock is ticking … and I can pretty much guarantee it'll be the best decision you've ever made for your writing career.
Here's why:
The Barefoot Writer Club offers you a community of support like no other — literally. Plenty of folks out there want to make a living writing. Plenty just want to write.
But too many see the writing world as a place of competition and rivalry.
Yet it's NOT.
We know from experience — after watching hundreds of writers launch successful, paid writing careers — that the recipe for success is knowledge plus support.
Without support from people who understand your goals and your drive to write, it's too easy to fail.
As a member of the Barefoot Writer Club, that kind of thing doesn't happen. You'll be part of a genuinely supportive bunch of people who give free advice and critiques, who applaud your successes and help you move past your hurdles.
Plus, the Barefoot Writer Club gives you access to loads of other benefits — like detailed reports that teach you shortcuts to money-making success, and discounts on the hottest writing guides.
In short, this club is your win-win ticket to the life of access and satisfaction. Join the Barefoot Writer Club today and get ready to enjoy the paid writer's life you've always dreamed about.

The Professional Writers' Alliance
At last, a professional organization that caters to the needs of direct-response industry writers. Find out how membership can change the course of your career. Learn More »

Published: August 4, 2017