What Happened When I Took a 1-Day Writer's Retreat to Work on My Business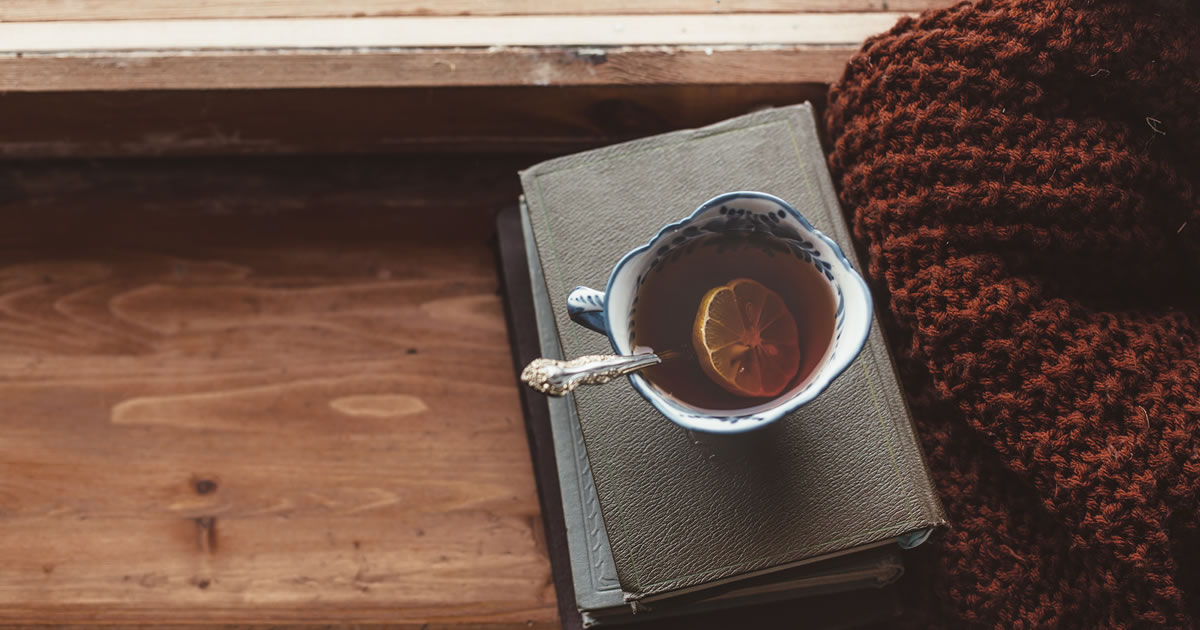 My eagerly anticipated writer's retreat didn't end up quite as planned. Turns out, that's both good and bad.
Let me explain …
I recently got together with three other local businesswomen, borrowed a conference room, and took a one-day writer's retreat. While we have different businesses in different industries, we all are working on writing projects that will help us take our businesses to the next level.
The Who …
Ann is a commercial property manager transitioning into becoming an author, speaker and life coach … she's got three books in progress. Renee teaches dance at various local preschools and is developing a "Dance Business in a Box" info product to teach other dance studio owners her system. Liz is a networking expert, author and speaker who is developing an online training course to teach people to be better networkers.
And then there's me … a direct-response web copywriter, social media expert, marketing consultant and coach … and I'm writing another book to continue building my authority and credibility as I expand my coaching practice.
The idea was we could get together at a neutral location, free ourselves of the distractions we all face in our home offices, and benefit from the extra energy and "writing mojo" of a shared intention.
First let me explain why I really needed this retreat …
The Why …
"Normal" for my work day looks something like this: I walk down the hall and into my home office with my cup of coffee and water bottle (gotta stay both caffeinated and hydrated!), fire up my laptop, and get into the flow. I typically respond to email and social media, then tackle client work before turning my attention to projects for my own business.
But while this is happening, gardeners in the neighborhood fire up their lawn mowers and blowers (and NONE of my neighbors have a coordinated schedule for their gardeners, so there's always work happening somewhere). The mailman brings the mail. UPS and/or FedEx make a delivery.
My three dogs want to protect me from all these "threats," so they bark enthusiastically to warn them all away.
Meanwhile, my office phone rings … it's someone who's been referred to me by someone I met at a networking function. So, of course, I need to stop what I'm doing and give this prospective new client my full attention.
Now that it's summer vacation, my teen-aged son wanders into my office … "Just seeing what you're doing, Mom," he says. Or sometimes he wants my help finding something, or he wants to show me something.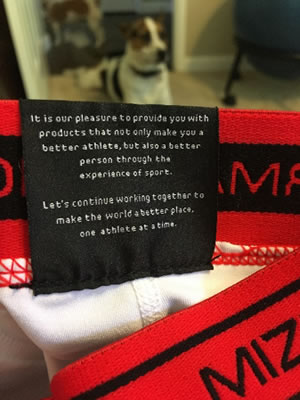 For example, while I'm writing this, he just came in to show me a tag on the inside of his baseball slider shorts. It actually IS pretty cool from a marketing perspective (check it out on the right). But it was a distraction, nonetheless.
Even when it's just me and the dogs at home, they come in to tell me they need to go outside. Or that they're ready for a walk, or want to play.
As you can see, I get distracted A LOT over the course of an average day. You can relate, right? I'm not the only one, am I?
So the idea of getting away for a day to work on my business — distraction-free — sounded like heaven.
The Plan …
My fellow businesswomen and I made arrangements to borrow the conference room at another friend's office from 8:00 am to 4:00 pm, with the understanding that each of us would arrive when we could and leave when we had to. The other "rules" we set for ourselves were:
No checking email
No checking social media
No checking texts
No calls
No chit chat
No straying from the task at hand (If someone looked distracted or off-task, she'd get a gentle nudge from whoever noticed.)
My plan was to drop my son off at school at 8:00 and have my butt in my seat and fingers on the keyboard by 8:30. I'd work through lunch and leave at 2:30 to pick him up from school. That gave me a solid six hours. Bliss!
The Reality …
Except that our retreat was during the last week of school — finals week — and there was early dismissal. At 12:30 instead of 3:00.
So my six hours was already down to three and a half. Still, with focused effort I could get a lot done.
Except that as each person arrived, we greeted her. Shared the Wi-Fi password. Showed her the power outlets and where the restrooms were. We kept it minimal, but still … it was an interruption.
My planned six hours of distraction-free writing turned out to be less than half that.
I DID write the three chapters I needed to write, along with the copy for the back cover of the book. Still … I felt cheated by the abbreviated day and disappointed that I didn't get to the social posts, book landing page, or email announcing the upcoming book to my list.
Next time — and we all decided there WILL be a next time — I'll double-check my son's schedule to make sure there isn't anything unexpected or unusual happening that day. I'll be more protective of the time I block out for me and not as willing to cut my focused writing time short.
We also decided it would serve us better to have everyone arrive at the same time, so we weren't interrupted each time one of us got there.
Overall, the retreat was productive for each of us, even though nobody stayed the entire day. So next time, we'll plan on less specific working time — probably three to four hours instead of six to eight. And we'll schedule in some social time as well. All work and no play is actually harder than it sounds.
And in addition to our future writer's retreats, we also decided to form a mastermind group and get together twice a month to hold each other accountable for maintaining forward progress, to lend support when needed, and to brainstorm solutions to challenges when requested.
So while the day didn't turn out as planned, in many ways it was BETTER than I anticipated. And that's pretty awesome.
Your Turn …
Use what happened to me to help you plan your own writer's retreat. Set clearly defined, realistic expectations and "ground rules" to maximize your productivity. Do what works best for you and your group.
And if you've already done something similar, I'd love to hear about your experience! What worked for you? What will you change for next time? Leave me a comment below.
This article, Taking a Writer's Retreat to Work on Your Business was originally published by Wealthy Web Writer.

The Professional Writers' Alliance
At last, a professional organization that caters to the needs of direct-response industry writers. Find out how membership can change the course of your career. Learn More »

Published: August 2, 2017