The ABC's of Writing Emails Worthy of Higher Fees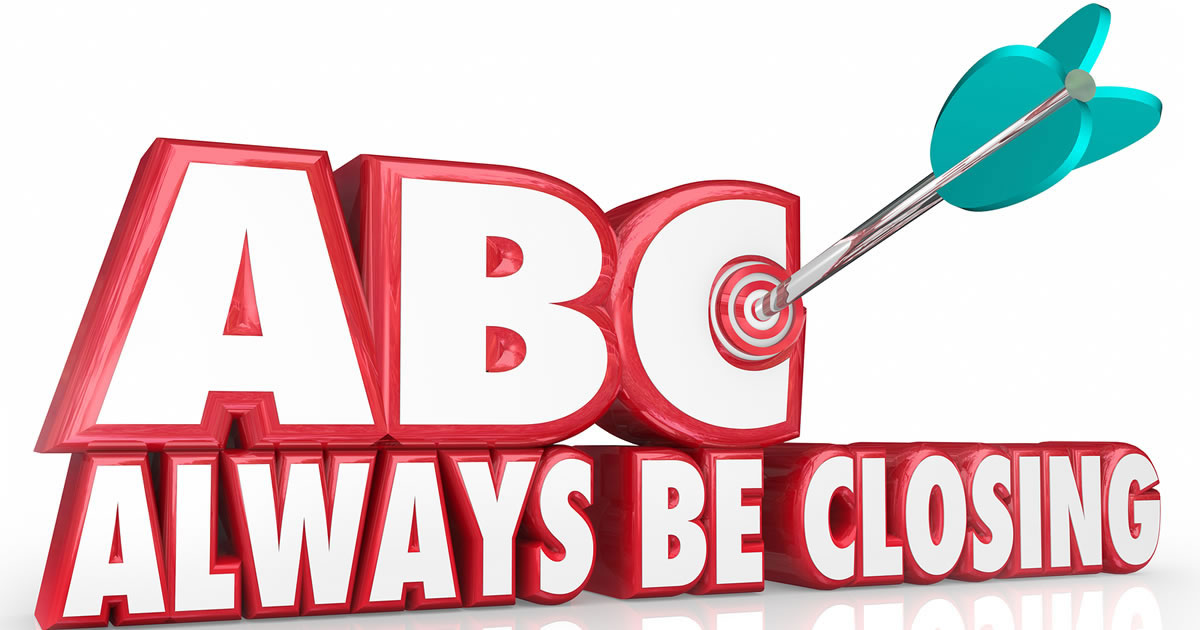 "Put … that Coffee … DOWN!"
Does the quote above ring any bells? It's from the movie Glengarry Glen Ross …
Ever see it? I think every copywriter should, if only to remind them how lucky they are to be a freelancer.
It's a sad story about a real estate salesman and how far one will go to achieve success. And it features an amazingly memorable scene with actor Alec Baldwin …
Baldwin's character, one of the higher-ups, is lecturing a group of weary, worn-to-the-nub sales schleps and really giving them the third degree, with a profanity-laced tirade that would make the crustiest old sailor blush.
He doesn't even let their elder statesmen, Shelley Levene (played magnificently by Jack Lemmon) get a simple cup of coffee. As he puts it, "Coffee is for CLOSERS."
In a way, it's hard to watch. This guy holds back nothing — NOTHING — and is so degrading … so detestable … you almost feel like showering after he's finished.
However, there's one little gem of brilliance he passes along that can literally mean the success — or failure — of the emails you write for your clients …
These three simple words should be at the top of mind every time you reach for the keyboard. Heck, I'd even jot them down on a yellow sticky note and slap them on your monitor.
So what are they? As Alec's character so "delicately" puts it …
"A, B, C. Always. Be. Closing … ALWAYS. BE. CLOSING."
It's true — whenever you write an email for a client, you need to always be closing … always be asking for the click … always be driving them towards a specified action.
And this is accomplished with an effective call-to-action.
As you probably know by now, the call-to-action is absolutely critical to any sales piece, and emails are no different. Without it, what do you have?
For the most part, several hundred words of fluff that provide little or no value and waste everyone's time. (Which is okay for some, I guess. I mean, we're all suckers for a good story, right?)
But your clients aren't playing games here. They've hired you for a very specific reason — to create messages that will get opened, get read, and get click-throughs. And if they don't, those messages are failures — plain and simple.
And you know what happens when your email copy crashes and burns? Yep — you don't get a second gig. AND your unhappy client will let everyone else know about their experience.
Yikes.
But here's the good news …
Sliding in a killer call-to-action is one of the easiest things to do in your email.
That's correct — you don't have to have years of experience or oodles of skill to make magic happen with your calls-to-action (CTAs). All you need to do is remember these three simple principles …
Everything Should Lead to the Click: From the first word of the subject line to your final farewell in the P.S., every word — and I mean EVERY word — should have one goal and one goal only in mind: to get the click.

Yes, you can entertain. Yes, you can inform. Yes, you can provide value. But if you don't give them a reason to take the next step, you're just spinning your wheels.

So think of every word, line, and copy block as a direct conduit that leads to the next word … the next line … the next block … until your reader reaches the one-and-only inevitable conclusion: "I gotta click this to find out more."

Slide Your CTAs in Carefully: I coach a lot of copywriters and do a lot of critiques. And one thing I see over and over again are CTAs (in this case, clickable links) that are dropped into the copy all willy-nilly …

This is a crucial error, because your copy needs to move and flow effortlessly to each CTA, without a hitch or speed bump. And when you slide in a link just because you can (or you feel you need to), all that effort goes out the window.

Now you've got a choppy, undecipherable copy piece that nobody wants to read, no matter how brilliant your copy is. Because it takes WORK. And if they have to work for it, they won't do it. Simple as that.

So how do you prevent this? By crafting the line or two before your CTA very carefully to lead your reader to the link. Ask a question, or tease about something inside. Make them click to find the answer.

If you've done your job, they will.

Don't Get Greedy: There's a certain rhythm you'll find to writing emails, and I talk about this at length inside my Email Copy Made Easy program …

And when you hit that rhythm, you'll naturally see places to add a CTA. You'll find they just sort of "fit" after this line or after that copy block.

But don't go overboard here. The last thing anyone wants to see is an email with more blue underlined type than black. Hit them with too many CTAs and you'll scare them off quickly.

I've found about 3-5 links placed in very specific spots seems to work well. Not so many that I come off as a used car salesman, but enough to give them multiple opportunities to click.
Follow these guidelines and you'll not only "always be closing," but you'll "always be working" …
Because word will get around quickly about how you can crank out some killer email copy that really engages an audience and drives more sales. And once it does, more clients will begin to seek you out (and pay you accordingly) for your services.
And that, my friends, is a REALLY good place to be.
I hope you've found this helpful. Now if you'll excuse me, I'm going to get another cup of coffee … :)
If you have any questions about writing emails, please let me know in the comments below. Become an email copywriter and you'll Always. Be. Working.

The Professional Writers' Alliance
At last, a professional organization that caters to the needs of direct-response industry writers. Find out how membership can change the course of your career. Learn More »

Published: August 17, 2017