B2B Copywriting: Where It All Begins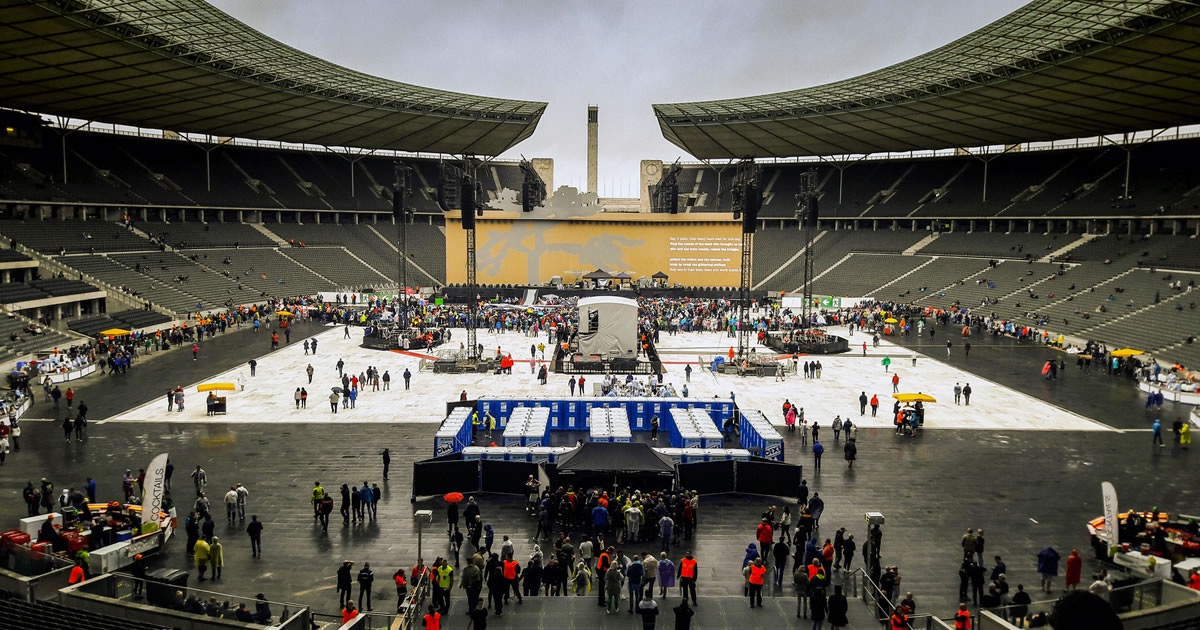 U2 set in Berlin (photo by Peter Kaveland)
I'm always sad to see the summer go. I love my time at the beach, on the boat, and relaxing on the porch.
Sure, some of those activities continue into early fall but others, like outdoor concerts, are only held during the summer months.
One of the things I've always found fascinating about outdoor concerts is your ability to see more of what goes on "backstage" than in a typical concert hall. It gives you an appreciation of what it takes to put a band onstage for the crowd to enjoy.
Of course, you don't see the time spent in rehearsal, negotiating the events, and hauling all the equipment to the concert venue. Or the money spent on instruments, sound equipment, and royalties for the songs they play.
For every hour a band is onstage, they've spent hours and hours backstage, preparing for the concert.
B2B copywriting is like that.
For every consumer product you see, there are many more Business-to-Business (B2B) companies involved in bringing it to market.
Going back to our band example, let's look at this year's U2 tour and how involved B2B marketing and copywriting could be.
At the concert, you see the band's instruments, stage props, amps, speakers, lights, and cables. You might also notice the soundboard and the 18-wheeler trucks that transport the band's gear.
It varies by the band, but it's likely some of the instruments were purchased or leased by the band or the touring company.
The instrument manufacturers depend on B2B copywriters to create websites, emails, ads, video scripts, brochures, and more to market their products to bands, leasing companies, recording studios, and music schools.
It's a similar story with the manufacturers of the sound and lighting equipment.
Because of the high cost of the equipment and the technical issues involved in producing a large concert, the touring company needs extensive information in order to determine if the equipment will meet the band's needs.
Let's take a look at one manufacturer of commercial soundboards — Yamaha. On their website's product page, you immediately see product descriptions for each of their products in that category. Descriptions written by a B2B copywriter.
Clicking on the link for their most advanced system, we're taken to a dedicated product page with a more lengthy description and several explanatory videos. In fact, there's even a video blog for just this product. Yes, they relied on a B2B copywriter to create the copy and video scripts!
The page also has a "Features" tab where a B2B copywriter has outlined the features and benefits of this particular product.
There are also tabs for plug-ins that work with this system, specifications, and a downloads page featuring manuals, brochures, and a data sheet. You guessed it — all written by B2B copywriters.
But it doesn't stop there! In order to manufacture a soundboard, you need raw materials including electronics, metals, and plastics. And of course, the software that makes it all work.
That means Yamaha isn't only a B2B seller, they are also a B2B buyer. Because they manufacture a highly technical product, it's likely they'll download white papers, case studies, and other product information in order to ensure they are getting the best components for their soundboard — all written by B2B copywriters.
As a large corporation, Yamaha will also make purchases from shipping companies, packaging companies, office furniture suppliers, assembly line equipment manufacturers, software companies, corporate training companies, and hundreds more vendors.
Every one of those companies is a B2B company. And every one must have B2B copywriters to produce lead generation materials, website copy, emails, ads, engaging content, and so much more.
It's truly mind-boggling when you think about it.
Before you could purchase your tickets to this year's U2 concert tour, hundreds of B2B companies were involved in creating the products and services needed to put on the concerts. And every one of them needed B2B copywriters to be successful.
Whether it's a U2 concert tour, a local band, or even the device you're using to read this, it all starts with B2B copywriting.
Did you realize how much B2B marketing was going on behind-the-scenes of your transactions? What questions do you have about getting started as a B2B copywriter? We want to help you get the answers. Please share in the comments below.

The Professional Writers' Alliance
At last, a professional organization that caters to the needs of direct-response industry writers. Find out how membership can change the course of your career. Learn More »

Published: September 7, 2017