September Issue: Play Your Chips Now for Major Career Payoff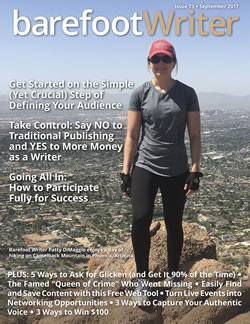 In poker, the phrase "all in" refers to the moment you bet all your chips on a single hand. Meaning you can win or lose everything in the blink of an eye.
Fortunately, if you're a Barefoot Writer, the risks are minimal — and the payoff can be extraordinary.
Which means you've got nothing to lose if you decide this is the month you're going to step it up, go all in, and accelerate your writing goals.
Our September issue's pack of eye-opening, motivational articles will help. You'll discover
Multiple ways to turn live events into networking opportunities
3 ways to capture your authentic voice
Why now is the time to say no to traditional publishing and yes to more money as a writer
How to participate fully for success
5 ways to ask for Glicken (and get it 90% of the time)
Click here now to read your September 2017 issue of Barefoot Writer.
Have you looked at your special invitation to join the Barefoot Writer Club? It's discounted 65% off now through September 2nd at Midnight ET.
Take advantage of this invitation and you'll become part of a world where you can:
Reach out to high-earning writers for support and advice
Get discounts on guides to the hottest writing opportunities
Access reports that teach you shortcuts to massive success as a freelance writer
Quickly connect with hiring clients
And so much more!
Life as a Club Member means entrée into a very special group of people who can show you what it takes to earn a healthy income as a writer (while enjoying the kind of lifestyle most people only dream about!).
Take the quickest route to life as a paid writer: Discover our Barefoot Writer Club today!

The Professional Writers' Alliance
At last, a professional organization that caters to the needs of direct-response industry writers. Find out how membership can change the course of your career. Learn More »

Published: September 1, 2017