5 Words to Gain Instant Credibility as a New Freelance Copywriter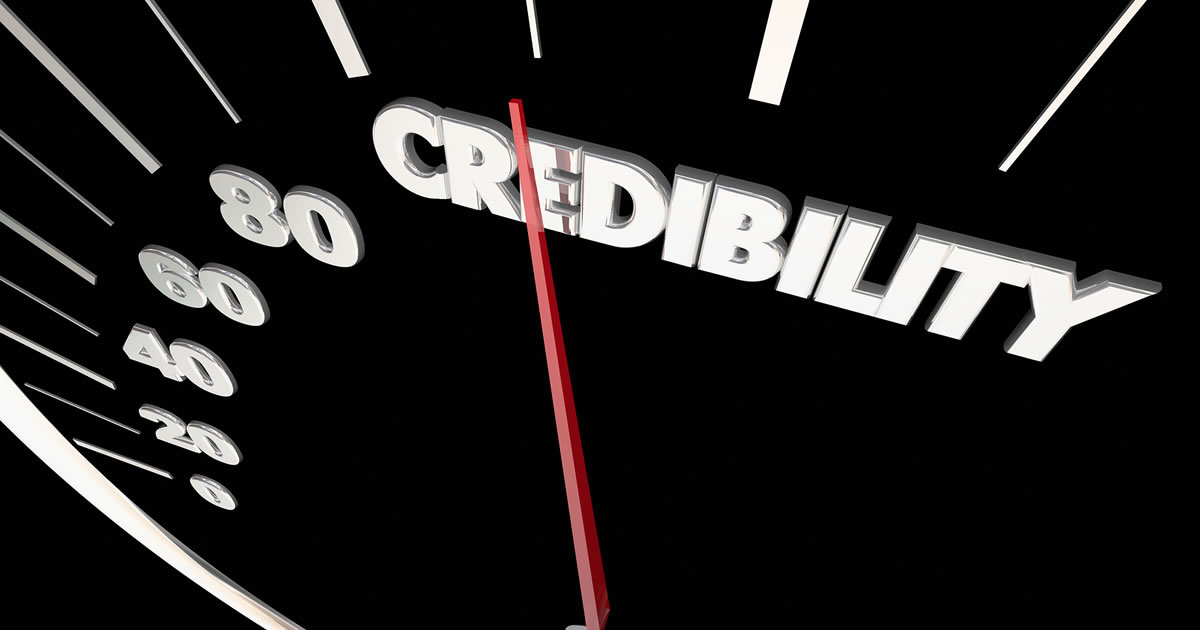 "What's the magic word?" A question you were probably asked by your mom or dad as a young child.
And while that's a neat way to teach children to use the word "please," when it comes to gaining credibility as a new freelance copywriter, asking a prospect to "Please hire me" just doesn't cut it.
Your prospect needs proof that you know what you're doing. They must believe you can deliver what you're promising, which is why you need to develop credibility. And you need to do it fast.
There are five "magic" words that worked for me when I was first starting out as a freelance copywriter, and the good news is, they still work six years later.
They'll work for you, too. They are:
AWAI-Trained Direct Response Copywriter
Do you see the power in those words?
Your prospects do.
Imagine you're Mr. or Ms. Marketer, and you need a new sales letter. (Or landing page, white paper, case study, email sequence … insert whatever copywriting project is appropriate.)
You need to find a copywriter who's skilled and qualified to help you with the project.
Given the choice between Copywriter A, who is an AWAI-Trained Direct Response Copywriter, and Copywriter B, who isn't … whom would you choose? Assuming other criteria such as experience and specialties are the same, you'd probably feel more comfortable hiring Copywriter A.
Unlike the medical, legal, accounting, and real estate industries, there's no regulatory board governing that only qualified professionals are practicing the craft of copywriting.
In fact, anyone can claim to be a copywriter.
That's why these five words — AWAI-Trained Direct Response Copywriter — are so compelling.
They carry weight and assurance. They give a freelance copywriter distinction and credibility.
So Where Do You Use Them? Everywhere!
For starters, use them in these seven places:
Magic Word Placement #1: Your Website
Use "AWAI-Trained Direct Response Copywriter" as an SEO keyword phrase when writing your website copy. The home and About pages are the obvious places to include this credibility-boosting phrase, but consider incorporating it on as many other pages as you can.
For example, you probably have Services, Testimonials, and Contact pages … all of these are natural places to refer to yourself as an AWAI-Trained Direct Response Copywriter. If you have a blog, give yourself a small author bio at the end of each blog post and use the phrase there, too.
Magic Word Placement #2: Your Social Profiles
When you sign up for an account on any social media platform, you're asked to create a profile to describe yourself. This is a perfect place to tell the online world that you're an AWAI-Trained Direct Response Copywriter. You can edit and update your profiles at any time. So do it!
Magic Word Placement #3: Your Online Listings
In addition to social media sites, you may have listings on job boards such as DirectResponseJobs.com or association websites where you also should be promoting and distinguishing yourself as an AWAI-Trained Direct Response Copywriter.
For example, a member profile listing is a common perk given by Chambers of Commerce, trade associations, networking groups, and the Better Business Bureau. These listings are then used on the group's website and, if they have one, in their printed membership directory, giving you exposure and instant credibility in front of potential new prospects.
Magic Word Placement #4: Your Email Signature
Your email signature is another place to reinforce your authority by placing AWAI-Trained Direct Response Copywriter after or below your name as your professional title. People may see your social profiles, online listings, even your website, only periodically. But they see your email signature every time they open an email from you.
Magic Word Placement #5: Your Printed Promotional Material
Use AWAI-Trained Direct Response Copywriter as your professional title on your business card, as well as on any other printed marketing pieces you use. Brochures, flyers, postcards … anything you're physically handing to someone can be more effective in boosting your credibility when you include these five words.
Magic Word Placement #6: Your Author Bio
If you're a contributing writer to someone else's blog, a magazine, or news site, you likely have an author bio that accompanies whatever you write. Promoting yourself as an AWAI-Trained Direct Response Copywriter in these author bios gives you added authority and exposure to a wider audience.
Magic Word Placement #7: Your Speaker Bio
When you speak at a workshop, association luncheon, on a podcast, or at any other event, someone generally introduces you to the audience. Use this opportunity to have them introduce you as an AWAI-Trained Direct Response Copywriter, among whatever other good things they'll say about you.
When you do this, you have someone else building your credibility as they introduce you to an audience of potential prospects. Win!
Elizabeth Arden said, "Repetition makes reputation, and reputation makes customers."
Build your freelance reputation by repeatedly using the words "AWAI-Trained Direct Response Copywriter" to boost your credibility. The customers will follow.
Are you an "AWAI-Trained Direct Response Copywriter?" How are you using it to market yourself? Please share in the comments below.
AWAI Badges Prove You've Got the Skills!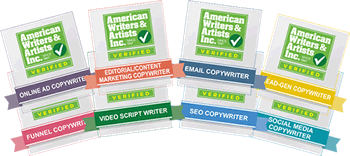 Learn to write 8 of the most in-demand copywriting projects (no sales letters!), and AWAI will verify you've mastered the skills.
You'll build up the confidence and knowledge you need to land clients. And have the samples and "Badges" to prove you've got what it takes.
Last spots remain — click here now for details!
Published: October 27, 2017