Getting Started With Speaking Engagements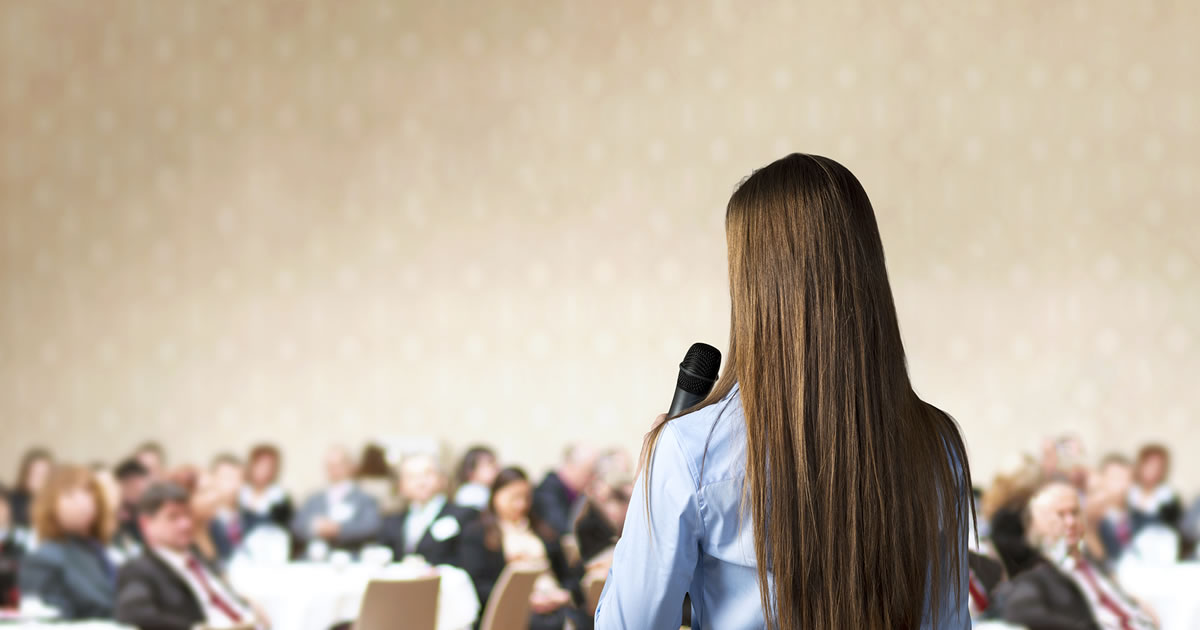 Now, be honest …
Did that headline and the thought of doing a speaking engagement make you cringe a little?
Were you filled with thoughts of, "I … I can't do that," "No way," or "Not in my lifetime"?
"Do you mean ME, getting up in front of people and speaking?!"
Yes.
That's exactly what I mean.
Speaking in public is often voted people's number one fear.
And, as Jerry Seinfeld jokes, death is number two! "That means," adds Seinfeld, "if you're at a funeral, most people would rather be in the casket than doing the eulogy!"
So, I know you probably won't believe me when I say this … but public speaking is not nearly as scary as it may sound.
How do I know?
I've done it … and lived to tell about it.
But Why?
Although it may seem scary, there are many good reasons and solid benefits that come from confronting your fears and speaking in public.
A few years ago, while writing for Wealthy Web Writer's Reality Blog, I put "speaking engagement" on my list of stretch goals — goals that are supposed to move you out of your comfort zone.
I'm a firm believer that pushing past your boundaries and doing something you wouldn't normally do is critical to success. When you really challenge yourself, you can turn up some amazing results.
Another main benefit is that it positions you as an expert in your topic and gives you almost instant credibility and authority.
It's also a great platform to get your message out.
Finally, it can be a potent part of your marketing.
If one of your goals is "attraction" marketing, where people are drawn to you rather than your having to go out and pursue clients, then speaking is one of the best ways to do that.
So, even if you think, "I could never do that," I'm here to tell you that you can, and I strongly encourage you to consider it.
And, now that you are … how do you get started?
Start Small
Like most endeavors that may seem daunting, it's best to start out small.
And, there are benefits to this:
First, if the venue and crowd aren't very big, it will be a lot less scary than standing on a huge stage at a super-conference somewhere. In fact, in some settings, you may even know the people in the audience … so, again, it won't be nearly as intimidating.
Second, compared to getting on a list to do a TED talk, small, local speaking engagements are relatively easy to land.
So, where do you look?
The first place to start is your local Chamber of Commerce and other local business organizations. Most cities and towns will have a few of these organizations. I live in a small town of 6,000 people, and we have both a Chamber of Commerce and a Downtown Business Improvement Association. In the town next door, there is a Small Business Development Center.
All of these organizations typically hold business-related seminars and workshops throughout the year on topics ranging from advertising and marketing, bookkeeping and tax planning, to websites and social media. With even a little scouting, you could uncover many of these opportunities.
Associations and businesses are another option. In fact, my first speaking engagement was for the Ontario Association of Agricultural Societies, where I presented a short talk on social media.
Many associations, local businesses, and even colleges and universities often hold "Lunch and Learn" sessions on various topics, so that's another option to check out.
Another opportunity you may not have thought about is your own list of clients. Do you have a few clients that might be struggling with a particular aspect of their business? Why not gather them together and present a short talk on that topic? Since you likely already know these people well, this is a great and terror-free way to break in to speaking.
Getting the Gig
Now that you know about where to find some of these sessions, how do you go about securing your first speaking engagement?
Time to do a little networking!
In your network of connections, there will most likely be people you know who belong to some of the organizations mentioned above.
A friend was involved with her local fair and had mentioned an annual convention that featured seminars. She also mentioned they held seminars on business-related topics, including social media. Since she knew I did social media, she suggested I should "get my name in there."
She contacted the speaking committee and asked how someone would go about submitting a proposal to speak, got an email address, and I prepared a short email with a title and short description for a presentation idea on social media … and it was accepted.
That's how I got my very first speaking gig!
I think what worked in my favor was the fact my friend had advocated for me, which is probably more effective than if I had just contacted them cold. That's the beauty of tapping into your network … your friends and colleagues will probably be more of a champion for you than you will.
For presentations at your local Chamber of Commerce or local business association, the best way is to attend a few seminars yourself, get a feel for how they work, get to know the people that organize the seminars, and meet some of the speakers.
In the case of my local small business development center, I knew two of the people that had previously presented at these sessions. So I approached them to inquire about the opportunity to speak and how they got started. Both were very helpful and gave me great information.
After one of the sessions I attended, I also approached the organizers, asked about opportunities for presenting, and inquired if they were actively looking for sessions on particular topics.
Pro Tip: More often than not, these local organizations are actively looking for new speakers with interesting topics to present to their members. So, as long as there's a match with your expertise and what they're looking for, there's a great chance they'll give you an opportunity.
Finally, if you can't find any opportunities this way, there is another option: Do it yourself!
One way to do it is to find a local service club or other small hall, and advertise the session yourself.
Another great option is to find a restaurant that has a room off the main dining area, and ask them if you could present a lunch-time (or evening) session in the room in exchange for your bringing in a hungry crowd. You get a venue for free, and the restaurant gets a small crowd of diners … everybody wins!
A third trick is to look for business groups on MeetUp that might be interested in coming to a talk you've organized.
Now that you've secured your first gig, it's time to get ready.
Be Prepared
If you want to get a second gig, you have to nail the first one … and, if you follow these tips, you will!
Your Slides
My best advice is to keep your PowerPoint slides simple.
You have one perspective when creating the slides, which is from where you sit right in front of your computer screen. But your audience will not be as close. Even in a smallish room, the slides may be difficult to see and read. To avoid that, stick to using large, plain, dark fonts on a light background … and remember, you want the slides to be readable from the last row, if that's possible.
Also, please don't use any vertigo-inducing animations that have text flying in from everywhere … they may be fun, but they're not practical. Fade-in is about the only animation I use in my slide deck.
I rarely (almost never) clutter up slides with lots of text or complicated diagrams, as most people won't be able to read them.
I actually have very little text on the slides, and a few of the points are just there as reminders for me as to what I'm going to say.
For more tips on PowerPoint, check out my Wealthy Web Writer articles, "PowerPoint Tips and Tricks" and "PowerPoint Tips and Tricks II."
Rehearse
It's important to rehearse and run through your presentation, for two reasons:
One, rehearsing your presentation will help you combat the jitters. The more comfortable you are with your presentation, the more comfortable you'll be when you're delivering it.
Two, it's important for timing. You need to get a good handle on how long your presentation will be, since you'll most likely have a time frame to present (unless you're doing your own thing). For my first presentation, I knew I had a 60-minute slot.
Pro Tip: Allow for more time than you think you'll need.
While rehearsing your presentation, you won't be asked any questions or suffer any interruptions. During your live presentation? That's another matter altogether.
Think back to every presentation you've attended … on average, did more people run out of slides, or did more people run out of time?
In almost all live sessions I've attended over the years, people seem to run out of time. And, when they do, they have to start dropping slides or rushing through the remaining slides. This not only can make you look unprofessional, it can also throw you off your game. (And unfortunately, it's a lesson I had to learn the hard way.)
Now, when I'm preparing a session, if I know I have a 60-minute slot, I prepare about 40-45 minutes of material. That way, despite potentially starting late (due to a previous presenter going long!), questions during the presentation, and questions after the presentation, you'll be able to comfortably present without rushing.
Tech Issues
Make sure you have everything you need. I always bring a backup of my presentation on a flash drive, and I also make sure it's accessible on the cloud as well (Google Drive, Dropbox, etc.).
You can never be too prepared!
At the place you're presenting, there will almost always be a tech person available. Try to meet them and make sure your equipment and laptop are compatible with the cables and interfaces they'll have available. You don't want to discover five minutes before your presentation that they only have HDMI cables, when you only have VGA inputs.
Find out where the tech person is, and more importantly, where they'll be during your presentation if any technical issues arise.
On the day of the presentation, get there early to make sure everything works. Do not assume everything will be taken care of. I've had a few compatibility issues over the years, and thankfully, I was there early enough that we were able to get them resolved well before presentation time.
Make sure there will be water available. If you're nervous, your throat will be dry, and you'll need water throughout the presentation. Bring a water bottle with you, just in case they don't have any available.
Use a hand-held slide advancer … it's basically like a remote that connects to your laptop using Bluetooth, and it allows you to advance the slides without your having to be at the computer. And, make sure you bring spare batteries!
Introduction
Find out if there will be someone there introducing you.
It always looks a little more impressive when there's someone there to introduce you.
Pro Tip: Be sure to write and bring an introduction script. Often, someone from the organizing committee will be introducing you, and they'll need something to say. They may even request one, so have one ready. Most of the time, they'll just read it verbatim, so make sure you make yourself sound awesome!
You're On
If you've followed all the advice I've given you so far, you should be ready to deliver an awesome presentation!
Even though you'll probably be nervous, remember … the people listening to you are on your side, and they're genuinely interested in the information you have to share. What you're delivering has value, and your attendees will be supportive and happy to be there.
Even if there are a few hiccups, if you deliver on what you promised, they'll forgive any small issues and be thankful to have learned from you.
Your Turn
Is speaking something that's been on your goals list for a while?
I promise you … although it may seem intimidating at first, this is something you can do, and the potential rewards are great.
If you have any questions or comments, I'd love to hear them … please share in the comments below.
This article, Getting Started With Speaking Engagements was originally published by Wealthy Web Writer.

The Professional Writers' Alliance
At last, a professional organization that caters to the needs of direct-response industry writers. Find out how membership can change the course of your career. Learn More »

Published: October 11, 2017