Where Can a Well-Paid
Writing Career Take You?
Let the October Issue of
Barefoot Writer Magazine Show You …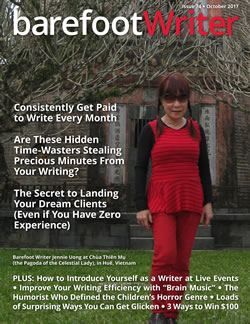 We just released this month's issue, which kicks off with uplifting stories from Wendy Strain and Warren Latham, both of whom capitalized on the versatility within copywriting and the freedom it brings — but in vastly different ways.
For Warren, copywriting literally gave him a new lease on life. Not only that, but once he subscribed to Barefoot Writer, he was ready to take his writing career to the next level. And now he's done just that — across international borders!
And Wendy took her writing skills and created a niche for herself that fits right in line with her dream lifestyle. She explains the attitude that helped her get to that point, and shares how to move forward when the occasional doubt surfaces.
We also share the charming story of master copywriter Nick Laight, who experienced two life-changing events the day he went for his first copywriting interview. He details how everything started going right after that day, and gives us a peek into his relaxed world of incredible productivity — from the specific writing tools that help his ideas flow to the reason copywriting has made him immune to the fear of failure.
Plus, you'll learn about one of the easiest niches to get into if you're keen on setting up predictable writing income, as well as which clients are likely to pay you the most (and how to approach them!).
Combine all that with profound advice from our working writers on how to be a better freelancer, work more efficiently, and use music to your creative advantage … and you're bound to fly through the month of October with renewed writing enthusiasm.
If you're a Barefoot Writer subscriber, you can access the issue here.
And if you're not yet a member, go here to see how Barefoot Writer can help you achieve financial freedom through well-paid writing.
There's A Reason Why Members Don't Hesitate When They See This Invitation: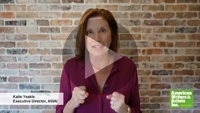 It's not something that's offered year round, when it is, we can hardly keep up with demand. I'm talking about the top level of AWAI membership savvy writers use to advance their knowledge and writing careers. Every resource is available at your fingertips along with live learning, guided mentoring sessions, professional copy reviews, access to clients, FREE admission to Bootcamp and more! But spots go fast.
Here's how to reserve your place.
Published: October 6, 2017