The Rock Star of Writing Opportunities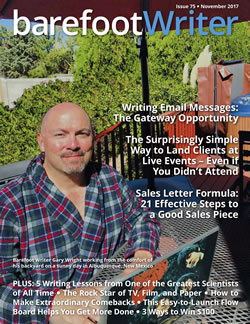 I hear it all the time from fellow Barefoot Writers:
"Writing for a living is nothing like I expected."
"I can't believe this is really my life."
"The support system is incredible."
That's because this world of paid writing flips most writer stereotypes on the heads. It's NOT a competitive, brooding lifestyle of meager pay …
Instead, it's an opportunity to take knowledge and desire and merge them into a versatile career that can give you everything you want, including the ability to work where you please, on what you please, and to earn an excellent return for your efforts.
We're here to show you how, and that's why I'm proud to bring you another terrific issues filled with pointers to move you forward. That includes:
11 rules for discovering a "winning tone" in your copy
Why video has skyrocketed the demand for writers
A clever screenwriting tip that helps you write faster
5 tips on how to write better email subject lines
Lessons in motivation … from elephants
Plus, we've got a heartwarming interview for you with six-figure copywriter Paul Hollingshead. His seemingly unlikely career has inspired thousands of would-be writers to step up and commit to the writer's life. See page 9 for his uplifting story.
Click here now to get inspired by your November issue of Barefoot Writer.
Our Barefoot Writing Challenge contest has launched several careers … maybe this will be the month you try your hand at winning. See page 22 for details.
If you're really serious about launching your writing career — and fast — then I HIGHLY recommend you check out our Barefoot Writer's Club. It's for folks like you, interested in making a living writing and getting paid for it, and ready to step up and take control of their lives.
Along with a full subscription to each new Barefoot Writer Magazine, you also get access to our treasure trove of 50 back issues, each one packed with tools and tips to help you launch your writing career fast.
And if that weren't enough, Club Membership also gets you admission to our Barefoot Writer Private Facebook Group where your fellow writers actively engage in growing their businesses, sharing advice, and answering the burning questions that might be holding you back.
Plus, there are other club bonuses, like the deep monthly discounts on writing programs designed to fit your goals. You'll also get our value-packed writing opportunity reports, including The $500 Email Secret, Get Paid to Surf the Web, The Secret of the 1-Hour Work Week, and The Lazy Writer's Path to a Six-Figure Income.
Each bonus has been specifically designed to give Club Members the best information possible for getting a successful writer's life up and moving at lightning speed.
Perhaps you're ready to take that step … if so, click here to learn more.

The Professional Writers' Alliance
At last, a professional organization that caters to the needs of direct-response industry writers. Find out how membership can change the course of your career. Learn More »

Published: November 3, 2017