The Ugly Faces of Fear … And How Copywriters Can Defeat Them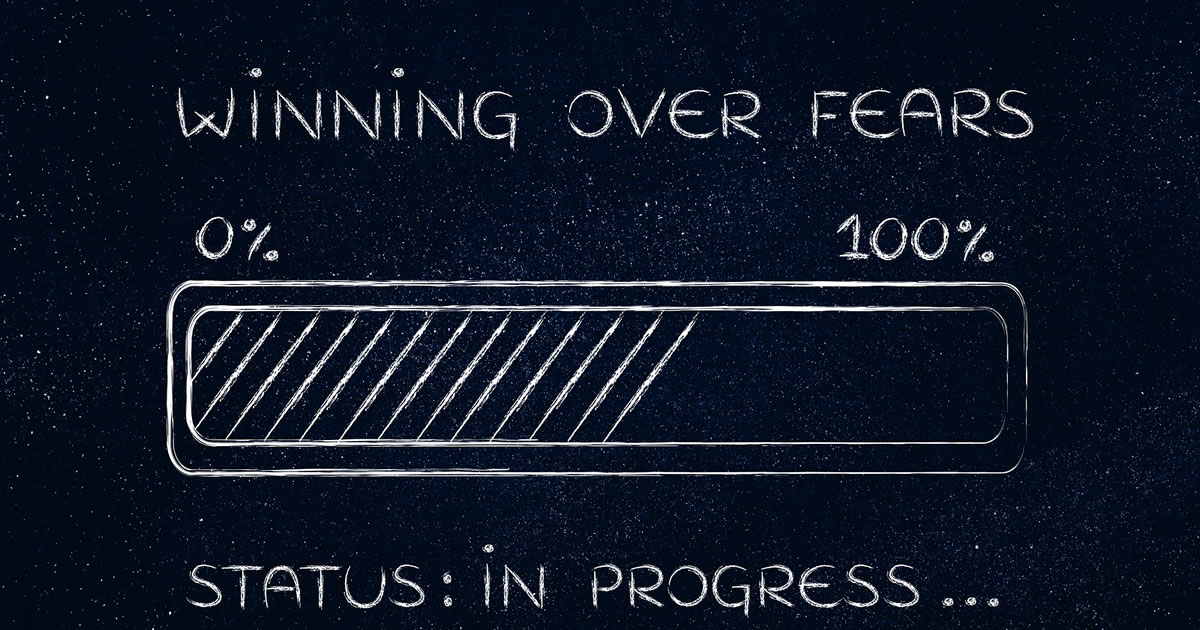 You might not believe this, but I still have lots of fear in my life.
My gut gets all tied up when I start thinking about new projects.
I avoid my work for hours on end so I don't have to face the keyboard and send off that proposal, make that call, and finish that assignment.
Playing with the kids … straightening my desk … reviewing the latest and greatest Internet business opportunity … trolling around social media sites … scrubbing toilets with tiny toothbrushes … yeah … just about anything will do, but the business at hand. :)
Why would I still feel fear after all these years of writing and building my business?
And if you feel the same way, how can we overcome those fears so we get the work done, get paid, and enjoy a great lifestyle?
The Ugly Faces of Fear
Fear is a natural, important neurological response. Our brain fires up the fear emotion when it senses danger. It's your brain's way of keeping you safe and alive and at 98.6 degrees and breathing.
Our brain has a database of what is "safe" and what is "unsafe" … and then there is the "unknown."
Here's the deal … our brain does not mess around with our life. So, if something is in the "unknown" category, the brain defaults to "not sure what this is, but just in case, we'll be afraid of it for now and ask questions later."
When we reach into the realm of "unknown," the ugly faces appear … doubt, worry, anger, mistrust, laziness, etc …
All of these emotions are tools the brain has for keeping us away from the unsafe and unknown.
Usually, it's a great strategy.
It keeps us from walking off cliffs, jumping out of airplanes (for sane people, that is … LOL), putting our hands on red-hot stoves, and eating mashed up, pureed organic peas, laced with spinach and broccoli (all babies know that stuff will kill you, for sure!).
When Fear Runs Amuck
But, sometimes this fearful protection mechanism goes awry and stops us from doing really wonderful things.
Let's suppose you went to AWAI's Bootcamp and got all fired up about being a super-successful copywriter.
On the flight home, you start thinking of all the wonderful things you're going to do.
"Monday, I will write that Spec Assignment, start my website, email those two marketing directors, and apply for that new writer position Stansberry Research was advertising. I'm going to conquer the world!"
For a while, your Fear persona is sitting in the background. Your adrenaline and hope and excitement are keeping that party-pooper at bay.
But, Fear is very persistent. It has direct access to the subconscious mind. It has a prime directive to keep you safe … and unknown is bad … very, very bad.
The more you think of all the cool things you'll do, the more anxious Fear gets.
Pretty soon, he chimes in with stuff like this …
"Apply for Stansberry? Are you crazy? We've never done that before. What if they blacklist you forever?

"And a Spec Assignment? Never done that before. You're not even close to being ready for that … who are you kidding? You haven't even been through the writing course for the sixth time. Definitely not ready for that.

"You think you can just up and email those marketing directors? Those guys are busy. They need experienced writers, not a newbie like us. You'd be the laughingstock of the office, and you know that sticks and stones break bones, but mocking words destroy self-image and dash dreams to pieces. We're not going there, so you can just take that off your list right now!"
And on and on it goes.
Before long, you're gleefully cleaning the toilet with a tiny toothbrush instead of getting your writing business off the ground.
Unknown = Dangerous
This is why we fear failure … fear success … fear marketing … fear writing … fear … just about anything that is new.
New = unknown = potentially dangerous = fear response = no action = failure.
Does that sound about right to you?
The preacher in me is tempted to have you give me an "AMEN," but you know I'm right … right?
All of that is good to know, but what do we do about it?
Because Fear is a wildly formidable enemy.
As I said before, Fear has direct access to the subconscious mind. And a bunch of Harvard and Yale studies tell us that the subconscious mind controls 95% of our decisions long before they ever hit our conscious mind.
Have you firmly resolved to get on your writing business?
Maybe even set aside a specific time to do it … only to wake up a few hours or days later standing over the toilet bowl with a toothbrush in your hand, wondering how you got there?
LOL!!
Well, I have. My fears got my subconscious to have me do all kinds of crazy things to avoid writing.
(Case in point … I was supposed to write this article three days ago … and NO! I won't tell you what I was doing instead … ha ha ha!!!)
How to Overcome Fear and Win Big!
Again, if this kind of goofy stuff happens to all of us, what do we do about it?
How do we outwit that sly fox called Fear and come off the conqueror?
First, you should know that it CAN be done.
I did it.
And, if they were real and open and honest, every successful writer in the world would tell you that they had fears too … and they overcame them.
I know that because no one was born a world-class writer. All of them faced the unknown at some point and had to deal with Fear.
So, you're in REALLY good company.
And, the best part is that you CAN overcome your Fear.
I suppose we all have our little tricks for doing that, but I want to tell you how I do it. (Yep, still doing it!)
Hopefully, you'll find it useful. I've taught this to thousands of other writers. A bunch of them tell me it helped.
My process for overcoming my fears has three steps. And, I put together a little training video that explains it. You can watch it now.
Then on Monday, I'll tell you about how my three steps work and how you can easily use them in your life.
Together, I think we can kick Fear to the curb and get on with this business of being super-successful writers and living a life filled with things that matter most.
What fears hold you back? Share with us in the comments below so we can help you overcome them.
Editorial Note: Joshua is holding a FREE training session on Tuesday: Go From Zero to 3 Great Clients in 3 Months! He removes the "mystery" surrounding the client-getting process to help you get well on your way in your copywriting career. You can find out more about and register for free here.

The Professional Writers' Alliance
At last, a professional organization that caters to the needs of direct-response industry writers. Find out how membership can change the course of your career. Learn More »

Published: November 24, 2017