How a Burned-Out Teacher Earned Money Writing from a Parisian Cafe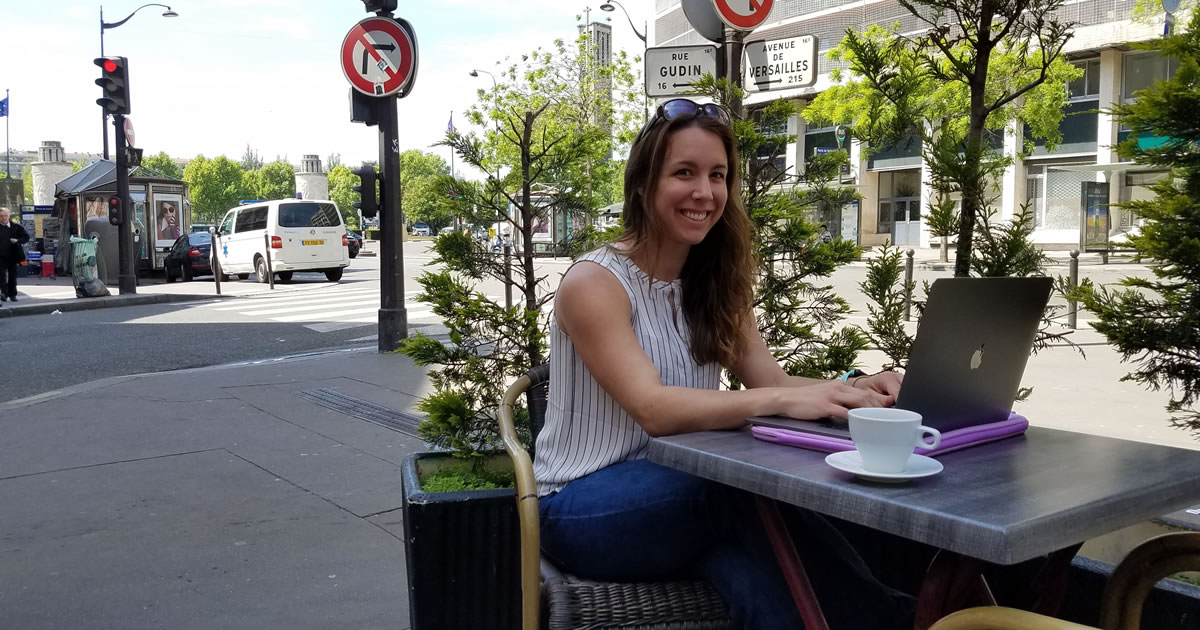 Rachael Kraft in Paris
If you had told my younger self that I would one day be a self-employed writer, I would have thought you were misinformed …
If you had also told me I would literally sit at a Parisian cafe while I earned money, I would have thought you were downright crazy …
But that's exactly what happened.
The journey that took me from a stressed-out-burned-out educator to a relaxed-self-employed-writer was a bit of an adventure. There were many dips and turns to my journey … times of great success and near epic failure. Still, I arrived in one piece with many valuable lessons learned along the way.
After having gone through that journey, now I can look towards the future and plan how to grow my business, expand my skill set, and live my writer's life to its fullest.
Today, I'm going to share the five lessons I've learned so far as a self-employed writer that might help you find your own Parisian cafe … or beach … or whatever dream is on your horizon.
Lesson #1: The Writer's Life is Not a Fairy Tale
If you are feeling trapped in your J-O-B, then here's a little secret. There IS a better life out there waiting for you.
I clearly remember feeling desperation in my final teaching position. My education career had started with bright optimism and several years of fulfilling work. Sadly, that changed when I took a position with a struggling school district in the South.
Many young teachers, like myself, are driven away from the profession each year. They are overwhelmed with over-crowded classrooms, poorly run schools, unmanageable behavior, and high stakes testing.
In fact, about half a million U.S. teachers leave the profession annually. Forty-one percent of teachers leave the profession within just five years of starting!
I lasted exactly five years before I decided to leave.
Surely your career has a different set of challenges. You may be fed up with frustrating co-workers. You are under-appreciated by your boss. Maybe you are underpaid for all of the hard work you put in year after year.
Perhaps this idea of writing to make money is intriguing to you, but you haven't quite made the leap of faith to commit fully.
Please trust that there IS a better life waiting for you. Have confidence that you can step away from your current situation. You can get paid what you're worth. You can set your own schedule and find your own projects.
It's real. It's possible. It's not a fairy tale.
That's Lesson #1.
Lesson #2: Getting Started is Never Smooth and Easy
Once you've committed to your new life, you will suddenly be in uncharted territory.
You might feel overwhelmed. I remember feeling that way the first summer when I started my business. How was I going to organize my time? What did I need to officially "be in business?"
Gulp … How was I going to land my first clients?
Personally, I started my journey towards writing in a bit of a round-about way. I began by learning how to be an Internet Research Specialist using a program from AWAI. After I finished that course, I jumped into another program to learn how to be a direct-response graphic designer. Writing came a bit later for me.
My first marketing trials were almost laughable.
I didn't know what I was doing! My website looked awful, my business cards were boring, and my marketing emails to potential clients were more amateur than amazing.
Despite this shaky start, I persevered with everything I had in me.
Sure, I didn't know what I was doing. My attempts to find clients were a bit clumsy … but gosh-darn-it, I continued with gusto!
Lesson #2 — You may start off with a rocky start to your business but that doesn't mean you're failing. It just means you need to learn some lessons the hard way.
Try. Learn. Try again.
Eventually, you'll find a groove.
Lesson #3: If You Build It … They Will Come
Did you ever see the Kevin Costner baseball movie called Field of Dreams? In it, the main character hears a voice that says, "If you build it, they will come."
Well, the same thing applies to your writing business.
If you build your business, clients WILL come. It may take a little time, but have confidence that clients will eventually give you a chance.
Continue to put in the hours to build your skills, build your writing samples, and build your relationships.
Build, build, build … and they will come!
My very first client was a saint of a woman who hired me for a very small research project. (Ironically, on baseball.) The project wasn't anything ground-breaking. But it was a real project … with a real paycheck at the end.
I was thrilled.
Continue to build … and new clients will come.
Lesson #4: Don't Let Anyone Tell You That You're Not Worth It!
When writers first start out, you often work for just pennies. Anything will do just as long as you get a chance to show your skills!
Eventually, your confidence will grow and you'll start quoting real dollars for your time and writing.
When this happens, don't let anyone tell you that you're not worth it!
I had an experience several months into the start of my business where a potential client told me … quite harshly … that I wasn't worth my asking price. He wasn't nice about it. And he told me over the phone so I had no chance to process my emotions mid-conversation.
I remember hanging up the phone feeling absolutely defeated.
I hadn't been asking for any sort of extraordinary fee. In fact, I currently charge several times that amount for a similar project.
Luckily, I had a great friend and mentor who was able to talk to me soon after this incident. She reminded me of my value as a professional. I WAS worth that fee. I WAS talented. And I DIDN'T need that idiot on my client list.
So when you start to quote larger fees to your potential clients, don't let anyone tell you that you're not worth it. Because you are. This profession is an extremely valuable asset for any business and you have taken the time to perfect your writing craft.
You deserve to be paid for it … paid well!
Lesson #5: Set High Goals for Yourself!
When I set out to be a teacher, a high salary was certainly not on my mind. In fact, teachers are notoriously underpaid for their education level. I have my master's degree in education and my last teaching job paid a mere $35,000!
By the time I started my own business as a writer and graphic designer, I was quickly content with the amount of money and clients I was bringing in on a yearly basis.
It was not part of my programming to imagine more for myself.
Thankfully, I surrounded myself with a very strong support network of professionals and friends who reminded me that there were bigger fish in the sea.
I hit a big turning point one year when I finally set higher goals for my business. I pushed myself to reach bigger clients, earn more money, and work on harder projects. Now, five years into my business, I have achieved much more than I thought possible. Plus, I know that even better things are to come.
So, I encourage you. Set BIG goals for yourself! Push yourself. Have confidence that you can land those big projects and work with those top level clients.
Every one of us who follows this lifestyle does it for a different reason. Perhaps your goals are not income-based. Maybe you want to spend more time with your family, or have more opportunities to travel.
Set those goals! Make them a reality. It is within your power!
One of my top goals was to earn a steady income while still having the freedom to travel the world. I am happy to say that since I transformed from a stressed-out teacher to a real-life-professional-writer, I have achieved that goal!
I have traveled with my laptop in hand to various states throughout the USA. In addition, I've worked from Budapest, London … and yes, even Paris.
With these five lessons under your belt, be confident that you can grow your business in the years to come. Continue to expand your skills as a writer so you can work towards your personal and professional goals.
Because your dreams are on the horizon too. Bon voyage!
Where is your journey starting? What lessons have you already learned? Post them in the comments below!

The Professional Writers' Alliance
At last, a professional organization that caters to the needs of direct-response industry writers. Find out how membership can change the course of your career. Learn More »

Published: December 12, 2017