Creating Copywriting Success
in An Unlikely Place

AWAI Member Explores the Australian Outback While Finding Copywriting Success with a Money-Making Website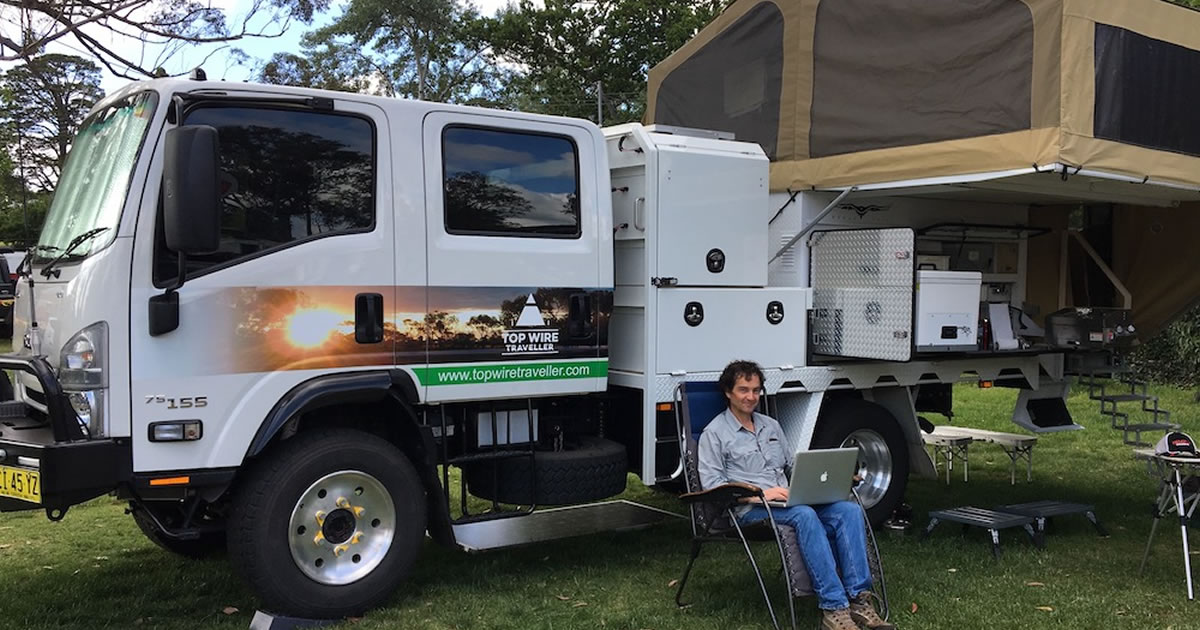 Andrew Murray has a passion for "overlanding," trekking through the Australian outback with his family in their truck camper. And he shares his lifestyle with like-minded people around the world with his money-making website, Top Wire Traveller (www.topwiretraveller.com).
"Australia is an extraordinary place … dry, harsh, unforgiving and quite dangerous if you're unprepared. Yet it is filled with incredible beauty. A solitary tiny flower growing in a searing desert is truly inspiring," explains Andrew.

"Many people see the desert as boring or full of nothingness. But when you stop, observe and begin to understand, it is full of the most amazing plants and creatures that have adapted to an extreme climate.

"There is a saying in Australia, 'The red dirt gets in your blood.' This is so true. Once you understand the Australian outback, it draws you back time and again."
Luckily, his money-making website is on its way to providing the income the Murrays need to stay on the road. He's steadily building his audience and testing out ways to drive traffic.
"It has been live since April this year. After eight months we have over 400 unique site visits per month. All of this traffic is organic," says Andrew.

"I've learnt how to more accurately identify targeted keywords. I now have a much better handle on what keywords to use, what keywords competitor sites are using, checking keywords by using a search engine and I'm starting to use Amazon search where appropriate.

"I have committed to adding two new articles per week. Fortunately, we traveled Australia for 12 months several years ago. I kept a detailed journal and one of our kids took over 12,000 amazing photos. So I've built the foundations of my MMW from these resources.

"The content is a mix of outback destinations, product reviews, articles on our expedition vehicle (truck-based camper) and off-road racing.
"The off-road racing is an oddball category. This was strategic. My wife navigates for a friend of ours and I've been helping him to build a new race vehicle. I was aware of a Facebook group who were passionate about this topic.

"Many people in this FB group also love outback travel. So I've done a series of articles about us building the off-road racer. Then I post them to the FB group to generate traffic to my MMW. So I add an off-road racing article every few weeks."
As far as monetizing his site, Andrew has faced challenges. Income from affiliate links from ads on his site hasn't been coming in. So he's trying a different tactic and finding better results.
"I decided to approach companies directly. This is working well. So far, two companies have agreed to supply free products in return for product reviews.

"I was going to purchase these products in the near future, so I guess it is income. The strategy here is to build long-term relationships and push my copywriting business."
This new business — and the contacts he's picked up — also means Andrew has a budding career as a copywriter in this specialized niche. It's another important income stream that will prove vital now that he has left his former full-time job for a full-time life on the road. Starting in January 2018, Andrew and his wife (the kids are grown up) will be living and working from wherever they happen to be in the Outback.
"It can be difficult. But it can also be inspiring. I have written articles about several locations while we were camping at those actual locations.

"These articles have so much 'feeling' and often lots of emotion. Plus, if I need to do more research, we just go for a walk and get the information I need!

"Really, it comes down to organization and self-discipline. Write an article, add photos, have it ready to add to the website. Then when we reach a location with Internet connection, I publish or schedule it to publish."
Top Wire Traveller is making the Murray's dream lifestyle possible. As far as their favorite spot in the Outback … it's a tough choice.
"In a distance of over 1,600 miles you'll experience desert, huge salt lakes, 2.5-billion-year-old mountain ranges, ancient sea beds, tropical oases in the desert, 30,000-year-old Aboriginal paintings, ancient palm forests, Uluru, 20-foot-long man-eating crocodiles, the tropics … the list is endless," says Andrew.

The Professional Writers' Alliance
At last, a professional organization that caters to the needs of direct-response industry writers. Find out how membership can change the course of your career. Learn More »

Published: December 26, 2017