Missing My Goals … The Right Way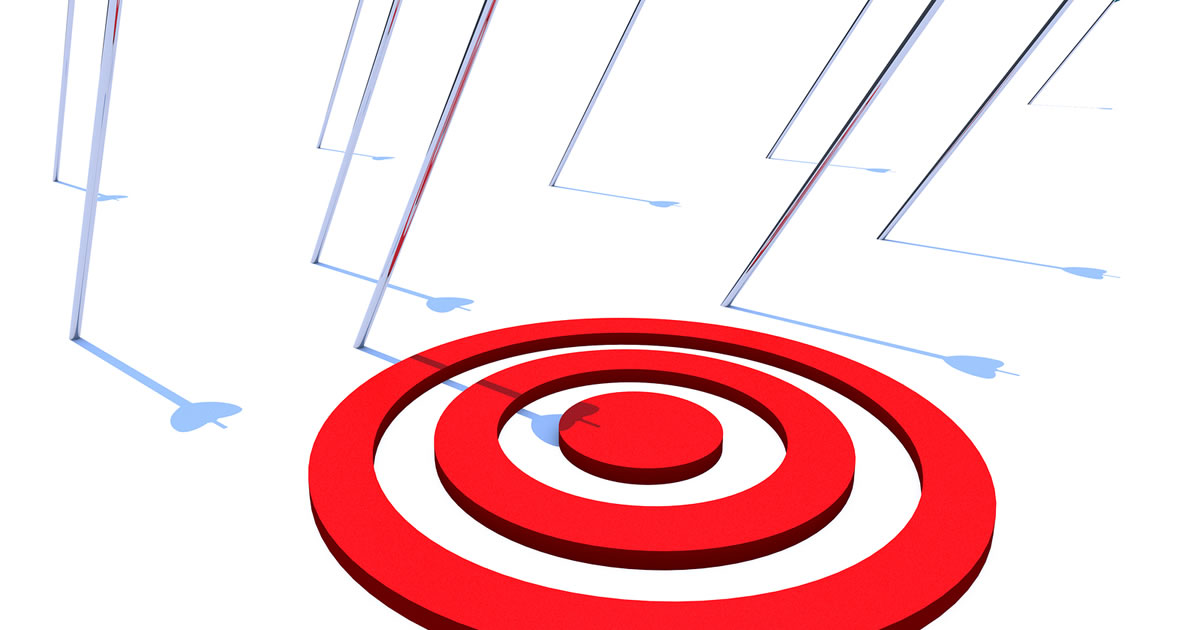 Goals are wonderful things to have … particularly for freelance writers.
And there are all kinds of great goals you can set: financial, health, life, and business.
Goals like leaving your job to write full-time as a freelancer … my personal aspiration.
But, I believe you need to be careful with your goals. Particularly when you set a target date on them.
Not that it's bad to do. In fact, it's necessary. Without a target, you have nothing to aim for.
But, what if you miss that target date? Do you give up?
Missing goals … the right way
A few years ago, I was asked to do a Member Spotlight at AWAI's Bootcamp. (You can watch the video here.)
In the speech, I mentioned that I'd made more money by missing goals than anything else. While we all chuckled at the statement …
I was dead serious.
You see, the year before, I'd studied a program with Joshua Boswell about creating a Simple Path to Success. One of the exercises was to define your ideal writer's life … in detail. I did it, even though it was a real challenge.
I'd fallen into a life of brilliant mediocrity. Of accepting where I was as my personal status quo. I was very good at what I did … but, didn't see myself doing much better. I'd pretty much quit dreaming altogether.
Even so, as instructed, I defined my ideal writer's life. While difficult at times, it was really kind of fun. Part of that defined dream was the goal of leaving my job to work full-time at home.
Joshua told us that a goal without a date is just wishful thinking. So, I set a definite date to leave, the day I'd walk out the processing plant door for the last time.
And … I missed it.
You know, I've reset that date several times. And, I've missed each and every one so far. (At least I'm consistent!)
So, why keep doing that, knowing I'd likely miss it again?
And … would I ever reach my dream of an ideal writer's life?
Using missed goals as milestones
The dictionary defines a milestone as a significant point in development. That's how I've come to view these goals I've missed.
When the date comes … and passes … I'll sit down and take a look back at the journey behind me. You really don't understand how far you've come until you realize where you've been.
Every time I've set the "departure date," I've knuckled down and worked harder than I have before. And looking back, my freelance writing income has greatly increased every year.
In fact, last week, my freelance revenue just passed my job wages — for an entire year! That happened in just a few short years and even while I was missing my goal …
Repeatedly!
Let's put this in perspective.
No, I haven't left my job yet.
But, I've doubled my income. My boss won't give me a raise that big!
Will yours?
Attitude and the realization of dreams attained
When setting goals, I think you need to be careful in your attitude toward them. I wrote an article a while back about the hidden danger of "Go Big or Go Home."
Had I that attitude, I wouldn't have gone home … I'd have gone to a second job to make more money.
Going big or going home leaves no leeway. No room for stunted growth or unforeseen error. "All or nothing" often ends in the latter.
Then, there's the realization of just where this journey has taken me so far.
Sure, leaving my job was a big part of my dream of an ideal writer's life. Or, so I thought. In reality, it's just a small, and relatively insignificant portion.
Here's why I say that …
I'd written my definition of the dream down as instructed. And, every time I miss my job goal, I pull it out and read it.
My dream idea of the writer's life …
Work from home. (My second income is generated from home. I'm accessible to family, something a second job elsewhere can't provide.)
Help my family financially. (I send money to my aging parents each month. When my daughter needed emergency dental work, I went to the bank and drew out the cash for it, about $1,600. Would have needed a loan before.)
Take vacations that don't involve staying at a relative's house. (I took Mary to Florida with me for Bootcamp this year. We went early and stayed after, and really enjoyed the time together without family around.)
There are other things as well. But in reality, I'm living a large part of my ideal writer's life now, even though I still have my job.
Working full-time from home is still not crossed out, though.
I've set a new date to leave my job, one more time. And, it's possible that I'll miss it, one more time.
But, then again … who knows?
Always remember this. You can miss your goals …
And still keep those dreams alive!
Do you have any goals you've missed the target on? Can you set a new target date now? Share with us in the comments below.

The Professional Writers' Alliance
At last, a professional organization that caters to the needs of direct-response industry writers. Find out how membership can change the course of your career. Learn More »

Published: December 6, 2017