The Upside of Writer Regrets
By Mindy McHorse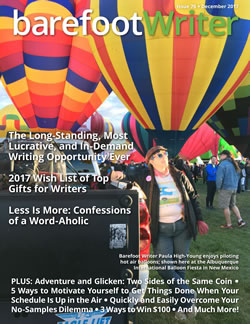 As you look back on the past year, do you have any regrets? If so, consider this:
Over 50 years ago, Richard Viguerie (our Featured Interviewee for December) started a revolution in direct marketing.
In 1979, he was named one of TIME Magazine's "50 Faces for America's Future," and one of People magazine's "25 Most Intriguing People of 1981."
He's also been credited with launching an entire political movement through his letters … and with helping to sway a presidential election.
But you know what? He has regrets.
Writer regrets. Life regrets. And in his interview, he shares what he wishes he'd done instead.
So as you look back on your own year of writing effort, consider Richard's advice on how he could have made a truly great career … even greater.
You'll also enjoy the following in our December issue of Barefoot Writer:
Which writing opportunity is the most lucrative and in-demand
6 tips to strengthen your writing
How to quickly and easily overcome the no-samples dilemma
5 ways to motivate yourself to get things done, even if your schedule is up in the air
Advice on setting the right goals for the coming New Year
Click here now to read your December 2017 issue of Barefoot Writer.
Don't miss our annual Writer's Gift Guide for 2017! See page 33.
Have you redeemed your special invitation to join the Barefoot Writer Club? Because the clock is ticking … and I can pretty much guarantee it'll be the best decision you've ever made for your writing career.
Here's why …
The Barefoot Writer Club offers you a community of support like no other. Because the reality is, plenty of folks out there want to make a living writing.
But too many see the writing world as a place of competition and rivalry.
Yet it's NOT.
We know from experience — after watching hundreds of writers launch successful, paid writing careers — that the recipe for success is knowledge plus support.
Without support from people who understand your goals and your drive to write, it's too easy to fail.
As a member of the Barefoot Writer Club, that kind of thing doesn't happen. You'll be part of a genuinely supportive group of people who give free advice and critiques, who applaud your successes and help you move past your hurdles.
Plus, there are other Club bonuses, like the deep monthly discounts on writing programs designed to fit your goals. You'll also get our value-packed writing opportunity reports, including The $500 Email Secret, Get Paid to Surf the Web, The Secret of the 1-Hour Work Week, and The Lazy Writer's Path to a Six-Figure Income.
Each bonus has been specifically designed to give Club Members the best information possible for getting a successful writer's life up and moving at lightning speed.
This is how writing dreams become reality … click here to learn more.

The Professional Writers' Alliance
At last, a professional organization that caters to the needs of direct-response industry writers. Find out how membership can change the course of your career. Learn More »

Published: December 1, 2017