Why It's All About US This Year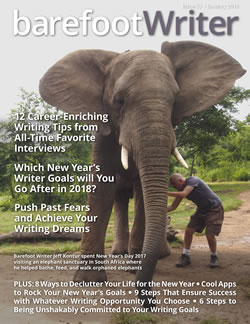 There's something about the beginning of a new year that makes ANYTHING seem possible, so if this is the year you want to go BIG with your writing dreams …
Let's make it happen!
I'm one hundred percent sure that it's doable, and that certainty comes courtesy of all the successful Barefoot Writers who've come before you. Many of them had no idea how to get paid to write. Some had zero writing experience. Others had nobody to cheer them on.
All of that changed when they joined the Barefoot Writer Club (join here). They found hope, thanks to the support, advice, and success stories that surface daily from the Barefoot Writing Community.
Over the past six years, I've learned so much from you and this amazing community we've become, including many things that have helped me reach my own writing goals.
It's been inspiring, to say the least, to have a front-row seat as many of you juggle the demands of new babies, ailing parents, debilitating disease, life ruts, money crunches …
And still, you've persisted in your writing dreams.
That's why thousands of you are already making a living doing what you love, and many of you will transition into that for the first time this year.
Along with that, this might be the year you leave a job you don't care for, or take a dream vacation.
Maybe it's the year you pay off long-held debts or earn the means to move across the world.
To make sure those things happen, it's key that we come together as one. That includes casting aside doubts and fears — or at least being open about them.
So starting today, let's take the masks off. Let's be authentic. (By the way, our January issue has a terrific article on the value of authenticity for writers. You'll find it on page 29.)
This is the year I want you to come forward and share your real life writing story. The Barefoot Writer team and I will do the same, revealing our own woes and wins. Together, we'll supercharge our community with connection.
And that connection will help us all go further, faster in our goals.
That's why for this year, for our whole membership, I've chosen a guiding word: Us. (I explain why on page 3 of our January issue.)
Remember, in this world, there are no guarantees … but the success rate is tremendous for those who connect, and who do it honestly, sharing their joys and their pains.
Brené Brown, author of Daring Greatly, once said that vulnerability is the birthplace of creativity and joy.
So let's tell our stories and help each other succeed. Let's be us, and go for the win.
Kick things off by clicking here to read your January 2018 issue of Barefoot Writer.
Not a Barefoot Writer Club member? Go here to learn how you can join today.
And stay tuned for exciting changes within the Barefoot Writing Community this year, including more ways to connect with our team and to get your writing career where you want it! To ramp up your motivation in the meantime, flip to page 9 for writing tips from some of our all-time favorite interviewees.

The Professional Writers' Alliance
At last, a professional organization that caters to the needs of direct-response industry writers. Find out how membership can change the course of your career. Learn More »

Published: January 5, 2018