Here are the Roadblocks that Could Cripple Your Writing Career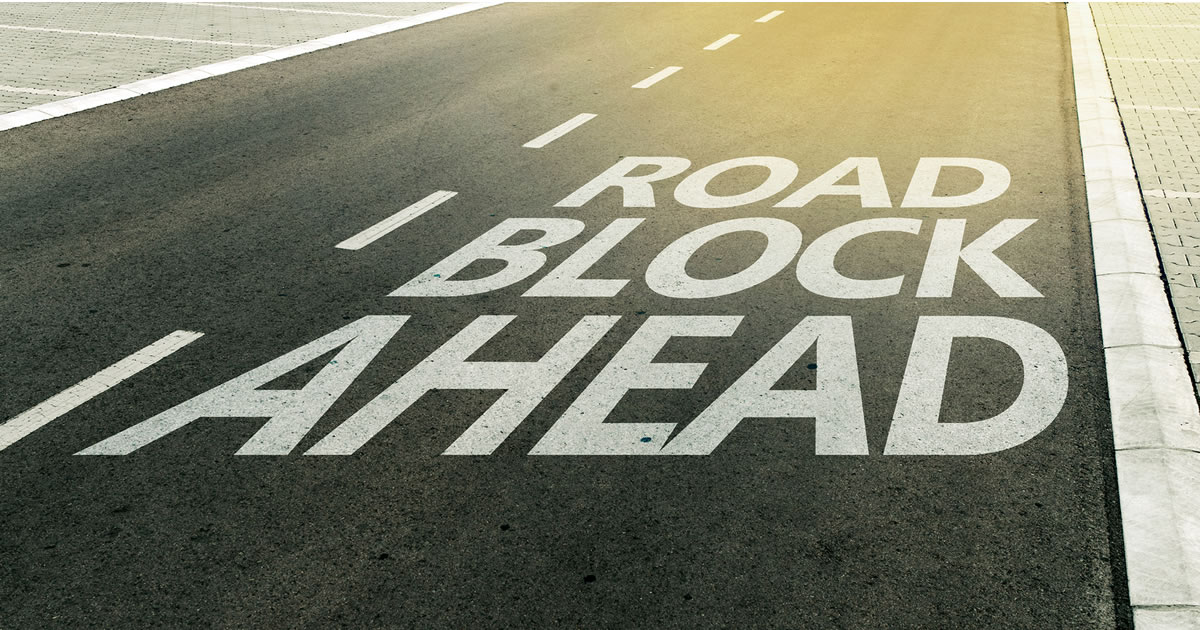 Roadblocks come in many sizes, but some are as huge as mountains. Even the most powerful trucks in the world can't break through them.
But that is exactly what so many people try to do.
They ignore the obstacles, look in the mirror and repeat positive motivation quotes, and hammer forward, full speed ahead.
Only to slam into the mountain and fail.
Whether you like it or not, you've got to address the roadblocks and remove them. Once they are gone, you can press forward to live the writer's life.
So let's talk about those roadblocks by identifying them. The first one is simple to recognize.
Roadblock #1: Uncertainty.
I'm talking about the times when you simply don't have a clue how to proceed.
You feel clueless because you either have too much info … or not enough of it … and inevitably wind up thinking …
"What do I do next?! What is the best way to proceed?"
Believe me, you're not alone. In fact, it was the #1 thing that plagued and pestered me my first year as a copywriter.
I was always second-guessing myself. I was always wondering if I was really on the right path. Would my efforts really bring in clients? Was my website good enough? Was my writing good enough?
And on and on and on.
If not knowing what to do is Roadblock #1, then what's the next biggest roadblock?
I stumbled across it in the second week of November, 2005. I was standing in a foot of snow on a mountainside in Montana. I was on a hunting trip with my buddy, literally looking for food for my family.
My $15 Walmart flip-phone rings. "Hello."
"Is this Joshua Boswell? My name is Patrick. I'm the marketing director for a major financial newsletter. We reviewed your Information Packet and want to hire you for $5,000 a month to write one promo each month. Are you interested?"
Was I interested?!?
With eight people to feed, clothe, and house, of course I was interested.
I coolly replied, "I might be. Send me the details."
I hung up and shouted at the top of my lungs. "Wahoooo!!! $5,000 a month! I'm rich!"
I must have scared every deer within a 10-mile radius, but I didn't care. It was an answer to our prayers.
Two weeks later, I sent over the first draft of my first financial newsletter promo. I was so proud of it … and so nervous I thought I'd wet my pants.
"I'm sure they'll love it, Honey!" my dear wife, Margie, reassured me.
For once in her life, she was wrong … they hated it.
We went back and forth five times to try to revamp and rework this ghastly promotion I'd written, but to no avail.
I got an email the second week in December …
"Joshua — It looks like it won't work out having you write for us, after all. Your first — and last — $5,000 payment is in the mail. Consider our contract cancelled. Patrick"
Reading that email, I slammed my fist on my desk.
"I knew it! I knew I wasn't good enough to make this whole stupid copywriting thing work. I just knew it. Now what will I do?"
Roadblock #2 had raised its ugly head: Self-Doubt.
When you're starting out, not only do you not know exactly what to do next, but you also have this nagging lack of confidence.
"Well, even if I get the project, I'll probably blow it!"

"Why would they hire me? I'm just a rank newbie."

"I'm not outgoing like Carline or smart like Clayton or detailed like Bob … I don't know if I'm cut out for all this."
So the conversation in our head goes.
But, it's not really true, you know.
You are good enough … they do want to hire you … you are smart, clever, and brilliant enough to live the writer's life. (By the way in my coaching program, I help clients gain confidence to overcome self-doubt.)
And what's the third roadblock you might face?
For me, that moment occurred on Monday, October 3, 2005 as I sat at my desk in Clancy, Montana, staring at a to-do list.
It was the same list I had the prior Friday …
and the Wednesday before that …
and the Monday before that …
and the Friday before that … and …
In the past 10 days, I had:
Checked emails
Worked on my website … important things like spell check and tweaking colors
Revised the table of contents on my Information Packet
Talked to my mom … a lot
Straightened up my office … even more
Taken lots of walks with my children
And lots and lots of other really "important" things … that did NOTHING to help me land clients.
I looked around my office that Monday morning and realized something.
I was alone.
I thought about my emails and conversations.
None of them had anything to do with my business. I was busy, but not productive.
"How's it going in there? You get any leads on a contract yet?", Margie would ask me. I could see the financial desperation in her eyes and hear the hope in her voice.
"Umm. It's going fine. I'm just working on it … but no leads yet." I'd lie.
I had no mentor, no team, no coach, no accountability.
It was just me.
It was then that I discovered …
Roadblock #3: Isolation.
Isolation is insidious. Why? Because the only one we have to answer to is ourselves.
And, you cheat yourself, lie to yourself, and sabotage yourself … sadly, even when really important things are at stake. Like feeding your kids. Like living your dreams.
This is why every Olympic athlete has a coach and a team.
It's almost impossible to drive ourselves to real success in Isolation. I know it was totally impossible for me.
Plus, when you're isolated, you don't know what you don't know. You don't know what the masters know. You don't know what the professionals know. You're guessing.
So, there you have it … the three major roadblocks to you living the writer's life.
Roadblock #1: Uncertainty
Roadblock #2: Self-Doubt
Roadblock #3: Isolation
If you haven't reached the income level you've set for yourself, or not on the career path you laid out, then it might be you've hit one of these roadblocks.
Now that you know what they are, you can create a plan to move past them.

The Professional Writers' Alliance
At last, a professional organization that caters to the needs of direct-response industry writers. Find out how membership can change the course of your career. Learn More »

Published: January 8, 2018