Use This Visual Clue to Lock in Your 2018 Wins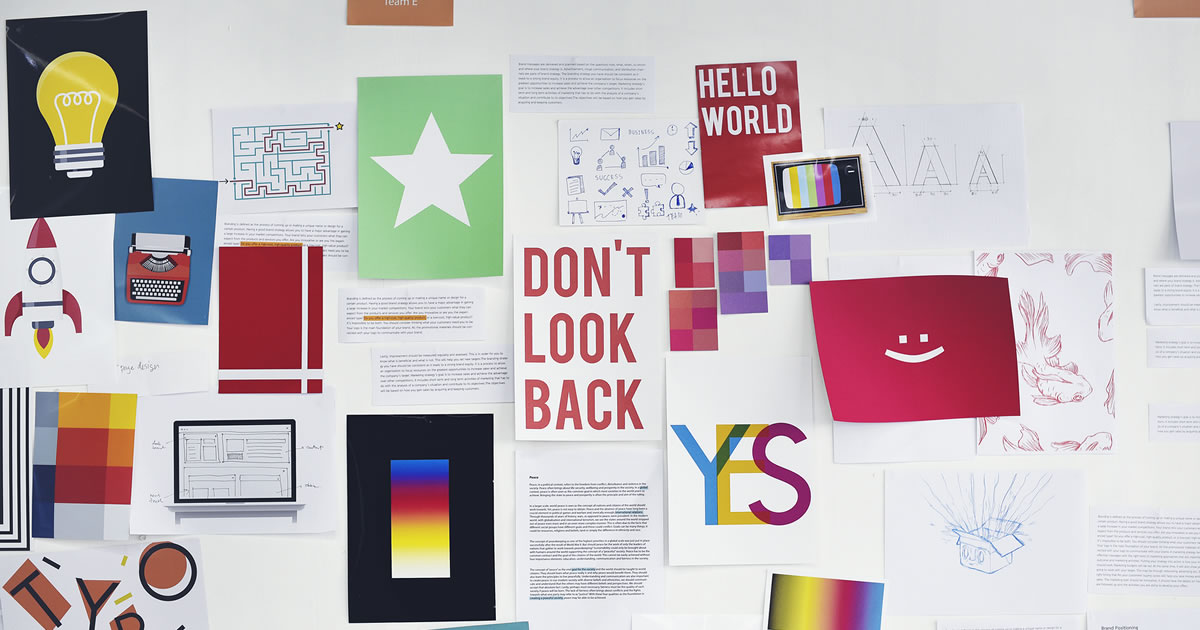 Popular TV talk show host Ellen DeGeneres once ran a "campaign" to be on the cover of O Magazine with Oprah Winfrey. It was 2009, and Oprah had only shared the cover with one other person in the magazine's history, then First Lady Michelle Obama.
As part of Ellen's determined campaign to become an O cover model, Ellen showed her TV talk show audience a vision board she'd created. It had the magazine's logo, quotes from Oprah, and a picture of Ellen and Oprah together.
Ellen then explained that she hoped this vision board would work out better than the other one she made … and she jokingly showed the audience a vision board for "Finding Nemo 2," covered with photos of her Nemo character Dory, and Dory's catchphrase, Just Keep Swimming. It had been six years since Finding Nemo was released and the audience laughed and cheered at her big joke.
Not long after publicizing her O vision board, Ellen was invited to be photographed with Oprah for the December 2009 cover of O Magazine.
What's also interesting is that seven years after she displayed her joke vision board, Ellen DID star in "Finding Nemo 2," Pixar/Disney's Finding Dory.
So even Ellen's joke vision board came true!
But Ellen's not the only star to publically share a vision board. Katy Perry, Beyoncé, and Jim Carrey have spoken about their visual motivators.
Entrepreneur John Assaraf shared a story for the movie The Secret that he'd made a vision board which included an image of his dream home. The board eventually got packed away during a series of moves, and when he came across it five years later, he realized he'd moved into the exact same home he'd envisioned.
In fact, many professional athletes, entrepreneurs, and super successful businesspeople are known to create vision boards because they work.
What is a Vision Board?
A vision board is a collage of words and pictures that represents your goals and dreams. All those words and pictures are compiled into one place — a board — so you can see them all in one glance.
What do you do with your vision board once you create it? Put it in a prominent place in your home or office so you can visualize your new life often. It helps you maintain focus on your life goals.
Adds Clarity and Passion to Your Dreams and Goals
Most people approach their life and dreams nonchalantly. They only have a vague idea of what success means to them. But it never gets onto paper, let alone honed into real life.
Creating a vision board is a proven way to dream, face your life challenges head-on (whether business or personal), and importantly, clarify your intentions.
If you're not super clear about what success means to you, it's nearly impossible to manifest that success.
A target needs definition — you need to know what you're aiming for. A vision board will help you clarify your dreams and give your life that definition. It breathes fresh life into elusive dreams.
What's more, it can be relaxing. Lots of fun. And highly motivational.
"Wordsmiths" Need Vision Boards Too
You might argue, "Why does a writer need a vision board?" We're "word" people.
Your vision board represents your dreams, your goals, and your ideal life.
And while many copywriters and other successful folks repeat verbal affirmations every day — which I recommend you also do — visual images can energize you in ways words can't. The old saying, "A picture is worth a thousand words," is telling.
Several years ago, I was in a mastermind with Howard Berg, the world's fastest reader. He compared his super-charged reading tactics to the detail you see when scanning a landscape.
Faster than words, your eyes take it all in. Mountains, clouds, trees, sun or waning moon on the horizon, weather conditions, road signs, traffic lights, cars, shopping centers, restaurants, and more. All in just one quick glance.
That, my friends, is the value of a vision board. In one quick glimpse, you paint the picture of your perfect life in your mind's eye.
It's very powerful.
You'll naturally become more motivated to reach your goals when you see your future on your board every day.
How to Create a Vision Board that Foretells the Future You Want
1. Set the stage.
Get yourself in a relaxed yet focused mindset. Put your cell phone on airplane mode, put on some relaxing music, and get ready to define the life of your dreams.
2. Get clear on what you want.
What does your ideal life look like? Define your typical week and day. What needs to happen in the next 12 months to launch you closer to those goals?
Do you want your days filled with people or projects? Flexible or structured? Are you in a building phase of your career or are you happy maintaining? How much do you want to earn?
Dream. Ask yourself, "If only I could _______, my life would be amazing."
Maybe you're getting ready to retire from your 9-to-5 job, and plan to write part-time during your retirement.
What does the rest of your life look like?
Any new stage in life — such as retirement, becoming a new parent, or sending the kids off to college — is a perfect time to advocate for your new self.
3. Collect a bundle of magazines with beautiful pictures.
Find pictures that inspire you and symbolize the experiences, feelings, lifestyle, and possessions you wish to attract into your life. (Don't paste yet. Just cut.)
Use photos, pictures from the Internet, and magazines. (You can get old magazines from libraries, medical offices, thrift stores, and salons.)
Look for pictures that instantly speak to you, "Yes, that's what I want!"
Let your emotions go. Include inspirational words or quotes, words, or images … not just pictures of "stuff." Choose only things that make you feel good.
Cut indiscriminately. Then narrow it down as you refine your dreams. Select the words and images that best symbolize your purpose, emotions, and ideal future.
For example …
Is one goal to spend more time with your family? Find pictures of walking a child home from school, doing homework at the kitchen table, or sitting together watching a movie.
Ready to go to your first Bootcamp or Web Intensive? Find a photo of Delray Beach or Austin for your board.
Want to travel more? Cut out photos of locations you've always dreamed of going.
Planning to study a specific AWAI program to jump-start your year? Print out an image of the program cover from AWAI's website to remind yourself of your commitment.
Eager to kick your writing career into high gear? Post of photo of yourself typing away on your computer. (Don't forget the images of paychecks and deposit slips for your growing bank account.)
Don't worry if you can't find the exact image of your dream home or new romantic partner. It's the symbolism that counts. Get close, and you'll know what it represents.
4. Get a large piece of foam or poster board and glue from a dollar or craft store.
Arrange your favorite pictures on your board.
Avoid a cluttered or chaotic vision board. You don't want to attract chaos and clutter. There's real beauty in simplicity.
If you have too many pictures for one board, consider doing one board for your personal goals and a second one for your career and financial goals.
Before gluing your images down, add affirmative words that inspire and motivate you.
How do you want to feel every day? Words like "abundant," "joyful," "strong," "loved," "healthy," and "prosperous" might fit the bill. Choose words you love.
Can't find those words in magazines or online? Write them yourself on your board.
Add the date to your vision board.
5. Be inspired daily.
Look at your vision board first thing in the morning, and you'll be bursting with motivation. And last thing at night will prompt your subconscious mind to create new ideas while sleeping.
Show gratitude for all your fulfilled dreams.
But don't remove the pictures of realized goals. They're powerful affirmations of the success you've attracted to your life.
The greatest thing about a vision board is that the pictures help bring your dreams to living color. If you can see an outcome more clearly, you are much more likely to achieve it.
So start your vision board today. And then go seize the year.
Do you have a vision board or some other way you visualize your goals? Share with us in the comments below.

The Professional Writers' Alliance
At last, a professional organization that caters to the needs of direct-response industry writers. Find out how membership can change the course of your career. Learn More »

Published: January 8, 2018