How to Do an Annual "Client Review"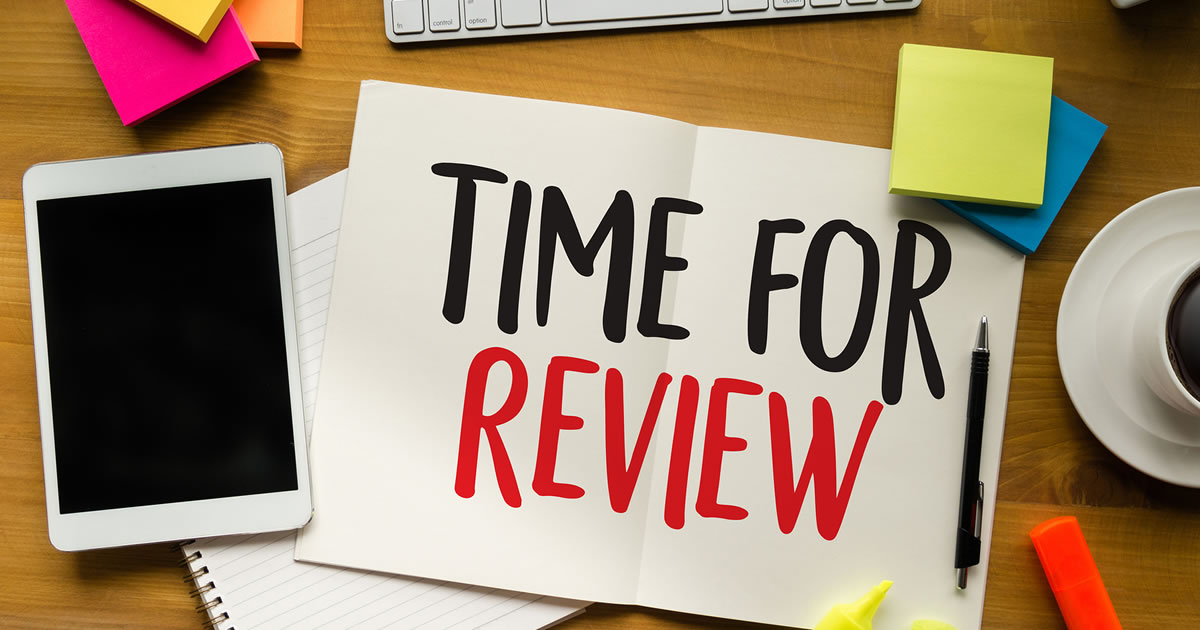 In Part 1 of this series, I wrote about what makes a perfect client, for you. That ideal will gradually emerge as you work with more clients and learn what makes the best fit for you.
Today, I'd like to show you a simple way to evaluate a set of clients and check how close they come to your ideal. Believe me, it's easy.
After you work for a year or so as a content marketer or copywriter, you'll likely accumulate several clients.
And you'll no doubt realize that not all clients are created equal:
Some are more professional or more "fun" to work with
Some challenge you to learn new things or meet a higher standard
Some pay better than others
Some are truly trying to "change the world"
Some are simply trying to make money
How can you compare one client to another fairly? How can you decide which clients to pursue for more work, and which to let go?
A fateful conversation
One winter day in 1985, I was having a coffee with an older consultant. He mentioned that he'd just finished his annual "client review" and decided to drop a couple of his clients.
I was flabbergasted. Here I was, working 16-hours days to keep my few clients happy, while he was going to deliberately drop some?! I asked him to tell me more.
He explained that every year he listed all his clients and asked himself three simple questions about each one:
Do I enjoy the people?
Do I learn anything?
Do I make good money?
"I rate each client high, low, or medium on each question," he said. "Then total up the scores and arrange them from highest to lowest scores.
"The highest scores are my best clients," he noted. "They bring me enjoyable colleagues, interesting projects, and good fees. I work hard to keep them."
"And the low scores are the opposite?" I asked.
"Yes. The lowest scores are my worst clients: irritating people, boring work, and low fees. It's always a relief to drop them."
"But — how can you afford that? Dropping clients?"
"I can't afford to keep them!" he replied. "Poor clients just weigh me down. They rob my time and drain my energy. Even when the money sounds good, it's hard to get motivated to do the work. Why run my own business if I have to work with clients like that?"
"Okay," I said, not quite convinced. "What about the ones in the middle?"
"Ah, the great no-man's land," he chuckled. "They're kind of blah. Average. Not terrible, but not great. If I don't watch out, every client can end up being just so-so. I try to upgrade them by moving up or across the ranks to meet more interesting people. I push for more stimulating projects. Or I start charging them higher fees."
An amazing "power flip"
That conversation happened more than 30 years ago, but I still remember it very clearly. What he was talking about was a healthy shift in attitude.
Until then, I always felt like I needed clients more than they needed me. I was desperate for work, so I took every project that came along. I worked with any client who would work with me.
But when I tried my colleague's client review, it was quite revealing. In just a few minutes, his method showed me exactly how all my clients stacked up.
And that's when I realized I could pick and choose between them. I could pursue some and drop others. I experienced a wonderful "power flip" when I realized that my clients needed me more than I needed them.
I started doing a client review every couple of years, and then every year early in January. The New Year makes a perfect time for that. So does back-to-school in September — or any time when you're ready to pause and reflect on your recent clients.
How the system works
Over the years, I created my own system for reviewing my clients. And today, I'll share it with you.
I expanded the list of review criteria to four:
The people: are they positive, negative, or so-so?
The work: is it stimulating, boring, or average?
The money: is it good, poor, or average?
The values: do they really help anyone, or just make money?
You can scratch out your answers on the back of an envelope at a coffee shop. I sometimes do that. For more permanent results, you can set up a simple Excel spreadsheet.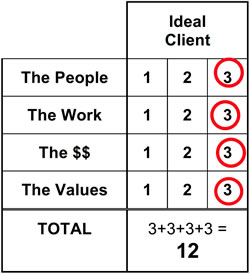 Here's the format I use for client reviews. I like that it's so simple and visual. Take a minute to study it now.
Notice the four criteria on the left: The People down to The Values.
Then notice the next column for an ideal client. It's split into boxes from 1 to 3 for each criteria, where 1 means below average, 2 means average, and 3 means above average.
See how an ideal client gains a perfect score of 3 x 4 or 12 out of 12?
And you can easily alter this format to suit yourself:
Include another criteria or two that matter to you
Weigh different criteria differently, not all the same; for instance, if you judge one criteria twice as important, you could score that out of 4, 5, or 6
Add a column for different projects from the same company, if you worked with different people or for different fees
Go ahead. There's no right way and wrong way to handle a client review. No one else can tell you exactly how to do this. All it takes is a little honesty with yourself.
Filling in this form only takes a couple of minutes per client. If you have many clients, this review could take half an hour. Most years, I'm done in less time than that.
That's because in our hearts, we already know the answers; this system just pulls them out and shows them to us as concrete numbers.
In Part 3, I'll show you how powerful this method can be, with a sample review of three typical clients, and what their scores reveal.
Have you done a client review or assessment to decide how your clients measured up? Share your process with us by commenting below.

The Professional Writers' Alliance
At last, a professional organization that caters to the needs of direct-response industry writers. Find out how membership can change the course of your career. Learn More »

Published: February 8, 2018