Colleagues Not Competitors:
Why It's Smart to Develop and Maintain Relationships with Fellow Web Writers
By Michele Peterson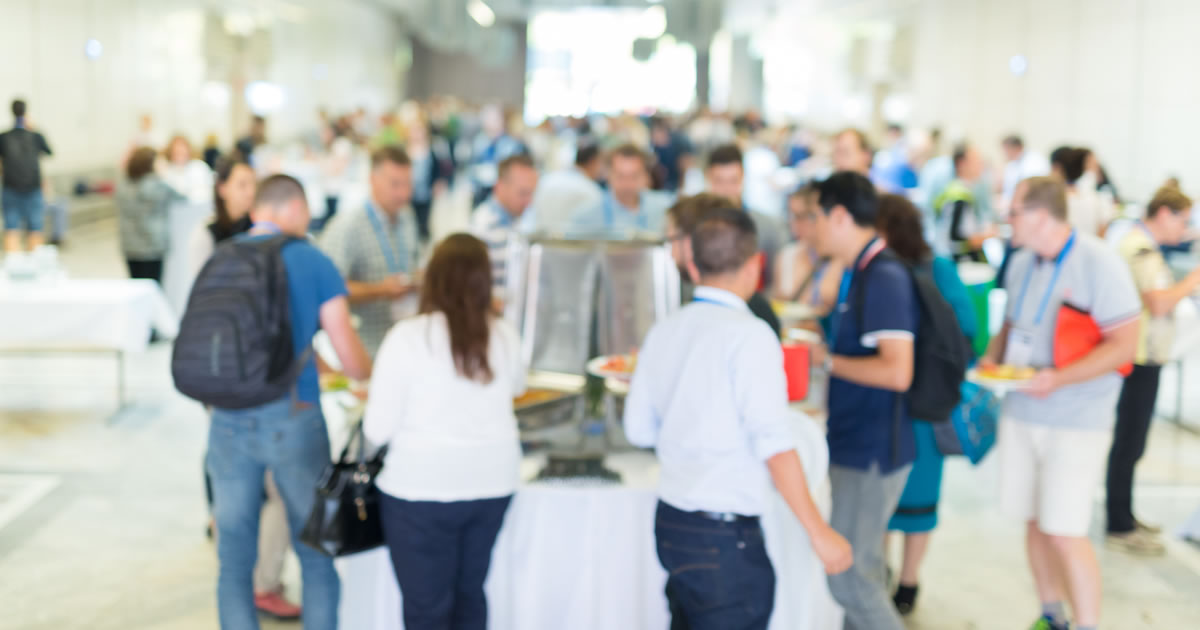 I still remember it vividly … meeting and connecting with my first fellow web writers at the Catamaran Hotel in San Diego. I knew the value of networking and building professional relationships, but I wasn't prepared for this. At all.
It was February 2012, and I had driven 340 miles to attend my first Web Copywriting Intensive. There I was in a room with 49 other people who wanted to make a living as a web copywriter.
I was at the event to figure out how to do that in the shortest amount of time. As was everyone else.
And, if we were all there to do the same thing — become working, well-paid web copywriters — didn't that mean we'd all be competing for the same clients?
Of course, I realize now this couldn't be further from the truth. I know now there's an abundance of web copywriting that needs to be done for an infinite number of clients.
During those three days in San Diego, I had multiple "a-ha" moments. I went from a scarcity mindset to one of abundance. From thinking of my fellow web writers as competition to recognizing them as colleagues.
And, it has made all the difference.
I finally understood why my mother-in-law developed and maintained a relationship with one of her closest competitors for local housecleaning clients. My mother-in-law Suzette owns a housecleaning business that makes between $500,000 and a million dollars a year, with 15-20 employees. She'd regularly call on Suzanne, the owner of a competing housecleaning company, to discuss common issues like the rising price of gasoline, minimum wage increases, insurance coverages and rates, and so on.
They'd even discuss what they were each charging their clients.
"She has her way of doing business, and I have mine," she'd say. Suzette's business model is to send in a crew of four workers; Suzanne's is to send in two. "People will either like her way or mine, but there's enough work to go around."
She was right. There's close to 1,000,000 people in their service area, and neither company has gone out of business since 1975 for my mother-in-law and 1984 for Suzanne.
The value Suzette received from treating Suzanne as a colleague instead of a competitor is shared knowledge, an empathetic ear, support, and an affirmation of abundance.
I get the same value from my relationships with my web-writing colleagues. You can, too.
Shared Knowledge
The benefit of sharing knowledge about what's working — and what's not — is that you shorten your learning curve and don't have to reinvent the wheel.
Like my mother-in-law, I discuss what I'm charging clients with my web-writing colleagues. In the beginning, and even still today, this gives me the confidence to raise my rates and charge what the work is worth.
We also tend to "geek out" and discuss email subject lines that got great open rates, changes in Google's or Facebook's algorithms, and testing call-to-action copy for sales page buy buttons.
We have these conversations at live events, in mastermind groups, on social media, and sometimes by email or phone call. Whatever the medium, the important thing is the give and take of collective knowledge.
Connection
Another benefit of interacting with web-writing colleagues is the feeling of connection. The business of being a web copywriter is typically a solo endeavor. We don't have a break room or water cooler where we can chat with co-workers.
Instead, we have to be more intentional about connecting to beat the solo-entrepreneur trap of solitude.
Solitary confinement is one of the harshest punishments a person can receive, because we humans are social creatures. Even introverts need contact and connection with like-minded people.
Having a network of copywriting colleagues meets that need.
Understanding and Support
Similar to the benefit of feeling connected to people who are like-minded, having copywriting colleagues means you have people around you who understand the challenges you're facing … who know and "get" you.
For example, I know my fellow baseball moms love me and have my back about the logistics of keeping schedules updated, volunteer duties coordinated, and fundraising efforts managed. But, they're pretty much useless in a conversation about keeping email subscribers engaged, increasing click-through rates, or testing headlines.
Psychologist Leon F. Seltzer, Ph.D., says, "Not feeling that others really know us can leave us feeling hopelessly estranged from the rest of humanity. It may well be that feeling understood is a prerequisite for our other desires to be satisfyingly fulfilled."
Because they "get" me, my fellow web copywriters can provide support that's more meaningful when it comes to issues unique to our business and industry. I feel understood around them without having to explain myself as much. That's comforting.
Potential Partners
Not as common, at least for me, but no less beneficial when it arises, is the potential to collaborate with copywriting colleagues.
I've helped proof and copyedit large projects for colleagues. I stepped in and wrote a video script for a colleague who wasn't going to make his deadline. I've managed social media campaigns for a fellow copywriter who didn't specialize in social media but who had a client who needed it.
On the other side of that coin, I know copywriters who I can refer business to when I need the help or when I come across a client who needs something I don't do.
It's great to have colleagues who have complementary skill sets, so we can help each other without competing.
Mindset
Perhaps the biggest benefit of developing and maintaining relationships with fellow web copywriters is keeping a mindset of abundance.
Seeing another web writer as a colleague instead of the competition affirms there's an abundance of work to go around for us all. I can remind myself that another person's success doesn't take anything away from me or my opportunities.
In fact, being genuinely happy for my colleagues and surrounding myself with other successful web copywriters sets me up for greater success of my own.
And with that kind of mindset, I am unstoppable.
I still stay in touch with the web copywriters I met back in 2012 in San Diego … and with those I've met and established relationships with since then. My network of copywriting colleagues continues to grow and flourish, and we all benefit from our connections to each other.
What about you? Do you have a strong professional network? Do you have web-copywriting colleagues who you connect with and get support from? I'd love to hear your story! Leave a comment below.
This article, How Web-Writing Colleagues Can Help Your Business was originally published by Wealthy Web Writer.

The Professional Writers' Alliance
At last, a professional organization that caters to the needs of direct-response industry writers. Find out how membership can change the course of your career. Learn More »

Published: February 21, 2018