Drop Everything and Do THIS!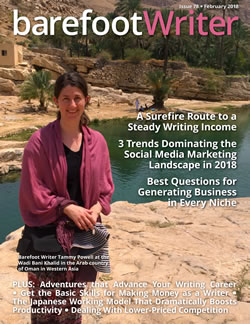 One of the hardest things about my job as Editor of Barefoot Writer is that I constantly want to jump ship …
That is, from one writing opportunity to the next. It has everything to do with the fascinating people I interview.
Gordon Graham made me want to quit what I was doing and be a white paper writer. Jen Stevens talked me right into travel writing. Michael Katz made email newsletters the obvious choice. Casey Hibbard had me kicking myself for not launching a career in case studies.
And this month, thanks to bestselling author, Darynda Jones, I'm ready to drop everything to write paranormal thriller novels.
So, if you're new to the Barefoot Writing World and you're having trouble deciding which opportunity to focus your writing career on …
You're not alone! Take heart … even those of us who've been in this world for a decade still struggle with choosing the best option.
But I think the root of this "problem" is that you really can't go wrong. Meaning it's a terrific problem to have … loads of choices, each of which can lead to well-paid assignments and a lifestyle where you're in control.
And as our publisher, Rebecca Matter says, "You can do it all … just not all at once!"
Her advice — which I second — is to pick a path and get moving. You'll know when you're ready to add in the next opportunity.
Heather Robson is one of my favorite writer success stories because she's found a way to do it all — or a lot, anyway. She's a notable copywriter, is well-regarded in the web-writing world (and even runs the membership site, Wealthy Web Writer), and she's authored three novels.
In our February issue of Barefoot Writer, Heather gives an eye-opening overview of just how wide and varied the opportunities are in the paid writing world.
You'll also read about how and where to find the adventure in writing, what some of the newest trends are shaping up to be, and how to balance a wide load of varied writing projects in both a tidy and actionable way.
I'm grateful for the team of contributors we have this month. Enjoy the issue, and let me know if it leads you to any new frontiers in your own writing career.
Click here now to read your February 2018 issue of Barefoot Writer.
You may not realize that many of our contributors came to us through our essay contest. We liked what they wrote, so we hired them. It could happen to you … see page 21 for this month's Barefoot Writing Challenge.
Think you're ready to get paid to write, be your own boss, and work from home? A lot of writers want this. What holds them back is the need for a roadmap.
Let me introduce you to the Barefoot Writer Club. It's a group of writers who have crossed over from "hopeful" or "wannabe" to high-earning professional writer status.
The Barefoot Writer Club puts you on the fast-track to living the writer's life of your dreams. It shares proven strategies that make all the difference when you're just starting out and as you grow your writing career. Strategies like …
Where to find guaranteed writing gigs that pay, and pay well
Plans you can follow to make a living as a writer
Tips to jump-start your creativity
Advice on how to write your way to a passive income
Stories and advice from your fellow writers (successful, independent, money-making writers!)
Proven productivity tips
Roadmaps on how to build a writing platform so people who'll pay you to write can find you
And so much more beyond that! The Barefoot Writer Club also gives you private access to our Members-Only Facebook page where you can ask for and get advice on your writing goals. And don't forget all the discounts, exclusively for Club Members!
Hands down, it's THE way to get a profitable writing career up and running. Proven, tested, and FUN. Get the details here.

The Professional Writers' Alliance
At last, a professional organization that caters to the needs of direct-response industry writers. Find out how membership can change the course of your career. Learn More »

Published: February 2, 2018