A Bangor Police Department Master Class in Social Media Copywriting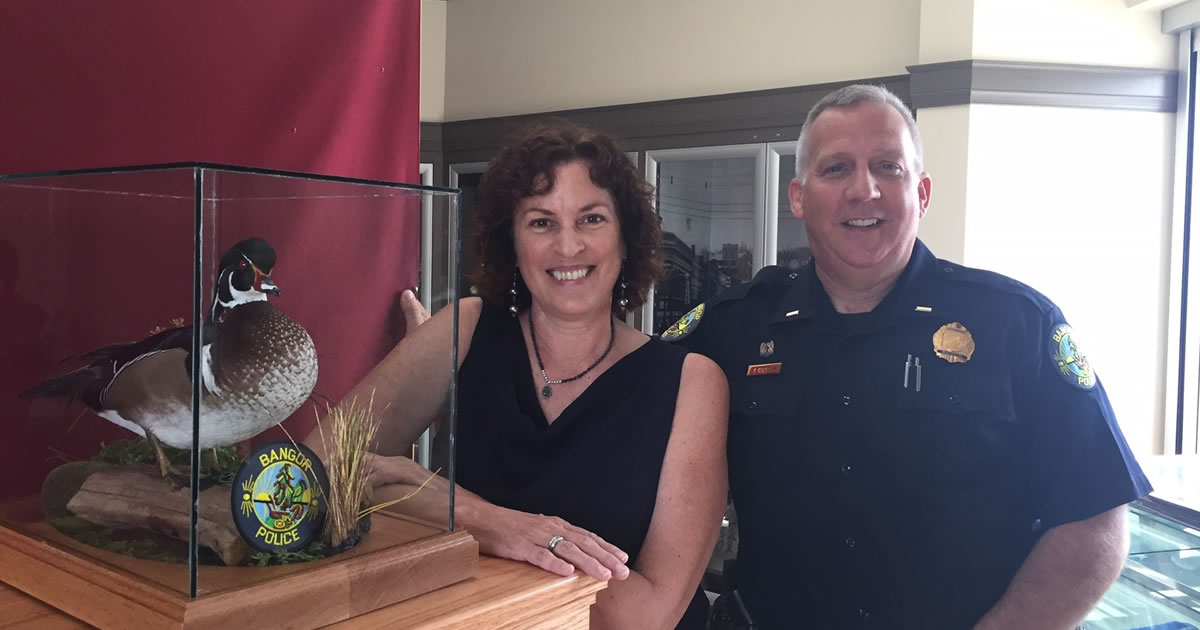 Recently I had the chance to meet with the writer of a wildly successful Facebook page: Lt. Tim Cotton (TC) of the Bangor Maine Police Department.
(That's me in the photo with TC and the department's "Duck of Justice.")
If you're not familiar with the popularity of their Facebook page, here are a few quick facts.
Since 2014, the page has grown to global popularity with 275,241 people following it (as of this writing).
Its posts have been featured on the Huffington Post and other major and regional media sites. And, celebrities such as TV's Mike Rowe are big fans and supporters.
How did a small-city police department, from the small state of Maine (population-wise), establish such as much-noticed Facebook presence?
I sat down with TC to find out. His answers, below, serve as a master class in writing and maintaining a powerful "people first" social media page. His key takeaways — I call them "gems of wisdom" — are in bold throughout.
PF: What was your mission when you started writing the Facebook page posts?
TC: My goal was to make the stories about people and their interactions with police … and not the other way around.
I think some law enforcement agencies create an aura that they're the heroes. I'm not a big proponent of that, because police officers do heroic things every day. We're paid by the citizens, we work for the public, and our job is to protect the public. But, it's also to have a relationship if possible with that same public.
I decided to write stories and missives and make fun of us a little bit, because self-deprecation is key to any interaction with people.
People will talk to you if they think you're like them, and they're like you.
It's not genius; everybody knows it. But some people forget that — to go on about yourself, all you've done is think it makes other people impressed. It's more impressive that you're like them.
PF: Without knowing it, you're following one of the principles of writing content or copy that gets people to trust the writer and the company: focus on people, not the "product." Is the Facebook writing still fun now that you've done three-plus years of it?
TC: It's more fun. When it took off, I didn't expect this. The truth was, I didn't even care if it did take off. I knew, from what I could see of Facebook, people were focused on getting 'Likes.' My focus from the beginning was to see the engagement numbers. I'm not a smart guy, but I know that engagement was more important than 'Likes.' Engagement would lead to what you want.
The engagement is a conversation — and if you're not going to engage, then you might as well hang it up. I always strive to keep ours at 25,000 to 50,000. That's a huge number.
[SIDE NOTE: Speaking of engagement, Lt. Cotton and his team post funny stories, serious stories, and wacky photos, such as the one pictured here. One day, when a local crosswalk was repainted, the team decided to re-stage the Beatles' Abbey Road album cover, complete with vintage VW Bug in the background.]
PF: A lot of Facebook posts I see (in the veterinary industry) just put out a message like, 'It's hot today. Be sure your dog is safe in the car.'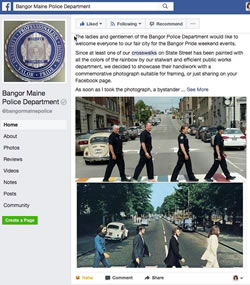 TC: No one wants to be scolded …
PF: Right. So, when you need to post an important message …
TC: You can do it by telling a story.
PF: Tell me about the Mike Rowe post you wrote the other day.
TC: Over time, I've heard from him or people around him that he likes the page. And then he shares some of our stuff, and he's got 4½ million followers. And whenever he'd share a post, we'd have a huge bump.
So, I wrote about a dream I had where I had eaten at his house and he only had one clean spoon. It was the strangest dream, and I talked on Facebook about Mike Rowe not having enough silverware.
He never reacted to it, but long story short, I got a call the other day when Mike was in Maine for a program he was doing for Facebook. He called to say, 'Hey, do you want to come down?' I said yeah, I'd like to meet him. He wanted to have his picture with the Duck, and he did a video for us.
I'm saving the video for another post, because you don't want to use all your fodder at once.
PF: What's been the reaction from people when you're putting so many of your personal stories into your posts?
TC: In the beginning, I tried to keep it as anonymous as possible, but people wanted to know more about things and who's the person writing about his life.
I consider it content for the sake of keeping people coming back. They want stories. People like the human touch of it.
PF: What's the secret to your explosive popularity?
TC: It's the stories. And I've told people — you have to come up with your own thing. My mind goes to places that are bizarre. To me, we all do in our own special way. A lot of people say, 'I say I wish I was in your head to see how you came up with this or that.' But it's just the natural progression of how I think.
I'm not forcing it. Truthfully, the best stuff I write takes about 5 to 10 minutes. I just write it and then I fix it up the best I can. I don't get carried away, because part of the charm is my screwed-up grammar. It's a story.
I don't really have a plan. There is no plan. I just write a book every day.
PF: And, your writing is just the way you talk to people.
TC: That's it! You just write like you talk. And I use commas where I want to pause. People tell me they get that; they hear my voice in the posts.
PF: If you had one tip for someone who's going to write for clients — they have to engage people — what would it be?
TC: Look for the strange. Look for the stuff that's not obvious. Just because you're writing about a mug (for example), doesn't mean you can't mention the flaw in the mug … or the fact of what you see when you look at the mug. Write about that, or the person's problems who used the mug.
It's not genius. It connects the person to the object. I think that's why people like it. They write to me and say, "I see the picture of what you're saying."
In addition, if you tell people upfront that you're just like them, they accept you as just like them.
I have a huge confession on what works: me telling them that I'm a screw-up.
Just be human, accept your flaws, and tell people about them.

How to Make Money as a Social Media Marketing Expert
Everything you need to know to become a social media marketing expert, as well as four different ways to make money using that expertise. Learn More »

Published: February 14, 2018