Interview with a Barefoot Writer:
Lori Haller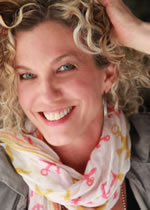 Lori Haller
"You'll always meet people in this world who are closed off, and you find that the ones who are most positive probably have a better chance of working well and attracting a lot of work."
— Lori Haller, Six-Figure Freelance Graphic Designer
Master Graphic Designer Lori Haller is a flood of sunshine when you meet her, and even more so when you work with her.
She's been a mega-success in the graphic design business for over 20 years, and the majority of that time, she's operated her own full-service design studio, Shadow Oak Studio. Just some of Lori's big hits include designing promotional materials for National Geographic, Kay Jewelers, Forbes, Agora Publishing, and newsletter publishing company Boardroom. Plus, Lori once landed a mega-deal with Oprah herself and is the design genius behind O's Big Book of Happiness.
Lori is the artistic mastermind behind countless logos, magalogs, package designs, programs, and ad campaigns. But she's also someone who's always happy to listen to the hopes and goals of new freelancers and eagerly extends any advice she can share.
That's what she offered when I called her at her studio, just north of Washington, D.C., on a snowy Monday morning. Enjoy her take on life as a freelance graphic designer and discover what it takes to excel at running your own business. Also, don't miss her views on what writers can learn from working with artists.
How do you take advantage of the freedom that comes with freelancing?
Everybody is home today thanks to the big ice storm all day and all night and snow yesterday, so today is a lot of fun because I'm getting a chance to make hot cocoa and even slept in. I'm ready for the holidays when my son is home from college for a month. But I'm also working on a lot of really cool projects.
How did you get into graphic design?
It was my longtime love. When I was little, I was intrigued by letter combinations. Around the age of seven, I first started fooling around with letter combos, sketches, and paintings. And visually, I just loved looking at colors and light. That all rolled into high school, when I was lucky enough to get the chance to go for free to a vocational technical college at the same time as high school — it cemented my desire to do graphic design in college.
So to this day, I keep trying to learn and grow and take new courses so I can learn more about design. It's a huge passion. I see things in my head visually, you know? For example, other people will look out at a tree or at some light and they'll see a tree or a light. But when I look, I see colors and shadows and tones. It's always been that way for me and though I've asked a variety of people, it's rare that I find someone who relates!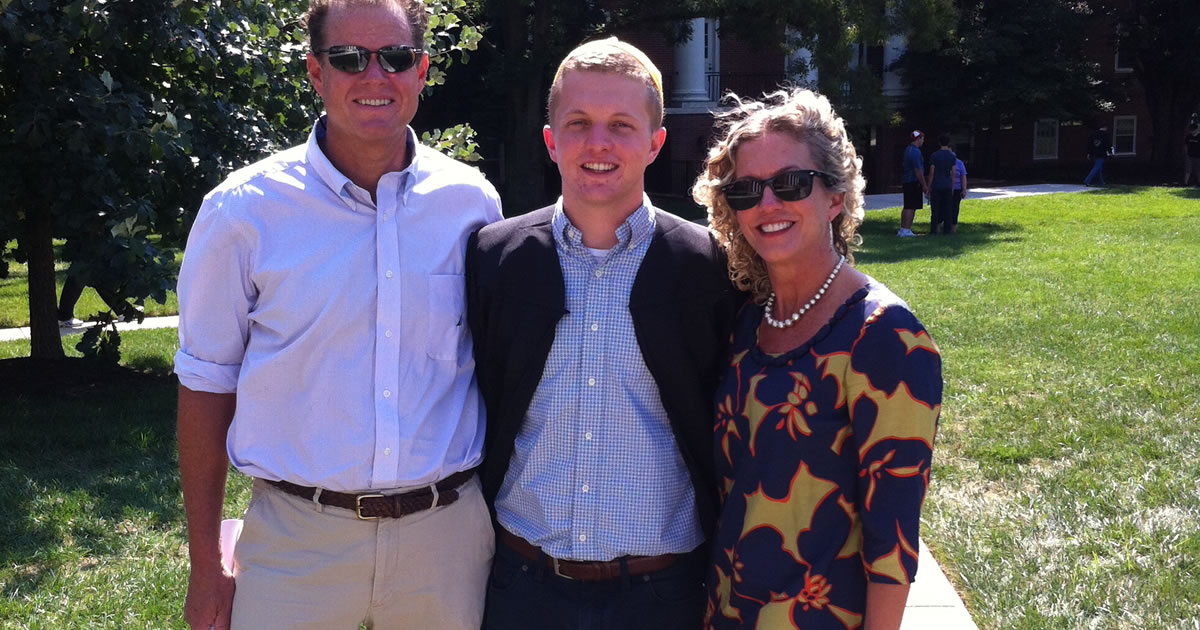 How did you get into freelancing as a graphic designer?
I always knew that I wanted my own company. My Aunt Lily had her own company and I thought she was so cool — she has this hair design company out in LA. And she always traveled around, and I loved hearing about her passion, so I thought I would love to have my own business someday. Of course, I needed to get my training, so for years I just went around to as many companies and agencies as I could in Washington, D.C. and I followed certain creative directors. I'd work for them for a couple of years and then would move to another top agency and work there to get some of that one-on-one training with them. I would try to get in there and learn everything I could from the experts.
I couldn't just stop working and start my own company, so I started moonlighting as a freelancer and did jobs at night. But I have three boys and I really wanted to be with them as they grew up. So about 15 years ago, I just said, "You know what? I'm going to give it a try" and I quit my job. Everybody was so nice about it; all of my former contacts immediately started giving me freelance projects. And I just kept telling myself, "I'll try this and I can always get a full-time job if I can't get this art gig to work." But 15 years later, I'm like, "Yeah, hot damn!" It worked. [Laughs.]
And now you're always there for your kids, even on "ice storm" days like today!
Yeah, I'm here to make hot chocolate and hang out with them. I've tried not to miss a single play or violin concert or whatever. I try really hard to be able to go to the sporting events and stuff. It's tricky, you know, because sometimes that means staying up till 2 a.m. and getting back up at 6 a.m. But, my family is my passion and my design work is my passion. I'm just really lucky to be able to do what I love and spend time with my kids. And they've turned out very well, so I'm very blessed and fortunate. Plus, my kids have seen the importance of finding something you truly love and adore. I always say that I've never worked a day in my life and really, I haven't. I can't wait to get in my studio every day and start working on my stuff.
In fact, the other day I was talking to one of my boys about that. I actually called him into my studio and asked his opinion about changing the color of this woman's hair because he has a really good eye. He chose the one he thought looked more realistic, and it was neat to be able to use his opinion — and he said it was fun! Plus, he looked at me and you could tell that he saw I really love doing what I do. He told me he wants to be an auto mechanic because he loves working on cars, but he asked if I thought he could support himself doing that. I said, "You know, it seems like if you just go for whatever it is you love, you'll be successful if that's your passion." And from what I've seen over the years, that's especially true for writers and designers.
It's like you said — if you follow your passion, you'll never have to work a day in your life.
And you know, as far as writers are concerned, it doesn't matter whether they just started out or are seasoned. I find that those who are really passionate about what they do and enjoy doing it every day, they just have this certain appeal to them where they attract a lot of work. Even with all the deadlines and such, they love it all. And I think clients like that because they know you put your best into it when you care.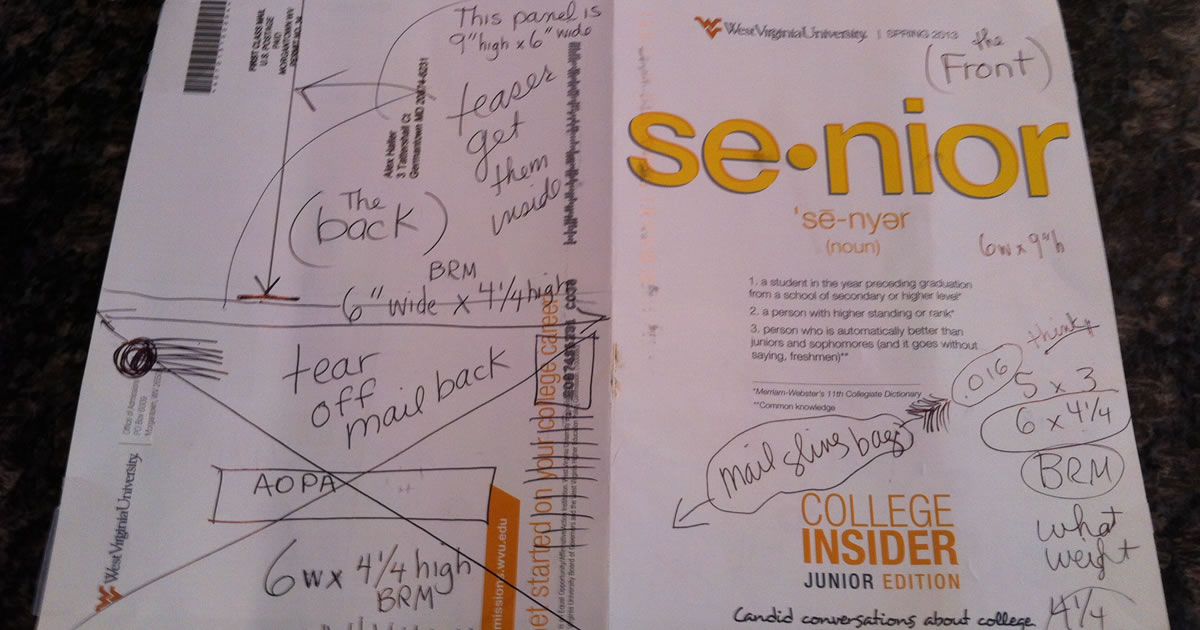 What design projects are you working on right now?
I just finished a really fun face moisturizer project promotion for women above 40. It's a direct-mail campaign. I'm doing a lot of launches for directmail campaigns because it's December and everybody's art has to be in shortly because a lot of things get mailed when the New Year starts. So every year, November and December are pretty critical months for my business. I'm also doing some renewal series and logo designs and product development as well. A lot goes on every day. I can have 15 projects going on in the studio at one time and it's very fun.
What's a typical day for a freelance graphic designer?
I try to keep the early morning hours when I'm fresh for serious design decisions. Maybe I'll need to pick a model or an actor for a cover or listen to different voiceovers, or even go through different fabrics. I also try to make sure to break for an hour or so every day to do yoga or go for a long run or go to the gym and exercise. That's huge to me and it keeps my mind fresh and open. And, I pick a song of the day and a video of the day every day and then play them in my studio. Music is really critical in my studio.
I try to save the conference calls for later in the day when I'm not as fresh so I can really hone in during the morning hours. Plus, I just can't do certain things when I'm really hot on a project, so I'll tell clients I can't meet with them until four or five because I have to stay focused on what I'm working on at the time. And then in the afternoon or so, my day will stop for a while and I'll make time for my kids or go to sporting events, and then I'll come back to my studio around nine when everybody's winding down and work till late, depending on what my deadlines are.
Your studio is in your house, right?
Yes, in my house, but in an area that's pretty much away from the Xbox and our barky dog. I have doors I can see through and lots of windows, so I can see everybody come and go and can kind of be with my family but still focus on my deadlines or take a conference call or whatever. I know some people prefer having an office away from their home, but it works for me — especially if I come up with an idea at 3 a.m. It means I can come downstairs in my jammies and put it down on paper or look up a photo or whatever.
On what kinds of projects might you work directly with a writer?
Most every project is with a writer, and we often work extremely closely together. I really need to get to know the products I'm designing packages for, so I try to become the person the writer is writing to. For example, Kim Schwalm, an A-list, top-notch writer I've worked with for years, wrote this lovely copy for the moisturizer package I mentioned. And we've been driving tight deadlines for the last few weeks trying to figure out the wording, the visuals, the models, what these people should be wearing, and what prospects want to see. The project is a 24-page Slim Jim [mini-magazine] that's going to mail to people's homes.
We try to think outside the box and have a lot of meetings and a lot of back-and-forth. It's never just a project with a date for me. For example, for one project I just did, I ended up surprising the client with additional designs that I stayed up till 2:30 a.m. working on because I wasn't jazzed with the original design ideas they chose. So I started again with a blank sheet and found a whole different model than what they'd been looking at, a much older model. I tried something very different and presented it to them, and they looked at it in the morning and liked what I did. We ended up going with that one and it's very different than what they've mailed before. They're taking a chance, but I think they saw that it was more accurate in honing in on what those words needed to say. The visuals and the words tie together so critically that the writer and the artist really need to get very close to each other and go back and forth to push each other to the edge to do their best.
That speaks back to the fact that this is your passion — nobody asked you to stay up and submit another sample, right?
Right. And I think it's the same way with writers. You have maybe your top 10 headlines, and then you show your client the top four when you could've just written one or two. But if you have a golden nugget of an idea shining in the back of your mind, it's rewarding to just try new things. You never know what happens when you go with your gut, especially if red flags are popping because everybody wants to be done. But I don't care about getting done early, as long as we meet the deadline. It's more important to come up with a jillion-dollar winner, so I'm going to use every second I have. Besides, you want a winner because then they call you back again!
What's been your most favorite project to work on so far?
I love the exciting ones, where I really follow my gut and push the client to do the same. I've had great experiences working with Gary Bencivenga and Parris Lampropoulos, because I always learn a great deal from them. But there are also projects I take on because I choose to, even though I don't make any money. For example, for things like homelessness or women with children who don't have jobs or training, or mental health associations, stuff like that. I'm that kind of person and I love people and I love helping people and giving back. So, no matter how much money is involved, I do find for me personally that I can touch the most people in the best, most positive way when I use my craft to help them. That's when I get the biggest thrill out of my work.
What tips can you give writers when it comes to working with designers?
The biggest mistake I see both from writers and designers happens when people are closed off and inflexible and can't hear feedback. For example, I create word banks with each project so you can touch on the feelings you want the project to evoke. And it seems like it's impossible to get a big winner when somebody is not into it and they're just banging something out. They don't care about relating feelings and haven't done their research. It just doesn't work. It's just ho-hum, and you won't hit it out of the ballpark. But when the client comes back and brings me a whole new idea that might mean more hours and more work, it's better to know that in the end it will pay off. And it's more rewarding than counting seconds and pennies. I know I'll learn something from every project I take on, so being flexible and wide open are crucial. It's also important to be able to wrap your brain around what it is you are doing and who it is you're selling or writing to. Also working as a team is important and most of the people I work with are great. But you'll always meet people in this world who are closed off, and you find that the ones who are most positive probably have a better chance of working well, attracting a lot of work, and respecting the whole big picture.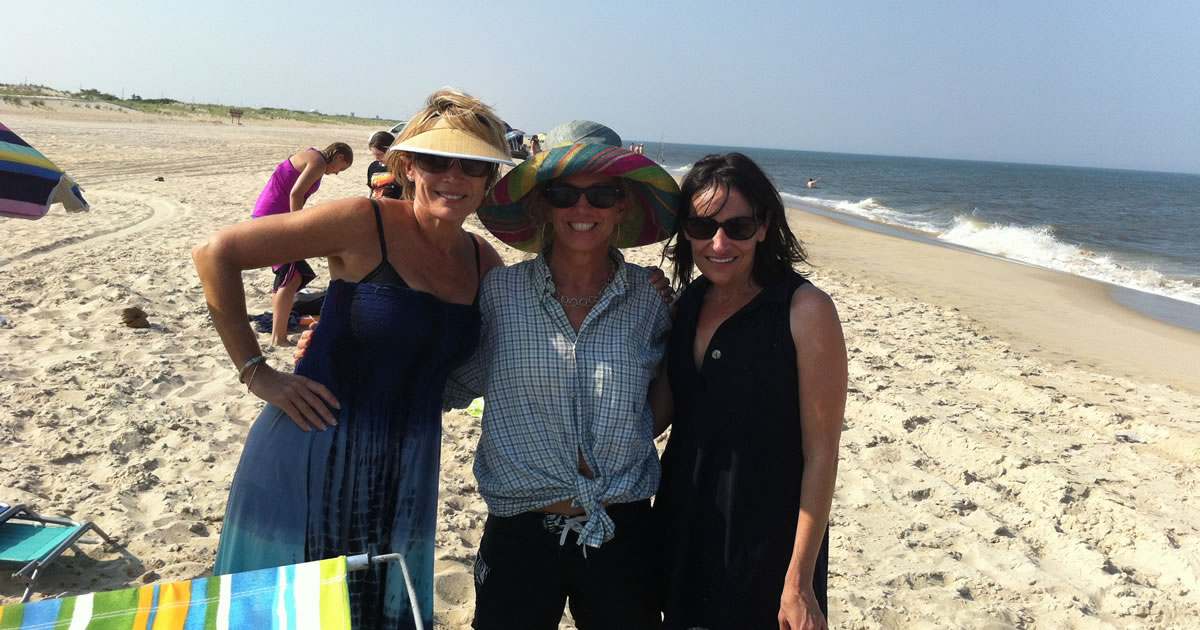 Let's say you had your pick of superheroes. Which one would you want to be?
Has to be Catwoman. I like her outfit. I like her super-high boots. And she does a lot of good. Although, it's funny … sometimes one of my girlfriends will come to the door to pick up her kids or drop something off and she sees me all dressed up and asks, "Oh, are you going somewhere?" and I say, "No, I'm just working." But it's because I'm concentrating on a big package or I'm about to be on a really important client phone call trying to sell a $10,000 or $20,000 project. Maybe it's just me, but if I'm having a hard time getting into the groove of a project, I need to dress the part. I treat my studio the same way. I have it all decked out with inspirational stuff. You've got to find what does it for you. You can't just sit down and write copy or do design and come up with killer concepts unless you totally immerse yourself in the role. That's how you get the big winners.
But it's not always like that. Once I was getting ready to go for a swim workout so I had my bikini on with shorts and then had to do an impromptu client interview. Boy, was I thankful they couldn't see me!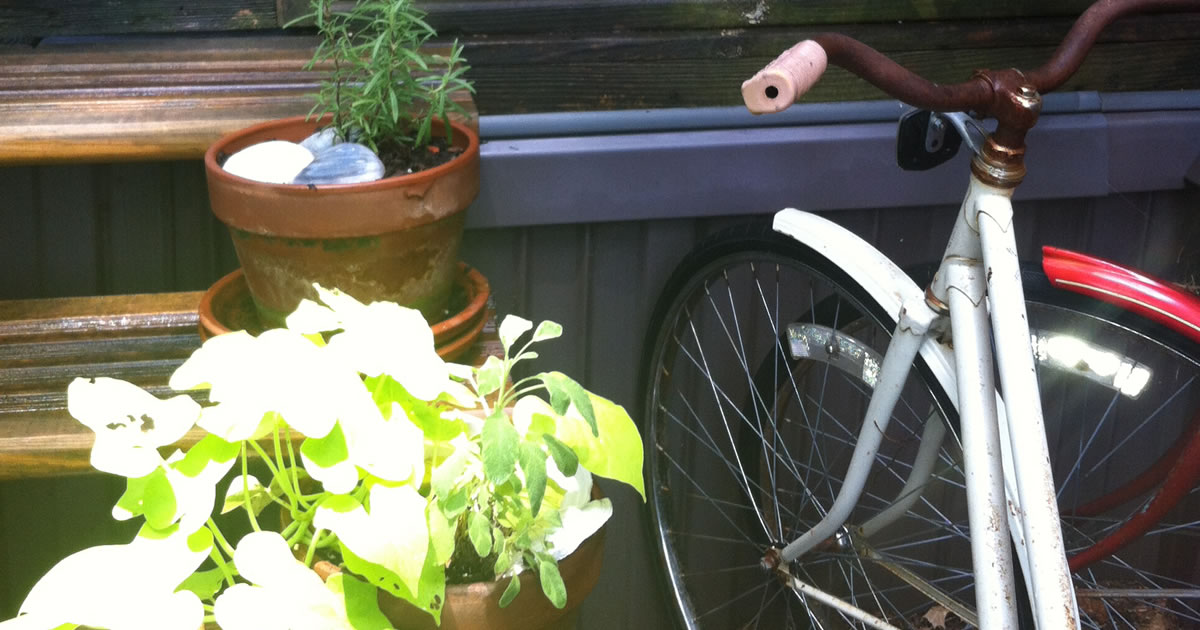 Do you always work from your studio?
No, sometimes I have to move around to really get in the groove. Like right now — I've been working from my kitchen counter for a couple of days. And other times I move into our sitting room so I can look out into the woods and work from the big table that came from my grandma's farm. Or sometimes I'm at the beach and we have this porch there — three of my biggest winners in direct mail were ones that I designed in my bare feet on my beach porch swing.
I just think people who are starting out really have to find what works for them. So whether you're a writer or a designer or whatever, the trick is to get comfortable so you can open your mind and not get too tense and uptight.
What books are must-haves for graphic designers?
A friend actually gave me one of my favorite books on typography, called Just My Type by Simon Garfield. I love that one. You know, that's how it started when I was just a little kid and wanted to write — it all started with a love of fonts. I even went to nighttime classes about just typography. And Leatrice Eiseman has a color book about the messages and meanings of colors and what they make you feel. I use those concepts a lot in logo design. Even if it's just a product for a male supplement meant to make a man feel better or perform better or whatever — the trick is finding the right color that's going to make him feel the right emotion when he reads the copy. So read anything that helps you understand fonts and colors and feelings so you can get in touch with them.
I think it's also important for writers to read books like this so they can understand design. It helps you open up. It is critical for writers to know what an artist is doing and why. Because you don't have to be an artist to help make decisions.
So if someone wanted to become a freelance graphic designer, where should they start?
Learning a software program is a good place to start. I use InDesign on the Mac, and even though you don't have to use that, I find that most companies I work with use that. But also, make sure you know how to do a lot of research. I need to know about the specifics of what a writer is talking about regarding a product, I need to understand it beyond what's written in the copy, and sometimes I can find a new hook or color just by doing research. And, it's critical to be a good listener. After that, just go out there a do it! It's definitely a very rewarding lifestyle.
This interview was previously published in the January, 2014 issue of Barefoot Writer. To read more interviews from fellow Barefoot Writers be sure to check out The Barefoot Writer's Club.

The Professional Writers' Alliance
At last, a professional organization that caters to the needs of direct-response industry writers. Find out how membership can change the course of your career. Learn More »

Published: April 2, 2018