Permission to Succeed, Granted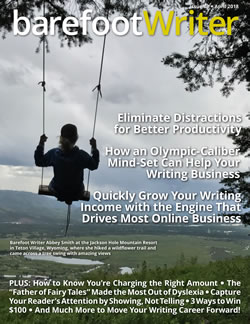 Are you waiting for permission to succeed as a paid writer?
Even if it's unintentional …
You know, in the writing world we talk a lot about the power of "permission-based marketing." Because if someone gives you permission to email them, it's like getting the green light to enter their world and try to persuade them to join yours.
Maybe that means you want them to buy a product, or sign up for a service, or donate to something.
Whatever it is you're aiming for, they gave you permission to do it. So you, the writer, get to deploy your best persuasive tactics, and to try, try, try again if they don't respond.
So let me ask you something … do you do the same thing for yourself when it comes to your writing goals?
Are you putting your best skills forward again and again and again, persisting until you've achieved what you want?
Or are you waiting for someone to give you permission?
Ryan Deiss, our Featured Interviewee for the April Barefoot Writer issue, shares some humdingers about succeeding in business. One of his comments really resonated with me. It's about people getting caught up in "faux business" – where you put all your effort into surface-level things like your logo or tagline, instead of doing the work that really matters: the writing.
So if you've been waiting till you feel like you look the part, till your website is perfect and all your social media accounts are aligned, till some client offers you accolades …
Stop waiting.
All that will come. You just have to do the work. Do the writing. Put in the time. Don't look to those other things for permission to move forward. You'll never get it.
Here's what will happen instead: You do the writing, you keep at it, and everything will fall into place.
Before you know it, you'll be a paid writer, succeeding beyond your wildest dreams.
Pay attention to Ryan's advice this month … it's writing-career-gold (p. 9). And then get real about your writing output by eliminating distractions (p. 35), charging the right amount for your time (p. 33), re-working your mindset (p. 38), and going after what you really want.
Click here now to read your April 2018 issue of Barefoot Writer.
Once you've got your head in the game, flip to page 22 for a peek into one of my favorite writing opportunities (Tip: It's in demand right now by just about ALL businesses). Read your issue now.
If you're really serious about launching your writing career — and fast — then I HIGHLY recommend you check out our Barefoot Writer Club. It's for folks like you, interested in making a living writing and getting paid for it, and ready to step up and take control of their lives.
Along with a full subscription to each new Barefoot Writer Magazine, you also get access to our treasure trove of 79 back issues, each one packed with tools and tips to help you launch your writing career fast.
And if that weren't enough, Club Membership also gets you admission to our Barefoot Writer Private Facebook Group where your fellow writers actively engage in growing their businesses, sharing advice, and answering the burning questions that might be holding you back.
Plus, there are other club bonuses, like the deep monthly discounts on writing programs designed to fit your goals. You'll also get our value-packed writing opportunity reports, including The $500 Email Secret, Get Paid to Surf the Web, The Secret of the 1-Hour Work Week, and The Lazy Writer's Path to a Six-Figure Income.
Each bonus has been specifically designed to give Club Members the best information possible for getting a successful writer's life up and moving at lightning speed.
Perhaps you're ready to take that step … if so, click here to learn more.

The Professional Writers' Alliance
At last, a professional organization that caters to the needs of direct-response industry writers. Find out how membership can change the course of your career. Learn More »

Published: April 6, 2018