He's Now Full-Time Freelancing … and Badges Helped Lead the Way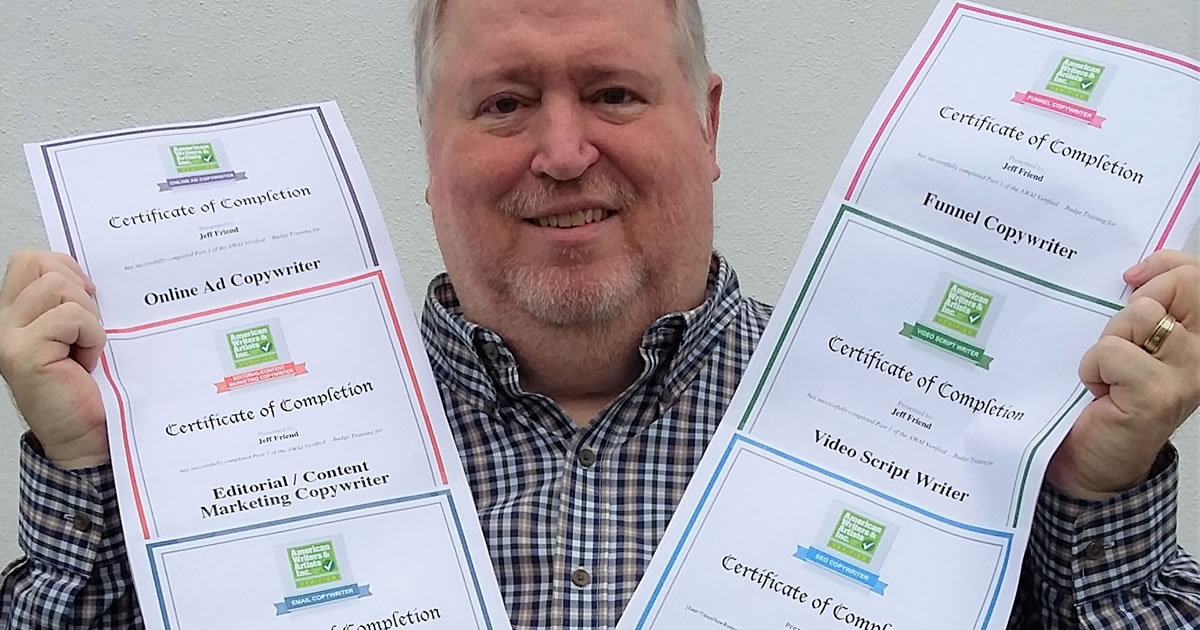 Jeff Friend had 20 years of experience as a writer. He was a book author and newspaper reporter, among other jobs. But when he decided to pursue copywriting … he turned to AWAI's learning programs to get up to speed in this totally new style of writing.
Today …
"I'm now freelancing full-time," says Jeff, whose plate is full of copywriting jobs. "My niche is Christian-owned businesses and Christian organizations. My clients include a major home remodeling company, a pregnancy center, a movie production company, a national book publisher, and I'm currently working on agreements with a professional wrestling company, a church supplies company, and a television network. I love the variety!"
One of the programs that gave Jeff the edge was AWAI Verified™: Mastering the 8 Collateral Marketing Projects Every Copywriter Must Know. The AWAI team calls it "Badges" for short.
Jeff is the first member to pass the tests and earn all eight Badges. He's already started using his certifications to land clients and in producing great results in copywriting jobs.
"I thought it was quite an accomplishment," says Jeff. "It's a lot of content to study and then do all the assignments, but completing all of them was something I knew would be a great asset to myself and my clients."
"Badges" covers all the elements of an online campaign that a typical company doing business on the internet needs. The goal could be to get new leads or sell their products or services. This is really the cutting-edge of internet marketing. The types of skills that clients really expect copywriters to have.
This includes:
Social media posts
Emails
Sales funnel copy
Space ads
Lead generation landing pages
Editorial/Content articles
Video scripts
SEO web content
"The Video Script Writing module taught me the most because it was totally new to me, and was the module I was most interested in doing," says Jeff. "The most useful so far has probably been the SEO Writing because that is something that interests just about every client.

"They tell you at the beginning that it's recommended that you do the modules in order. This is very good advice. It is much more efficient in both time and understanding if you don't try to jump around."
The techniques and strategies are presented clearly in video format, with plenty of examples. You go through the lessons — you can watch as many times as you like. Then you have to take a test to earn that Badge.
After the multiple-choice test, you move on to a "written exam." It's essentially a practice assignment reviewed by a pro copywriter. They offer detailed comments on what you did right … and what you can improve. An 80% score or more gives you a passing grade. The testing confirms you understand the material and can apply it to a real-world project. I've been through several of the Badges modules myself. I can tell you it does take study to pass the test.
"The feedback was detailed and specific. The suggestions and comments always reinforced the lesson and was presented in a positive, helpful manner," says Jeff. "The feedback was so closely tied with the lesson that it was more of an 'Oh, yeah, now I see it' type of moment."
Jeff managed to get through all eight lessons in record time. (There's no deadline. It's go at your own pace.)
"Fortunately, I had a week where my schedule was pretty light, so I focused on that week. In a process like Badges, where the lessons build on the previous ones, I learn best when I can move through them without large gaps of time between modules," explains Jeff.

"If I had to wait a week or two between modules, it would have been much harder for me to retain the information. I admire anyone who can do that, but my brain doesn't seem to like it. I also went through each module at least two times to make sure it all soaked into my mind."
Knowing all the different specialties covered in "Badges" lets you take on a wide variety of copywriting jobs. A versatile freelancer is a well-paid freelancer.
The bonus: once you have these skills under your belt, you can often multiply your fee. Clients want to keep things consistent. So most will want one copywriter to craft all the parts of a campaign. The fees quickly add up.
Jeff is always sure to let a potential client know about his Badges certifications. He's also placed the Badges on his website, which can be found here: www.jefffriendcopywriter.com.
The Badges certification — and the expertise they represent — grabs clients' attention. It sets him apart from other freelancers, too. Just knowing these different specialties gives you the confidence to go after your dream clients.
"Every potential client I talk to seems to be interested in at least one of the eight topics. So now when they ask about one of them, I can confidently say, 'Sure, I can do that.'"

The Professional Writers' Alliance
At last, a professional organization that caters to the needs of direct-response industry writers. Find out how membership can change the course of your career. Learn More »

Published: May 22, 2018