How 8 Badges Helped Jeff Friend Become a Full-Time Freelance Copywriter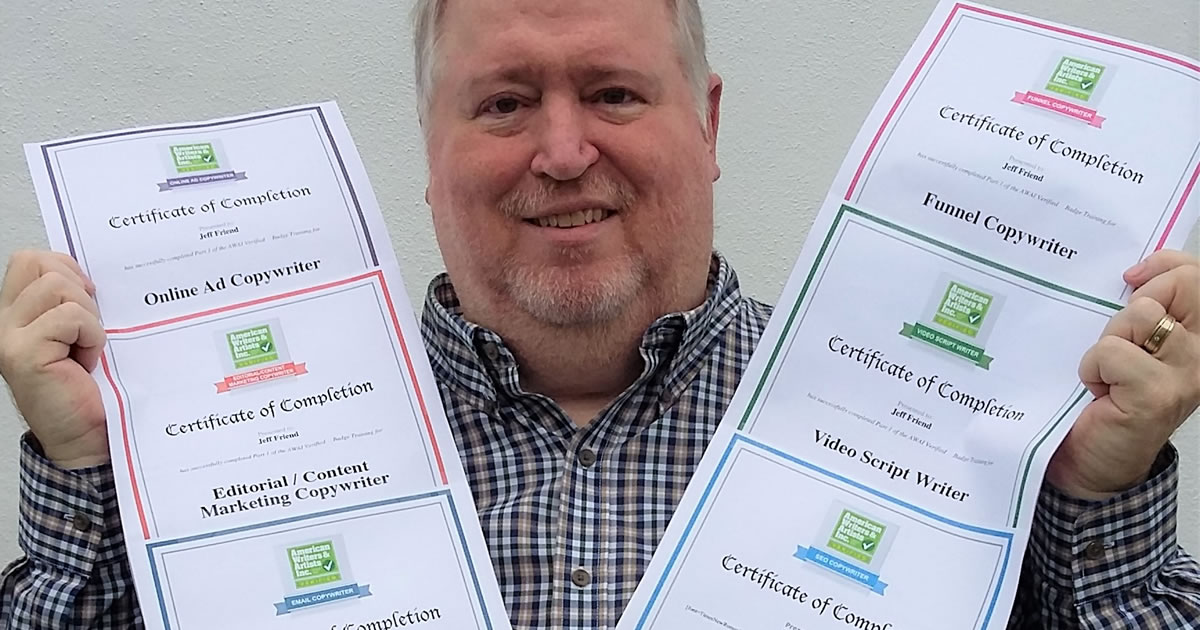 Copywriter Jeff Friend
"Sure, I can do that."
That's how Jeff Friend answers client requests, now that he's earned all 8 of the AWAI VerifiedTM Badges for the most in-demand copy projects marketers need done today.
Jeff is the very first AWAI Member to pass all the tests and complete all 8 of the Badges in our skills certification program, AWAI Verified™: Mastering the 8 Collateral Marketing Projects Every Copywriter Must Know.
And he's already started using his certifications to land clients and produce great results in his copywriting jobs.
In a recent interview, I asked Jeff to share his tactics for how he was able to complete the "Badges" program in such a short time, and how being AWAI VerifiedTM has been changing his freelance writing career.
Read on for his answers …
Q: What had you been doing before you decided to make the switch to copywriting?

A: Well, I had 20 years of writing experience. I was a book author and newspaper reporter, among other jobs. But I decided to pursue a new style of writing, copywriting.

So I looked into several of AWAI's learning programs knowing I'd be able to get up to speed more quickly.

Q: Since that jump-start, what have you been working on?

A: I'm now freelancing full-time. My niche is Christian-owned businesses and Christian organizations. My clients include a major home remodeling company, a pregnancy center, a movie production company, a national book publisher, and I'm currently working on agreements with a professional wrestling company, a church supplies company, and a television network. I love the variety.

Q: You mentioned looking into several of AWAI's programs. Which one would you say helped the most?

A: The program that gave me what I call an edge was AWAI Verified™: Mastering the 8 Collateral Marketing Projects Every Copywriter Must Know. I think the AWAI team calls it "Badges" for short.

Q: Why do you think that program helped you jump right into copywriting?

A: "Badges" covers all the elements of an online campaign that a typical company doing business on the internet needs. The goal could be to get new leads or sell their products or services. This is really the cutting-edge of internet marketing. The types of projects that clients really expect copywriters to have the skills to handle, like:

Social media posts
Emails
Sales funnel copy
Space ads
Lead generation landing pages
Editorial/Content articles
Video scripts
SEO web content

Q: Did learning that much content feel like a big undertaking at times?

A: It's a lot of content to study and then do all the assignments that go along with each component, but completing all of them was something I knew would be a great asset to my clients and myself. I thought finishing it was quite an accomplishment.

Q: If I asked you to pick one module of the "Badges" program that you thought was most valuable, which one would it be?

A: The Video Script Writing module taught me the most because it was totally new to me, and was the module I was most interested in doing. But also I would have to say the most useful so far has probably been the SEO Writing because that is something that interests just about every client.

Q: Since those interested you the most, did you go through those modules first and then circle back to the other six?

A: AWAI recommends that you do the modules in a specific order. And it's actually very good advice. It is much more efficient in both time and understanding if you don't try to jump around.

Q: Once you complete a module, then you take a test. Was that intimidating?

A: No, not at all. The techniques and strategies are presented clearly in video format, with plenty of examples. Plus, you can watch as many times as you like. Then, at the end and when you're ready, you take each test. You need 80% to pass.

Q: So in essence, there is plenty of time to really absorb the information before you take the test. Then what happens after taking the test?

A: After the multiple-choice test, you move on to a "written exam." It's essentially a practice assignment reviewed by a pro copywriter. They offer detailed comments on what you did right … and what you can improve. An 80% score or more gives you a passing grade. The testing confirms you understand the material and can apply it to a real-world project.

Q: Since the feedback is detailed, would you say that helped you "ace" the practice assignment?

A: Yes. The feedback was detailed and specific. The suggestions and comments always reinforced the lesson and were presented in a positive, helpful manner. Actually, the feedback was so closely tied with the lesson that it was more of an 'Oh, yeah, now I see it' type of moment.

Q: You mentioned earlier watching the modules as many times as you want before taking the test. Is that something that can be done rather quickly?

A: I managed to get through all 8 lessons in record time. There's no deadline. It's go at your own pace.

Fortunately, I had a week where my schedule was pretty light, so I focused on the modules that week. In a process like Badges, where the lessons build on the previous ones, I learn best when I can move through them without large gaps of time between modules.

Q: Is that something you recommend others do too?

A: If I had to wait a week or two between modules, it would have been much harder for me to retain the information. I admire anyone who can do that, but my brain doesn't seem to like it. I also went through each module at least two times to make sure it all soaked into my mind.

Q: Now that you've received all 8 Badges, how does that help you when it comes to getting clients?

A: Knowing all the different specialties covered in "Badges" lets you take on a wide variety of copywriting jobs. A versatile freelancer is a well-paid freelancer.

The bonus: once you have these skills under your belt, you can often multiply your fee. Clients want to keep things consistent. So most will want one copywriter to craft all the parts of a campaign. That quickly adds up.

Q: Do you share the Badges you earned with clients?

A: I let a potential client know about my Badges certifications. Another benefit of the program is you can place the Badges you earn on your website. Here's how they look on my Jeff Friend Copywriter website.
The Badges skills certification — and the expertise they represent — grabs clients' attention. Being AWAI VerifiedTM sets you apart from other freelancers, too. Just knowing these different specialties gives you the confidence to go after your dream clients.
"Every potential client I talk to seems to be interested in at least one of the eight topics. So now when they ask about one of them, I can confidently say, 'Sure, I can do that.'"
Do you have any questions about earning the Badges modules? Share with us in the comments below so we can get you the answer.

The Professional Writers' Alliance
At last, a professional organization that caters to the needs of direct-response industry writers. Find out how membership can change the course of your career. Learn More »

Published: May 22, 2018