How I Got My First Copywriting Client, and How You Can Too!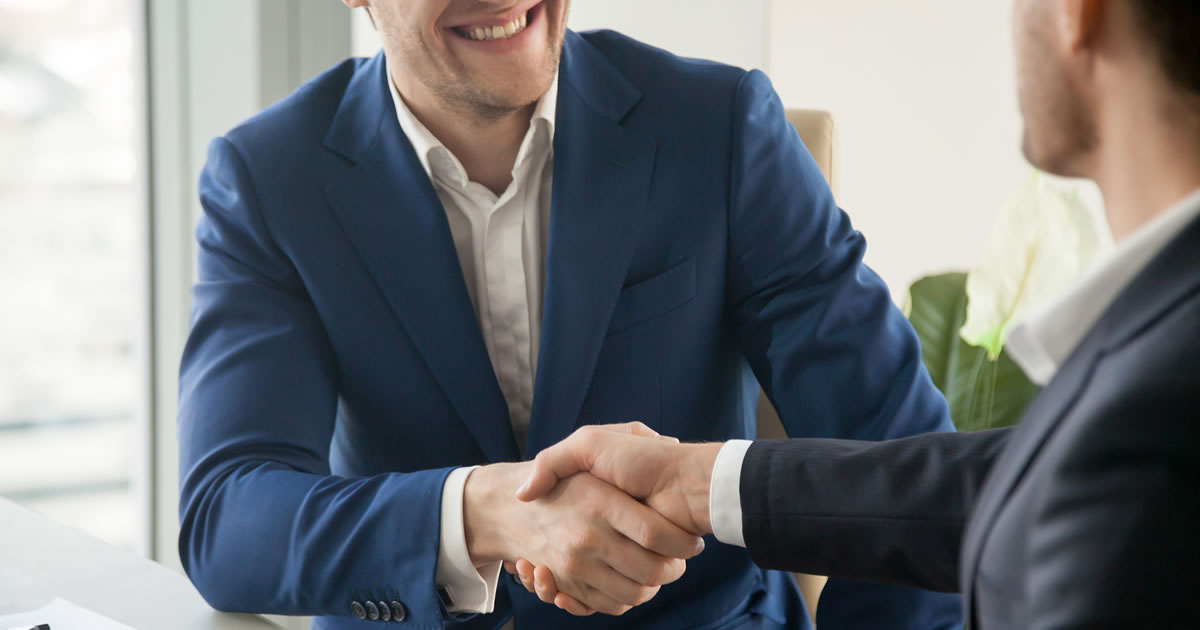 Before I tell you how I got my first client, I should let you in on a secret …
I didn't have any training as a writer when I got started. I've been a professional musician most of my life … I started as a teen 31 years ago playing in bands.
I did enjoy writing, though …
When I was younger, I would even submit articles to the local newspaper. I never got paid, but it was still cool to see my name in print. I had no idea you could actually make great money as a writer …
Until I found AWAI.
I don't know exactly how my journey with AWAI began … it was either Nick Usborne's Money-Making Websites program or The Accelerated Program.
But that started me on this path to paid writing. And I'm still going strong today.
Of course, it all started with my first real paid assignment …
An Article Idea Helped Me Land My First Client
You may be familiar with my first client: Wealthy Web Writer.
Well, near the end of Heather Robson's monthly live Member Update Webinars, she encouraged listeners to submit ideas for an article.
For two months in a row, I listened and thought, "Yes, I must do that!"
But I didn't.
I'm not sure why … probably a mix of insecurity and fear of failure (or any number of common reasons).
The third time, I threw caution to the wind and sent Heather a proposal for a 3-Minute Guru video. The topic was on keeping your WordPress website out of the Google index until your site is ready to launch.
Looking back, it wasn't a fancy or formal query letter, just a simple email, proposing the idea for the video with a sentence or two of background and explanation — short and sweet.
Much to my delight, Heather replied saying it sounded like a good idea, and I had my first gig.
I followed up with another idea that turned into an article, and that led to another paid writing assignment.
Now six happy years later, I've enjoyed an amazing working relationship with Heather and Wealthy Web Writer. That one idea led to more articles, a multiyear stint as one of Wealthy Web Writer's Reality Bloggers, and the role of Tech Corner Editor. And yes, I still do 3-Minute Guru videos.
The Steps You Can Use to Land a Client
Even though this just sounds like a quick story, there were a few things I did that led to my success (and that you can easily duplicate) …
The first is easy … there was a call to submit ideas, and I did that.
Second, and more importantly, I pitched an idea for a piece of content that I knew was similar to the type of materials they published.
How I came up with the idea was simple. I looked back through their various articles and videos to get a good feel for their editorial voice, the level of detail in the content, and different types of content they used.
I also looked back through various issues to make sure I wasn't covering something that had already been done before.
After having done that research, I knew that what I was proposing had a good chance of being a fit for what they needed.
So, how do you find these opportunities?
First, there's a good chance that some of the blogs and websites you follow are open to contributor submissions.
If they are, there will often be a link or a page that says something like "Write for Us" or "Writer's Guidelines."
On that page, you'll find information on what specific types of content they are looking for, rules to follow, and who to contact.
If you're a member or follower of a site or blog, all the better, as you'll already have a good feel for what they want.
If you want to broaden your search, just do a Google search and pop this in the search bar: blogs + write for us.
You can also add other keywords to your search to narrow the results to topics you're interested in. For example, if you're interested in cooking, you'd search like this …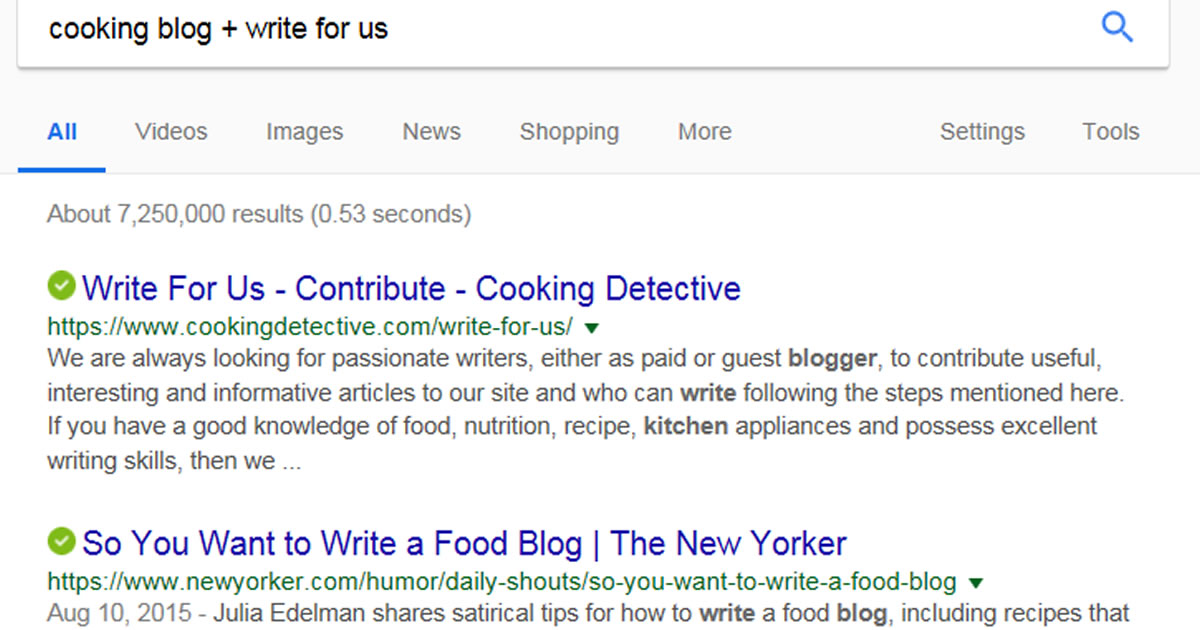 Here's Your Mission (If You Choose to Accept It!)
Once you've narrowed down who to write for, now it's time to implement!
Here are a few tips to greatly increase your chances of success:
Using the tips above, make a list of sites that you know accept written contributions.
Be prepared and study your potential clients: know what they are currently publishing, and what they've published in the past.
If they have Writer's Guidelines, follow them. To the letter. Editors can tell very quickly if you've done your homework, and if you have, they will appreciate it. And they'll be much more likely to want to work with you.
Unless they have a specific process to follow, your pitch needn't be fancy, but it must be specific. Pitch an idea: let them know what you're proposing and why, and more importantly, how their readership will benefit.
Follow up! I can't even tell you how many projects I would have lost if not for following up. Editors tend to be very busy. Don't send an email the next day, and don't be a pest, but generally, the rule I use is what Rebecca Matter advises: to follow up until they ask me to stop.
Three Extra Bonus Tips for Success
After taking action, these are easily my top three factors for success. They're simple, they're powerful, and they'll never steer you wrong.
Do good work. Do your best work. Always.
Meet your deadlines. Meet your deadlines. (Yes, I said that twice.) And if you have absolutely no choice but to miss your deadline, communicate that fact early!
This final one, you'll probably never see on any Writer's Guidelines pages, and it's easy to underestimate its true value, but trust me, it's as important as the other two: Be easy to work with.
Of course, none of this will work if you don't take that first step and ask!
They say that to be successful, you have to be in the right place at the right time.
With the demand for online copywriting already staggering (and growing!), if you're a writer looking to get paid, you're definitely in the right place.
And if you're looking to do it today, there's no doubt that this is the best time.
So I encourage you to put this into action, and when you do, come back and share your first client story!
Meanwhile, do you have any questions about finding clients to write for? Share with us in the comments below.
Get $25,000 of Training for $1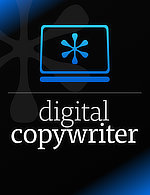 Right now, you can access over $25,000 worth of training webinars — along with templates, pricing guides, invoicing tools, "how-to" videos, and much, much more — to help you launch your paid web-writing career.
Wealthy Web Writer has everything you'll need to become a paid web writer.
And during this 30-day "test-drive," you can get access to the entire site for just $1.
Launch your paid web writing career for $1.
Published: May 7, 2018