When Writing Opportunities Knock, Here's How to Answer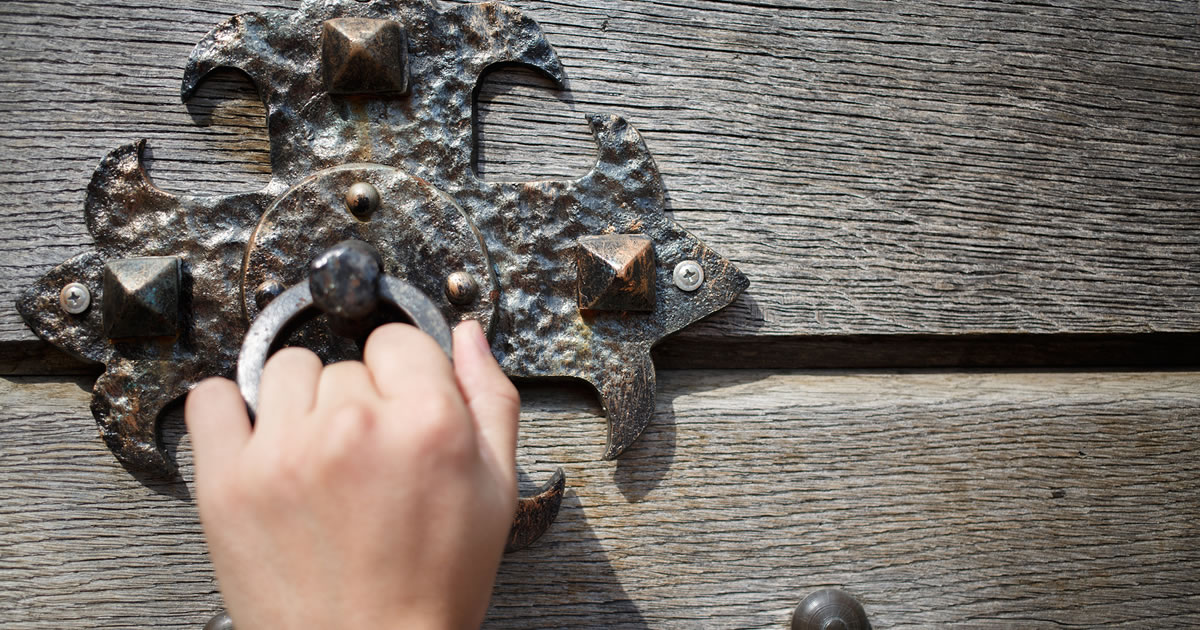 How good are you at seizing opportunities when they present themselves?
As a freelance writer, it's a skill you'll want to cultivate …
Let's say you're new to writing or looking to transition to a different niche …
You open your email and see a job posting that seems right up your alley. It's the ideal client, and a project is exactly in line with the services you offer.
What do you do?
That's when many new freelancers hesitate … not sure exactly how to respond.
Maybe your self-confidence wavers, or you're suddenly not so quite sure it's an ideal opportunity. Or you convince yourself that other, more qualified people, will respond and you shouldn't bother.
And that's too bad, because the prospect has already made it clear they need a writer. And you may be just who they're looking for!
So, what's the solution?
Having a game plan …
A process you have in place to respond to job postings and other opportunities that come your way.
It's worked for me, and it can work for you too.
Let's walk through three key writing opportunities you will likely come across — and tips for responding in a way that maximizes the odds you'll be the writer they want to talk with further.
Writing Opportunity #1 — Job and gig postings
AWAI Members have lots of chances to get their work in front of potential clients on a regular basis. For example, DirectResponseJobs.com offers AWAI Members access to a wide range of job listings. Wealthy Web Writer and B2B Writing Success also offer job postings.
These job postings will be for a variety of project specialties and industries, and new ones are added all the time. If you're looking to get started, watch the websites on a consistent basis for new listings in your niche.
These tips will also help you respond to other postings through websites like Indeed.com, Upwork, and more.
Tips for Responding
If you regularly apply for jobs online, save yourself time and effort by setting up a few templates.
Create a cover letter template you can easily customize based on the type of job you're applying for. Start with two general template options: one based on copy format, and one based on niche.
For example, if you're responding to someone who's looking for an email writer, have a cover letter template ready that highlights your experience with email writing.
Or if you're applying to work for a financial publisher, your cover letter should focus on what you've done in the financial niche, as well as any applicable work experience.
You'll quickly be able to personalize one of these templates to correspond with what you're applying for.
Consider, too, providing the prospect with some additional information about yourself.
Joshua Boswell's Simple Path to Success program provides templates to create a packet about yourself which discusses your unique qualities and experiences, writing policies, procedures, rates, and more.
When you have a packet of information about yourself ready to send out, as a PDF, for example, you'll be able to respond to job posting opportunities quickly and without a lot of extra effort.
The templates also form the foundation for your website. Using Joshua's system, I started getting compliments on my website the day it went live — even though I'd barely been working at that point!
Providing logistical information to your prospects about how you work demonstrates that you're a professional who knows what they're doing (even if you're new to writing).
Finally, be sure to follow instructions. And if you don't meet the listed requirements for the position, be prepared to explain how your background makes you uniquely qualified anyway.
Writing Opportunity #2 — Ongoing Opportunities through Various AWAI Programs
Some AWAI programs, including AWAI VerifiedTM "Badges" and Advanced Training, accept submissions on an ongoing basis from writers who have taken those programs. If you've written copy for one of their programs that you're proud of, they want to see it! If they like it, they may test it and pay you for it.
Tips for Responding
Following instructions is equally important here. For example, with the AWAI VerifiedTM "Badges" program, the first instruction for submitting an assignment is to put certain information at the top of your document before you write a word of copy. Yet, a lot of people forget to do it.
Now, people make mistakes. It's human nature. But to make the best impression on your prospect, show that you've read and followed the instructions from the start.
Also, keep the length of your submission reasonable for what you're writing. There are times when a word or character count is specified, and you'll need to stay within those limits.
When it's not specified, keep in mind the nature of the assignment, and provide a sample that would fit those parameters.
For instance, an email linking to a sales letter should be much shorter than an email that sells the product outright. Price might factor in as well. For example, a few bottles of a turmeric health supplement will generally cost much less than a long-term subscription to a health newsletter. The latter will probably require more copy to persuade a reader to buy.
So provide a sample that would best show the marketer that you understand and can write the type of copy they need.
Writing Opportunity #3 — Job Fair Spec Assignments
AWAI's Bootcamp and Job Fair is a springboard for many writers looking to take their careers to the next level, whether they've just gotten started or have been working in this field for years.
One of the biggest reasons is that Bootcamp offers attendees the chance to meet and network with marketers looking for new writers.
Marketers provide detailed Spec Assignments attendees can submit copy for.
With a Spec Assignment, the marketer will request a certain type of copy — maybe an email, or a headline and lead for a long-form sales letter — and instructions for completing the assignment. If they like what you submit, they might hire you to do other work for them.
These are great opportunities not just to land a new client who's looking for a writer, but to bulk up your portfolio with samples while you do it. Winning specs give aspiring writers a foot in the door with marketers they may not ever have a chance with otherwise.
AWAI also offers Spec Challenges for attendees, and awards the winners with checks at the Awards Luncheon the last day of Bootcamp. Spec Challenges are an opportunity to write copy for specific AWAI products.
Spec opportunities are available to you once you register for Bootcamp, and the details are conveniently posted directly on your myAWAI Member Page.
Tips for Responding
Prioritize. List all the Spec Assignments and Challenges you're interested in. Reorder them based on deadlines and your interest level. Finally, choose your "must apply" and "if I have time" specs, making a final list of your priorities. Review it regularly to stay on track.
Then, again, follow the instructions to the letter. (You've seen this three times now because it's that critical!)
Pay close attention to what the prospect actually asks for. Some instructions will say "we want an entirely new idea." Some will tell you to incorporate certain information into your spec. And some might ask you for more than just copy. For example, one Spec Challenge last year asked writers to submit a short video.
And then give them what they want.
Based on what the prospect is looking for and what you have time to do, you may need to reprioritize your spec list. That's okay, it isn't written in stone. Having said that, though …
Submit specs even if you don't think you're ready or qualified. Job Fair specs are an equal-opportunity playing field — anyone attending can apply. So don't count yourself out due to fear or a lack of confidence, because the prospect might love your submission even if you think it's terrible.
Finally, be persistent — and patient. It's okay to follow up on spec submissions as directed.
And realize that even if you don't hear from someone quickly, it doesn't mean they're not interested. I've turned in multiple specs where I haven't heard back from the prospect until 3-5 months later. In fact, I'm about to start a new gig soon for which the Spec Assignment was due last year.
Just like other forms of prospecting, it can take time to see results, so be patient.
You now have three great ways to market yourself without having to make a single cold call. Pick one that interests you, try it, and get ready to start welcoming some new clients!
Do you have any questions about responding to writing opportunities? Comment below so we can guide you.

The Professional Writers' Alliance
At last, a professional organization that caters to the needs of direct-response industry writers. Find out how membership can change the course of your career. Learn More »

Published: May 14, 2018