Interview with a Barefoot Writer: Richard Armstrong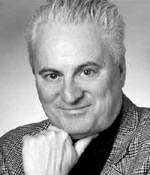 Richard Armstrong
"I can't always be brilliant … but I can always be polite, professional, on-time, easy to work with, eager to share the credit for success, and willing to accept the blame for failure."
— Richard Armstrong, Professional Copywriter for 35 Years
Spend five minutes talking to Richard Armstrong and you'll feel like a better writer, a smarter person, and generally just more ready for life than you were before. He's the kind of professional, big-name writer who makes you feel like you've known him for years — and nearly makes you want to spill all your secrets.
When you think about it, that's the secret to his genius. He's disarming and charming. Highly successful, but completely relatable. The kind of guy who once named his weekend home "Bear Turd Estates" and gets a crowd roaring by poking fun at himself and his critical role in the world of junk mail.
Though he's currently one of the nation's leading freelance copywriters, Richard started his professional writing career at an agency. But it wasn't till he got fired from that job that his writer's life really began. As he puts it, getting fired "was not a happy day, but it turned out to be the best day of my life because I became a freelancer."
He hasn't looked back since, though he concedes his agency experience proved incredibly useful later on. "After firing me, my former boss let me cool off for a few months. Then he came back and hired me on a project-by-project basis. It was better for both of us that way. Of all the top copywriters I compete against today, I only know of one who started his career as a freelancer. Of course, he happens to be just about the best guy out there nowadays — Parris Lampropolous — so he's proof that you can skin the cat the other way, too."
Richard credits his agency roots for teaching him what's possible in the world of direct mail, and what isn't. What's costly and what's cheap. What's legal and what will get you in trouble. A background in agency writing, he says, makes it easier to talk with your clients and their vendors intelligently. "Plus, you'll walk away with a portfolio of finished samples. You won't have to write anything 'on spec.' You might even come away with your first client, because many copywriters continue to work for their previous employer on a freelance basis after they leave."
I asked him if he'd recommend that a new writer pursue an agency start, or if it's better to be a freelancer from the get-go. "Either way works," he said. "But if you try for an agency position, you'll learn a lot in a short amount of time. Not just about copywriting, but about every aspect of the direct-marketing business: list selection, print production, commercial art, lettershop, government regulations, web design … the list goes on and on."
Richard's very first freelance job was writing a letter for Bob Hope and the USO — for the grand fee of $100 — "A lot of extra spending money for a 25-year-old kid in 1977," he says. He dashed off the letter while eating a TV dinner one night, handed it in, got his check, and went on his way.
It wasn't till years later when Richard came across the client by chance. She told him the letter had been the control for the USO for over a decade and brought the organization millions of dollars. (A control is a letter that continually brings the highest response rates from readers — or in the case of the USO, from donors — and hasn't been beaten by any subsequent attempts.)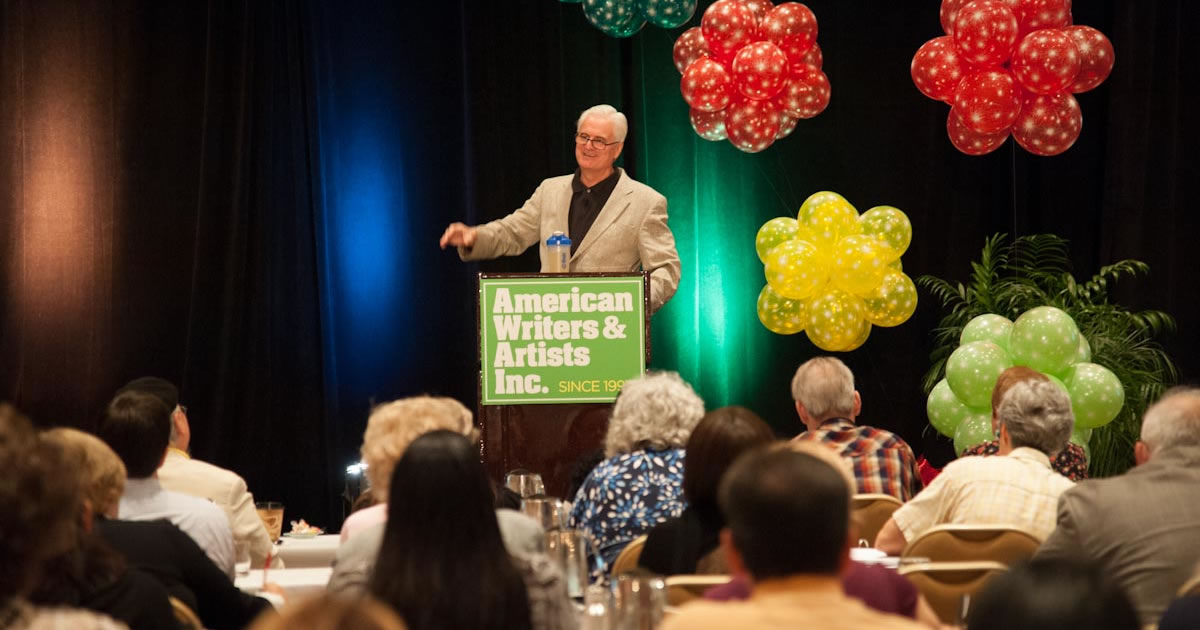 Since launching his freelance writing career, Richard has worked with iconic names across multiple industries, like Reader's Digest, Rodale, and Boardroom. Brian Kurtz of Boardroom refers to his writing style as "unique and adaptable to a wide variety of products."
So I ask Richard the secret of being so versatile across niches. "Actually," he says, "It's better from a business standpoint to be a specialist, rather than being someone who's known for their versatility. It's better to be Derek Jeter, for example, than just another utility infielder. The problem with specialization is that it gets boring after a while. For me it does, anyway. I realize there are historians out there who can spend their whole lives studying two minutes of the French Revolution and be perfectly content. But I like some variety in life."
He adds, "One of the things I've struggled with in my career is seeing the exact same assignment over and over again. That's why I've deliberately stayed open to accepting occasional assignments that are outside of my specialty. I've even developed more than one specialty over the years. My principal specialty right now is newsletter, magazine, and book promotion. But in the coming year, I've also accepted some projects in insurance, credit cards, and membership. Somebody famous — maybe it was Winston Churchill — said 'A fresh set of problems is almost as good as a vacation!'"
That points our discussion toward the subject of new writers specializing and picking a niche when they first start out. "It's very important," says Richard. "For one simple reason. Clients want to deal with specialists, and they'll pay more for the privilege. God forbid you came down with a brain tumor, for example. You'd want to deal with a neurosurgeon, not a general practitioner, right? The fact that the neurosurgeon charges a lot more money than the GP is not even a minor consideration. In fact, the more he charges, the more eager you are to hire him. Clients feel the same way. They want somebody who understands their customers, knows their business, talks their language."
He goes on to say, "When they leaf through your portfolio, they're looking to see if you've done something similar to their project before and that it was a big success. Some freelancers don't like to specialize because their attitude is, 'I can do anything.' They hate to turn away any business that comes their way. But the paradoxical truth is you'll not only command higher fees as a specialist, you'll get more clients, too."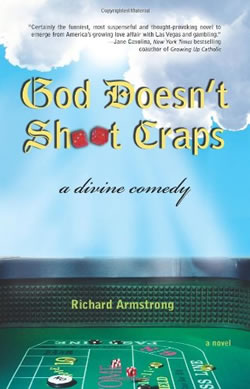 One of the most admirable things about Richard's work is his highly-creative use of words and feelings. So I ask him what fuels his creativity.
"I actually think that creativity is a dangerous word in our business. Mainstream advertising is all about creativity. Direct marketing is all about salesmanship. I wish I had a nickel for every time I was beaten in a direct-mail test because I came up with something 'creative' and my opponent came up with something tried-and-true, like a plastic membership card." It's a great point, and opens the door to our next topic. I ask Richard what he'd say to writers who think "selling" is beneath them.
"I would say 'Get out of this business — now!' Because it's all about salesmanship. Being a good writer is probably the least important skill you can have. Give me a top salesman and I could teach him to be a great copywriter in about a week. But give me a great writer — an Updike or Steinbeck, for example — and it would take a lifetime to make him understand it's not about the writing. You only need to write well enough to make yourself understood."
Richard acknowledges that's a difficult lesson to learn, and even he struggled with it. "I initially saw myself more as a writer than a salesman. Sometimes I'd see my copy beaten by copywriters whose work looked downright illiterate to me. I'd say, 'What's going on here?'"
The secret, he figured out, was that "Those copywriters were better salesmen than I was. But," he adds, "There are other opportunities out there for freelance writers who don't like to 'sell.' You could be a speechwriter, a publicity writer, a technical writer, a grant writer, a white paper writer, a ghostwriter. But when you stop and think about it, these things involve salesmanship, too, don't they? Everybody's selling something all the time. So better to go ahead and make your peace with selling. If it weren't for salesmen, after all, we'd still be in the Stone Age."
Our discussion turns back to creativity, and whether it's more important in the form of writing or selling. Richard points out that advancement as a writer depends largely on creativity, even if writing doesn't necessarily need to be highly-creative.
"We do have to push ourselves to be creative from time to time. We can't always settle for what worked last year because: a) it may not work again this year; and b) we'd never make any real breakthroughs. The copywriters who came up with the first magalog, the first lift letter, the first Video Sales Letter were certainly being creative. But I don't have any secrets for fueling creativity. I wish I did! I have some sympathy for professional athletes who take steroids because if they came up with a pill that boosted creativity, I'd swallow it in a heartbeat!"
This is one of the things most people — myself included — like best about Richard. He's humble, despite his years of Caples awards and other industry acknowledgements. For example, when he talks about how his sales letter for Best Life Magazine won an Echo award for Rodale, he gives the majority of the credit to the designer. So I ask whether the secret to successful freelance writing is more about working with great people, or humility, or perhaps something else.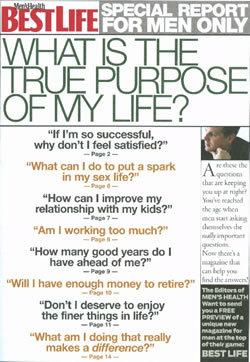 "Well," says Richard, "I've had humility beaten into me by frequent failure. When I see these young gurus on the Internet bragging about how they are God's gift to copywriting, it's because they've tried selling one thing — usually their own product — and it made some money. Good for them! But they should try working for a variety of clients, selling different kinds of products, and competing against the world's best copywriters day in and day out. After a few years of doing that, they may not feel like such geniuses anymore. So I've always operated on the principle that I can't always be brilliant … but I can always be polite, professional, on-time, easy to work with, eager to share the credit for success, and willing to accept the blame for failure. That philosophy has served me well over the past 35 years."
"The other secret," he adds, "is simply patience and persistence. I know that sounds trite, but it's true. This is a business where we fail more often than we succeed. Even the very best copywriters lose more tests than they win. Win two out of ten tests, and you have the makings of a major-league copywriter. Win three out of ten, and you're a Hall of Famer. Win more that and you're among the best who ever lived."
Which means you've got to be able to pick yourself off the ground when things go wrong. Richard agrees. "But so much failure can grind you down. It takes persistence to get knocked down and keep getting back up again. It takes patience to wait for those big wins that eventually will come.
His own secret to getting back up time and again is captured in his favorite quotation on the subject, another from Winston Churchill: "'The secret of success,'" Richard quoted, "'is to keep limping from failure to failure without losing your enthusiasm.' Keep in mind that old Winnie was probably the single most important individual of the 20th Century. Yet he saw his life as an endless string of failures. The key is that he never gave up."
Many clients in the direct-mail industry are likely glad that Richard never gave up. I ask him which client was his favorite to work with.
"It's hard to pick favorites," he says, generously. "But there are five that stand out in my mind: Boardroom, Rodale, Belvoir, Jim Perdiew, and Kay Lautman. (The first three are publishing companies, the last two were direct-mail consultants.)
They all have one thing in common. In each case, I was working with very sophisticated, courageous, intelligent direct marketers who willingly shared their hard-earned knowledge with me and gave me great encouragement … in addition to honest, tough feedback. It's a delight to work with clients who know more about the business than you do. It can be misery to work with those who know less."
Our discussion turns to women in copywriting, since the big names discussed usually tend to be men. "There are a lot of great women copywriters out there, past and present — even more in the future, I presume, as the workplace in general becomes more egalitarian. When I was coming up in the business, two of the best-known copywriters were Judy Hannah Weiss and Linda Wells. Emily Soell worked for an agency (Rapp & Collins), but she was among the top direct-mail copywriters in the country. Today, I'm a great admirer of the work of Carline Anglade-Cole, Kim KrauseSchwalm, Barbara Harrison, and Charmin Sterbenz, to name just a few."
He adds, "I actually think women have a slight advantage over men for two reasons. Most of the consumers out there are women. (As David Ogilvy once said, 'The customer is not an idiot, she's your wife.') Secondly, I think women have an extra measure of empathy, the ability put themselves in someone else's shoes, which is an important talent in copywriting. Plus, this is the ultimate equal-opportunity industry. If you win tests, clients don't care if you're a green hermaphrodite from outer space … they'll still hire you and shower you with money."
Empathy is certainly a key tool in persuasive writing. Richard himself has talked about the importance of not persuading, but resonating with prospects. So I ask for a takeaway tip he'd give a new writer on how to do that.
That's probably why Richard says X-ray vision would be his preferred Super Power, if he could choose one. "When it comes to copywriting, I think I'd want the kind of X-ray vision that allows you to see into someone's soul. If you can simply find out what your customer wants — in his heart of hearts — 98% of your work as a copywriter is done. Outside of work, I think I'd just want the regular kind of X-ray vision that allows you to see underneath someone's clothing. (Just kidding!)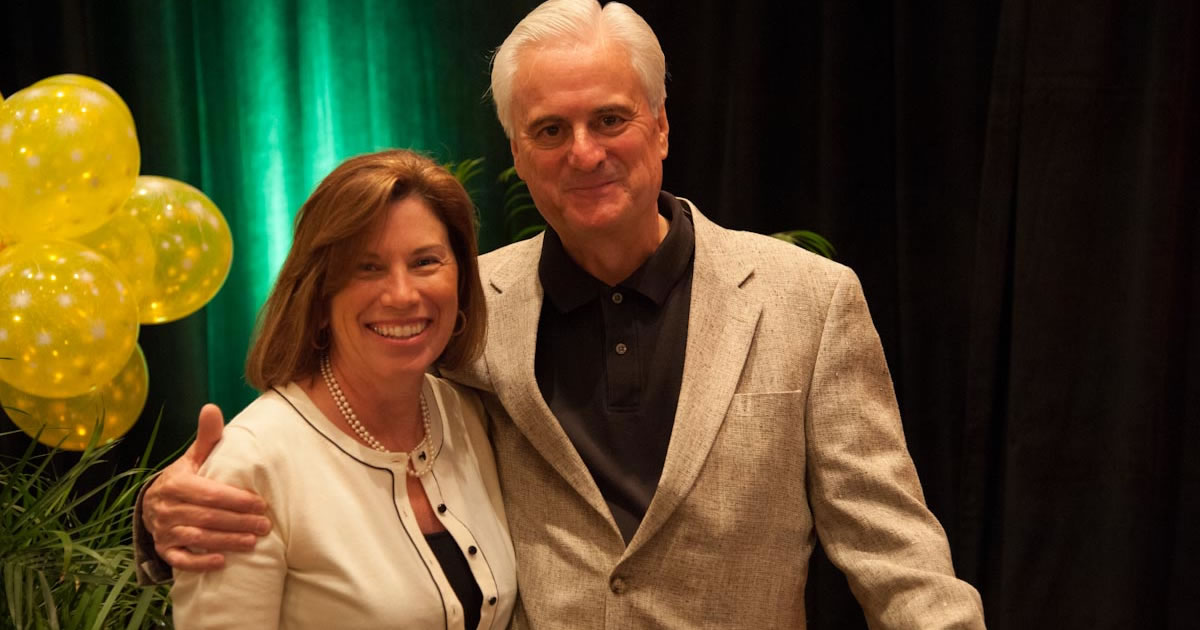 Then he elaborates on the art of truly understanding and writing to your audience. "In another life," says Richard, "I used to be an actor. (Not a very successful one, obviously.) And I've noticed over the years that a lot of copywriters have some acting experience. Because copywriting is very much like the so-called Stanislavsky Method of acting. You need to get under the customer's skin. See the world from their eyes. Feel what they're feeling. Think what they're thinking.
Find out what they really want and then find a way to give it to them.
"After that, it's just a matter of having a friendly conversation with them — in print. You begin the conversation by noticing that they have a problem they need to solve. You ask questions to zero in on what's really bugging them and what would really make them feel better. And you gradually show them how your product is the answer to their prayers. It sounds so easy, doesn't it? But I guess golf looks easy to people who've never tried it, too!"
I'd say most of the direct mail industry, and many clients along the way, are probably delighted Richard's acting career never took off. He remains in high demand across the board, despite very little effort at self-promotion. He doesn't have a blog or publish an e-zine. But that's because it's not necessary. "At this stage of my career, most of my business comes from current clients and referrals."
So I ask his secret for getting clients to come back for more. "Simple: Do good work and win as many tests as you can. It doesn't hurt, as I said before, to be professional, on-time, and easy to work with. When it comes to self-promotion, I've always favored publicity over advertising, direct mail (ironically), or cold calling (ugh)."
As an afterthought, he adds, "Because when clients come to you, you're in a stronger bargaining position than when you go to them, hat in hand, begging for work. So I used to give a lot of speeches, enter award shows (and win!), and write articles for the trade press. Nowadays, my self-promotion is confined to my website (www.freesamplebook.com) where I give away an ebook called 'My First 40 Years in Junk Mail' that's kind of a cross between a portfolio of samples and an autobiography. I've had about 8,000 people download it in the past few years, which isn't bad."
Another way Richard contrasts with writers at his high level of skill is that he doesn't subcontract. He considers himself a bit of a loner, and doesn't even care much for talking on the telephone. So I ask him in what capacity he works or networks with other freelancers, and especially other writers.
"I'm afraid I'm a bit of a loner in this regard. I don't even like talking on the telephone all that much. About the only thing I do in the way of socializing with other copywriters right now is attend seminars and workshops when the topic interests me or when I think I can get some kind of competitive advantage by learning a new trick. After so many years in the business, however, I know a lot of my fellow freelancers personally, and I email them frequently with questions, advice, or plain old gossip!"
Some of those friends in the direct mail business are also past clients. One of Richard's satisfied clients, Elizabeth Eversen, from Affinity Group, Inc. says he's a delight to work with. "No stress or drama." I mention this to Richard, and he emphasizes how important it is to be easy to work with.
"[That's] remarkably important to clients. First and foremost, they want somebody who can beat their control and win tests. But if you're a jerk, a drama queen, or an all-round pain in the butt, they'll actually root for you to lose so they won't have to deal with you anymore. I've actually had clients say to me in so many words, 'We hope you win, because we're sick of so-and-so.'"
But he adds, "The reverse is also true. If you're easy to work with, if you follow direction, if you submit your copy on time, if you accept feedback and criticism gracefully, they'll do everything in their power to help you win so they can continue to work with you. They'll even give you a second, third, or fourth chance to succeed. If you're a pain in the neck, they'll give you one chance … then they'll give you the boot!"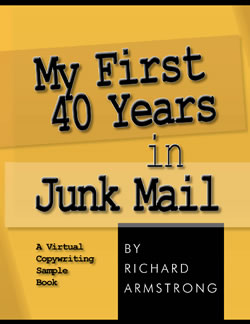 That's advice every new writer should note. It's right in line with Richard's values regarding the importance of empowering people to believe they can write for a living.
On a final note, here's what he says is key to self confidence, particularly if you've been struggling with getting your writing career launched:
"First of all, you're going to have to get out there and do it. There comes a time when you have to stop reading, studying, taking classes, and so forth. Get yourself a client and get your feet wet. Don't expect to succeed right away. In fact, if you succeed right away, it's a bad thing because you'll start to think you know everything … and you don't. Be humble. Be willing to learn from people with more experience, including your clients. Learn from your failures. When you finally have a major success — and you will! When you do, make sure everyone in the world hears about it!"
This interview was previously published in the May, 2013 issue of Barefoot Writer. To read more interviews from fellow Barefoot Writers be sure to check out The Barefoot Writer's Club.

The Professional Writers' Alliance
At last, a professional organization that caters to the needs of direct-response industry writers. Find out how membership can change the course of your career. Learn More »

Published: May 28, 2018