Interview with a Barefoot Writer: Steenie Harvey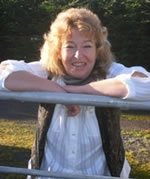 Steenie Harvey
"Traveling around the world and earning enough to live what some people would perhaps regard as a bohemian lifestyle is success enough for me. Few people can say 'I'm doing exactly what I want.'"
— Steenie Harvey, Travel Writer
Steenie Harvey is the type of person who can fascinate you even as she describes a simple trip to the bathroom. She's a writer who appears completely comfortable in own skin, and writes with the kind of wisdom — and wit — that can only be learned from years on the road. Her story is famous among travel writers both for her current success and her unlikely background.
At only 15, Steenie left school to live in a hippy squat in London. Her many past vocations include tending bar in a strip joint, inspecting bolts at a factory, and waitressing in a Chinese restaurant. She also remembers clerking at a print shop where her two main tasks were typing invoices and lying to customers about why their orders weren't ready.
Yet today she visits hideaways in the Indian Ocean … jets to Paris for concerts … has been to Malta three times … recently took a 10-day expenses-paid jaunt to Borneo.
Steenie is a living testament to the fact it doesn't take years to cash in on the romantic life of a travel writer, and that anyone from any background can succeed, provided you have a bit of tenacity. For this interview, I connected with her from her home in Boyle, Ireland where she'd just returned after a lengthy, all-expenses-paid trip to Mexico.
Her real-life start into the world of travel writing sounds like it's straight out of a novel, where the heroine tumbles into fortune purely by chance. It began in 1988, when Steenie moved to the rural West of Ireland from England. She had the vague idea she'd live what she calls a "self-sufficient lifestyle." Says Steenie, "My plan for extra income was to sell the excess produce from the hoped-for organic garden and through craftwork. Typical drippy hippy dream that didn't work out. Anything that grew was eaten by slugs and rabbits, and it took me six months to hook a rug that wasn't much bigger than a bathroom mat."
Her money supply began to dwindle right about the time she found an old manual typewriter in the garden shed. She hauled it out, cleaned it up, and decided to have a go at writing.
Turned out, Steenie was a natural. Her first story — a humor piece on buying an Irish cottage — was a success.
"It was published by the property editor of an English newspaper called The Independent," recalls Steenie, "And I got a check for the equivalent of $270 — plus a commission to write a factual article on real estate in Ireland."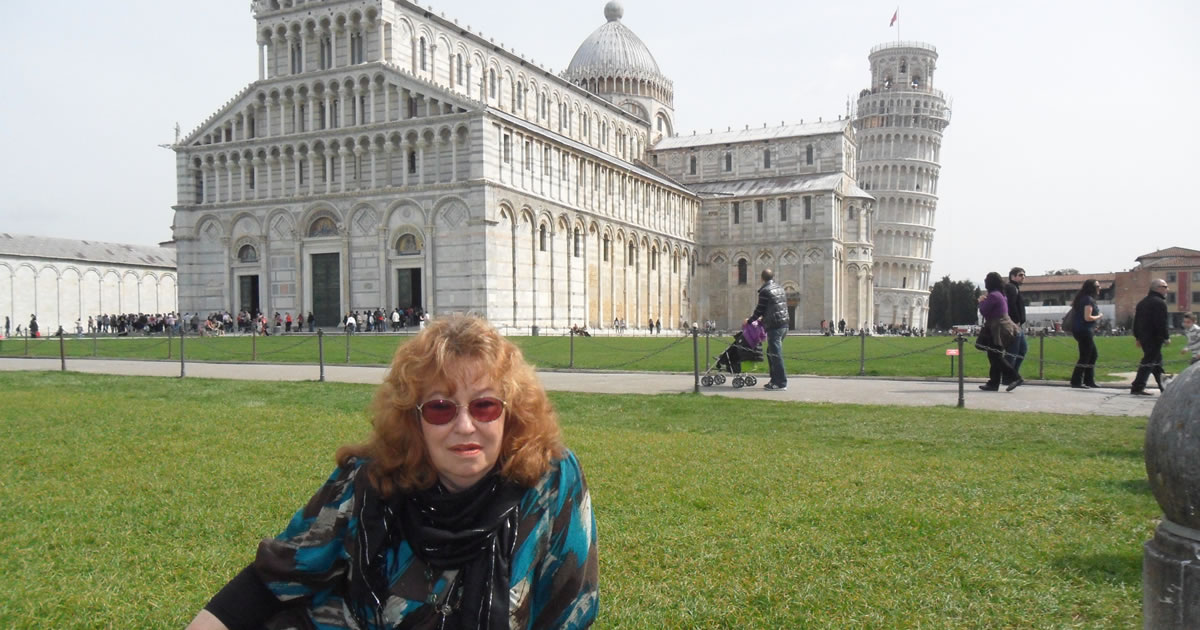 That was her turning point. Craft and organic gardening dreams were pushed aside in favor of this bigger, and somewhat easier opportunity. "In the early days, I wrote about anything and everything Irish-related for publications in the U.S., the U.K., and Australia, as well as stories from my adopted part of the world for Dublin-based newspapers. I'd been writing for around three years when I got a commission from the travel editor of the Irish Press to write about Lisbon in Portugal. I was planning to go there for a vacation anyway, so that turned out to be a sweet deal." It was her first taste of the many bonus perks that come with the travel writer's life.
Today, Steenie writes for multiple publications, and is International Living's Roving Euro Editor — though she frequently explores even further afield.
As far as Steenie is concerned, it's the best job in the world. Now that she's been a travel writer for over 20 years, there are very few things she'd do differently — save for upgrading some of her early adventures. "I didn't know anything about the world of 'travel hospitality' for the first few years when I started writing," says Steenie. "If I had, I might have avoided the discomfort of sleeping in the car to save money on some trips within Ireland!"
As her car-lodging attests, Steenie isn't the type of traveler to tuck tail in the face of challenge — or discomfort. Yet, her hardest lesson to date has been a relatively painless one: "Very few publications want to hear about the negatives of travel. Unlike in Victorian times when writers such as Mark Twain could delight readers with the ghastliness of some of the places he visited, nowadays everything has to be sanitized. That seems unfair to the reader, but maybe it's the case that too many people now prefer the illusions of travel to the reality. Chances are that you're not going to get pick-pocketed on a Lisbon tram. Or meet neo-Nazis carrying butchers' knives on a train in the old East Germany. But personally, I'd rather know that the possibility is there." She lives up to this ideal, having never been content with simply checking off sites on a must-see list for tourists. Her greatest strength lies in digging out the cracks of places and writing about real life on the inside, beyond what's commonly known about a destination.
In one of her recent essays, Steenie echoed this thought by lamenting the people who only "consume sights" instead of savoring the heart and soul of a place. That's where her travel writing is key. Even if travel publications prefer a positive light on copy they publish, it's rare that she writes about mainstream sights, expensive restaurants, or contrived experiences. As Steenie says, "They're tourist illusions — and I'm happier in the real world." Meaning she'd rather be talking to the bag lady in a bus shelter than sit bored at a high-priced dinner-and-dancing show put on in the name of culture.
Despite her frequent travels, or maybe because of them, she doesn't have a favorite travel locale. "None in particular," she told me. "But my heart and soul are rooted in Europe. Arty and historic cities with lots of quirks, late-night bars, and an alternative vibe appeal the most. If I'm allowed two options, I'll go with Berlin and Barcelona."
Small wonder she loves Berlin. On one recent trip, Steenie had the option to savor opposite ends of the writer's life — a six-figure champagne brunch at the Adlon hotel, or a visit to the Volkskuche (People's Kitchen) where $6.35 got her veggie pizza, two glasses of wine, and a beer. She went with the latter and spent the morning in friendly conversation with locals.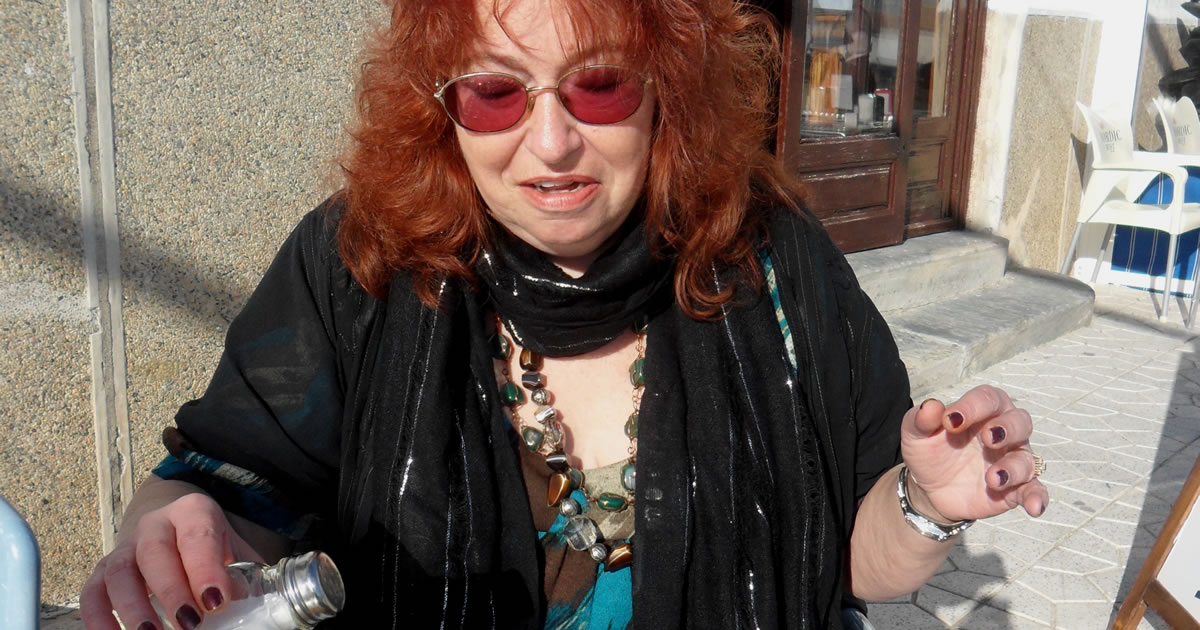 Part of what she loves about visiting under-the radar places is that she's not "treated as a walking ATM." It's also what her editors prefer. Though admittedly, Steenie's love for unpredictable adventure has led to some gastronomically courageous experiences. When asked about the strangest thing she's ever eaten while on assignment travel writing, she shared that, "The sea slugs in China were incredibly nasty, but a jellyfish in Borneo was probably the worst shock to the digestive system. It was pale yellow, quivering, and still alive." This happened during a press trip with five other U.K. writers. "One night, we went to a Chinese restaurant where none of the staff spoke English and the menu was entirely in Chinese. We all ordered blindly, and made a vow that whatever vile horrors came out the kitchen, we would at least sample a taste."
Wiggly jellyfish aside, Steenie enjoys an endless stream of writing perks, or "Glicken" as we like to say here at The Barefoot Writer. Besides getting to travel the world for free all the time, she points out that, "Being a travel writer gives you a kind of carte blanche to ask for things that aren't usually available to tourists. Before the Iceland trip, I saw there would be a Viking Festival during the time I was there." Vikings and Norse mythology are among Steenie's passions, so she wrote the organizer to ask if she could take part in the celebration instead of just watching. "And, I asked if they could they lend me a costume. When he said 'yes', I was thrilled. I turned up with fond visions of playing the part of a Valkyrie shield maiden. I'd forgotten that the Vikings had slave wenches. I spent the day wearing a shapeless mud-green shift and a scratchy brown cloak. Great fun, though!"
Her attitude keeps her going, even when travel accommodations go wrong or writing deadlines loom close. "The hardest thing about travel writing," confesses Steenie, "is to keep focus and not get distracted. The Internet can sometimes be more of a curse than a blessing, especially so when I'm doing research. When I'm online, I'm tempted to stray down paths that have absolutely nothing to do with the job in hand. Down on the taskbar I might have anything from Sylvia Plath's poetry to the day's horse-racing cards."
In contrast, she says, "The easiest part is when I'm writing about somewhere or something I'm passionate about — the words all seem to flow out like magic then."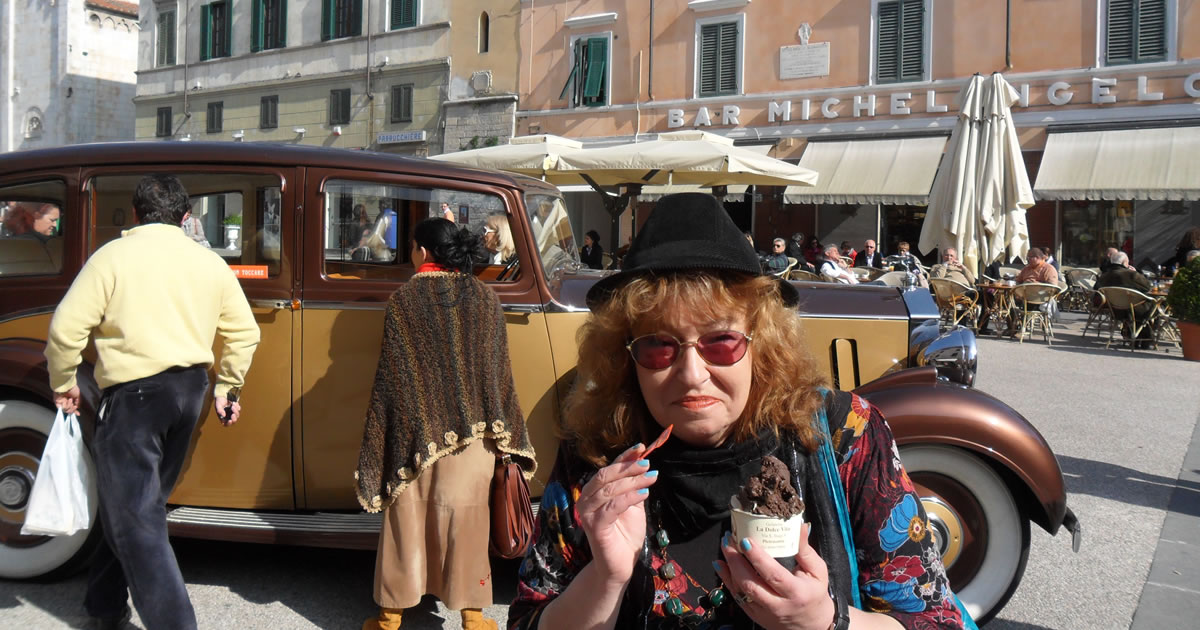 You'd think someone who embarks on constant, monthly travel and meets writing deadlines in her off-weeks would be particularly organized, but Steenie asserts that's not the case with her. "My partner does my accounts and tax returns, which helps a lot. In truth, I am highly disorganized. What I laughingly call my 'office' more resembles the inside of a garbage truck."
But it's this lack of need to have everything in check that gives Steenie carte blanche for adventure. "When a trip is coming up, I always have the first night's accommodation sorted, but I often make bookings while on the road or trust to luck in finding somewhere affordable. Sometimes the luck runs out. Spending the night in a railwaymen's hostel in Hungary isn't an experience I'm desperate to repeat!"
Steenie has traveled through and written about every kind of escapade imaginable. In Vietnam, she experienced the heart-racing adventure of crossing the road in Hanoi's old quarter — a place where rickshaw bicycles, motorbikes, and scooters regard traffic signals as mere suggestions. She's savored the mushroom-scented woods of Lithuania, where farmers ride on haycarts and pagan festivals abound. She's taken in the teeming country of Southern India where spice-laden breezes dance across drowsy Arabian Sea beaches and through a canopy of banana, coconut, and mango trees.
She's written content about everything from being a budget-conscious globe trotter to finding affordable real estate in the midst of spellbinding Irish market towns, where modern, three-bedroom bungalows are tucked amongst mountains, lakes, and legends.
She's also experienced the mythical stuff of romance on the island of Crete, where the 5,000-year-old town of Chania offers up an old Venetian harbor, strung up with garlands of colored light-bulbs that reflect on crimson waves at dusk.
But one of the best perks Steenie enjoys from her travel-oriented lifestyle is getting to crisscross countries in pursuit of her favorite musician, Nick Cave. "Nick Cave is my demon lover," she jokes. "He's also something of an obsession — my personal friends on Facebook can attest to that. Nick is an Australian-born songwriter and musician with a dark turn of mind who delivers everything from murder ballads to lusty love songs, filthy-mouthed rage, and contemplative visions of nihilistic despair. He's been around since the early 1980s, part of the alternative goth-rock scene in the U.K. I try to go to gigs as often as possible. I saw him in Paris this February, and have tickets for Manchester and Luxembourg later in the year."
It's a lifestyle she'd never give up, even though she never suffered the kind of bad-boss experience many beginning writers are desperate to escape. Though she did have some questionable bosses … "Back in England, I once worked in a pub where the landlord was forever trying to persuade the female staff to go upstairs and watch porn movies with him. He'd undoubtedly get sued for sexual harassment nowadays. But that was the raunchy 1970s, and things were far less PC then. Speaking as a female from a working class background, stuff like that was no big deal. You just laughed off the antics of predatory men in the workplace."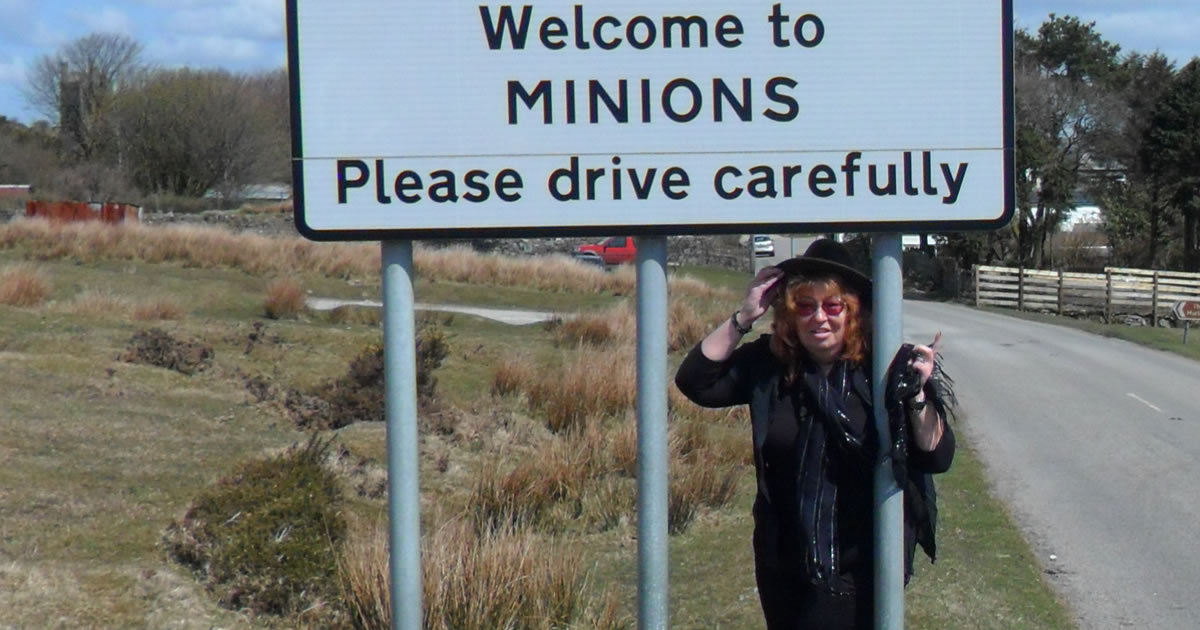 But as far as writing clients go, she's had a good run of luck. "I've never had the kind of horrible editor that tempts you to stick pins in a voodoo doll. Demanding, yes — but it's their job to demand."
Undoubtedly, her editors keep coming back for more of Steenie's sharp wit and ability to weave a hefty dose of reality throughout her romantic descriptions of life as a travel writer. Indeed, her account of the healing thermal waters at Polichnitos, in the far south of Lesbos in Greece, was that she nearly got boiled alive.
The writing itself comes pretty easily for Steenie, provided she enjoys her topic. She doesn't follow any kind of writing rituals, not being superstitious, but she does aim for contentment. That is, contentment over success. "I don't regard life — mine or anyone else's — as being a success or a failure. Nor do I measure success by wealth or public recognition. Sure, it gives me a warm glow when people say things like 'I loved your story on xxx', but I'm not particularly egotistical … Traveling around the world and earning enough to live what some people would perhaps regard as a bohemian lifestyle is success enough for me. Few people can say 'I'm doing exactly what I want.'"
Maybe the fact that Steenie is following her life's passion can explain her response when I asked her what she'd be if she were a type of food. "Something deliciously decadent, I hope. Maybe bittersweet dark chocolate spiked with chili."
And perhaps it's that spike of chili that's telling of her adventurous spirit. Steenie was undoubtedly born with a certain zest for escapades that push the limits of normal boundaries. Consider her confession of the naughtiest thing she ever did growing up … "I was an evil child, so there's a long list to choose from. No doubt this makes me sound like a secret sadist, but you know those little candied eggs you get at Easter that look like birds' eggs? Well, I found a bird's nest with real eggs in it in our back garden — I think I was about 8 years old. I can still picture the tears and the horror on my younger sister's face after she bit into one. It's a sad thing to say, but I also remember the pleasure I got from fooling her into doing it."
Despite her success and ease of entry, Steenie's not blind to what it takes to get started as a travel writer. "Don't try to run before you can walk. Target smaller publications, local publications, with ideas and stories from your own hometown or region." She goes on to point out just how easy this is. "Editors always love 'insider' stories, and you're the best person to write them."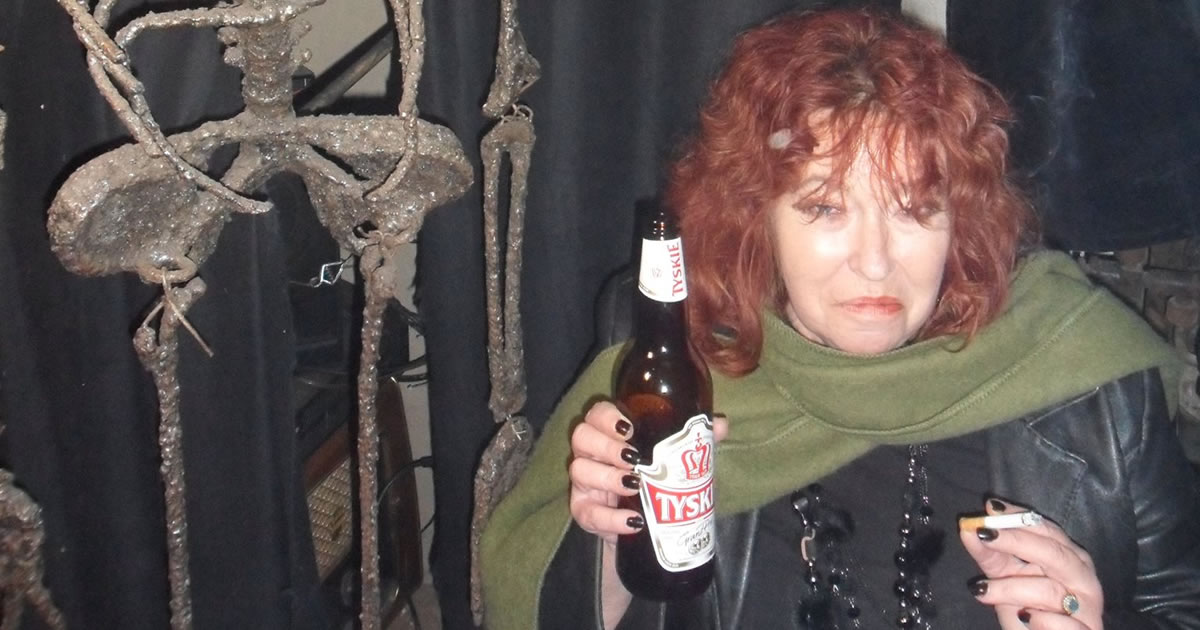 Before signing off, she offers one last piece of advice for new travel writers: "Just because a story doesn't seem travel-related, don't pass it by. Along with real estate stories, I've written lots of what would fall into the general interest category. It's wonderful to travel, but it's wonderful to get a check too!"
When she's not traveling, you'll find Steenie enjoying her adopted country of Ireland, traipsing through color-drenched towns and craggy promontories that jut into the Atlantic.
This interview was previously published in the July, 2013 issue of Barefoot Writer. To read more interviews from fellow Barefoot Writers be sure to check out The Barefoot Writer's Club.
Get $25,000 of Training for $1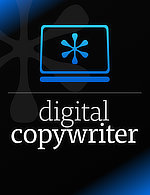 Right now, you can access over $25,000 worth of training webinars — along with templates, pricing guides, invoicing tools, "how-to" videos, and much, much more — to help you launch your paid web-writing career.
Wealthy Web Writer has everything you'll need to become a paid web writer.
And during this 30-day "test-drive," you can get access to the entire site for just $1.
Launch your paid web writing career for $1.
Published: May 16, 2018