The Easy Way to Live The Writer's Life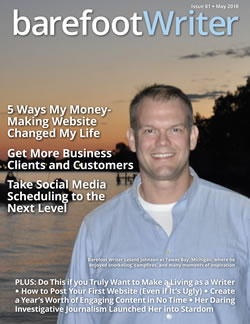 I lived in a five-star hotel during college.
It was only for a month during my senior year, but it was a great month. Some renovations in my dorm took longer than planned, so about 200 students got relocated to a life of room service and maids. Not a bad break from ramen noodles and quarter-slot laundromats.
By the time the dorms were ready, I'd moved quite a bit of stuff into my hotel room. It took me five trips to move it all back to my dorm, walking the two blocks to campus and back, slogging duffel bags and heavy texts through the Houston heat.
Sweaty, exhausted, and drained, I collapsed into a chair in the hotel lobby after turning in my key.
As I sat there recovering, the elevator dinged. Out stepped my friend Pedro, followed by a bellhop with a full cart. I watched as the bellhop loaded Pedro's things into a waiting cab. My mouth was still hanging open when Pedro turned to smile and wave at me as the cab sped off.
What still rankles me so many years after this incident is that it didn't even occur to me to get outside help. I could say I saved money by doing it myself (probably a whopping $15). I could say I got good exercise from schlepping back and forth so many times.
But those things don't matter. What mattered that day was getting from point A to point B, and it would have been nice to do it without feeling depleted and foolish at the end.
I've since taken that lesson and made it a goal in life to always look for the easy way to do things.
Which is also how I approach the world of Barefoot Writing …
Look, if someone has been there before us, learned the hard lessons for us, and figured out the quickest, easiest, most satisfying way to get from one point to another … then that's the person to listen to!
Our May issue features several of those people — including six-figure blogger Holly Hanna and well-respected Web copywriter Nick Usborne. Both share their journey to writing high-paying websites, including hard-won "easy tips" they learned along the way.
You'll also get a lot out of our other easy-path tips this month, including how to
post your first website (even if it's ugly),
create a year's worth of engaging content in no time,
take social media scheduling to the next level, and
get more business clients and customers.
Plus so much more!
Click here now to read your May 2018 issue of Barefoot Writer.
Ready to get paid to write, be your own boss, and work from home? A lot of writers want this. What holds them back is not knowing what to do first …
Let me introduce you to the Barefoot Writer Club. It's a group of writers who have crossed over from "dreamer status" to actually earning REAL money for their writing.
The Barefoot Writer Club puts you on the fast-track to living the writer's life of your dreams. It gives you proven strategies that make all the difference when you're just starting out and as you grow your writing career. Strategies like …
Where to find guaranteed writing gigs that pay, and pay well
Plans you can follow to make a living as a writer
Tips to jump-start your creativity
Advice on how to write your way to a passive income
Stories and advice from your fellow writers (successful, independent, money-making writers!)
Proven productivity tips
Roadmaps on how to build a writing platform so people who'll pay you to write can find you
And so much more beyond that! The Barefoot Writer Club also gives you private access to our Members-Only Website, plus a Members-Only Facebook page where you can ask for and get advice on your writing goals. And don't forget all the discounts, exclusively for Club Members!
Hands down, it's THE way to get a profitable writing career up and running. Proven, tested, and — most important — a heck of a lot of FUN. Get the details here.

The Professional Writers' Alliance
At last, a professional organization that caters to the needs of direct-response industry writers. Find out how membership can change the course of your career. Learn More »

Published: May 4, 2018