How AWAI Member Liz Farr Is Turning Her Past Experience into Multiple Copywriting Jobs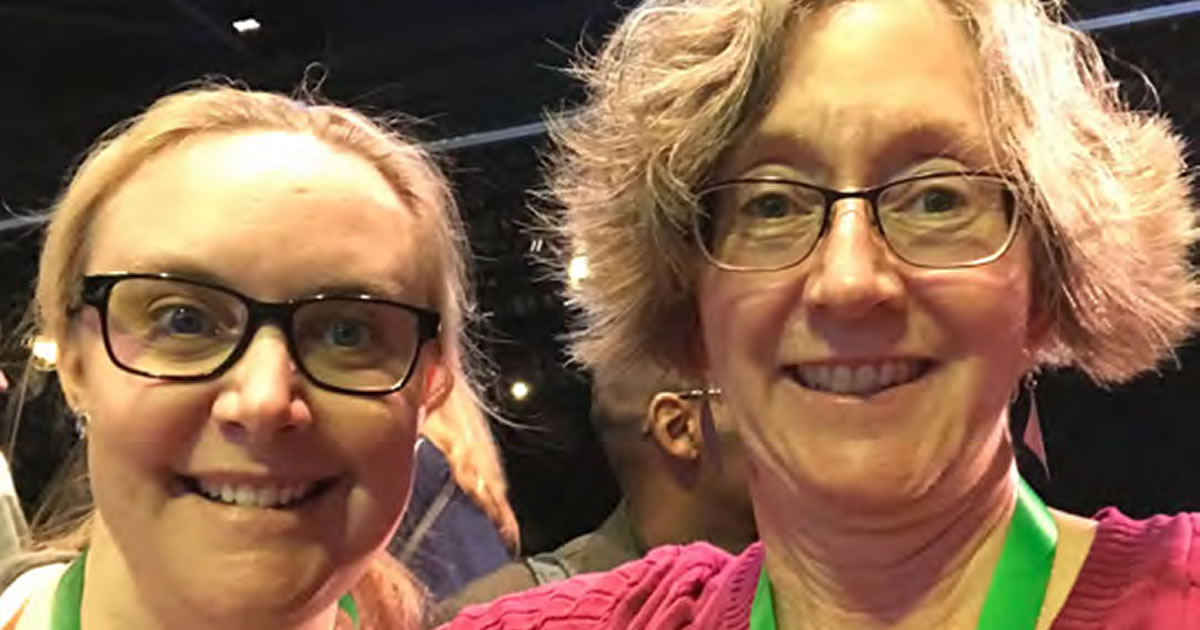 Liz Farr with Steph Hinds, founder of Growthwise in Australia at a QuickBooks event
When Liz Farr decided to pursue copywriting a couple of years back, one of her goals was to retire from working as a Certified Public Accountant. In December 2017, she did just that … choosing to focus 100% on her writing business, which specializes in the accounting market.
After 11 years on the job, she couldn't be happier that she never will have to spend long days crunching numbers during tax season.
Liz's story is a great example of how you can use your prior work experience as a launchpad to a great lifestyle as a highly-paid writer.
She recently answered questions about how she got started and how her quest for the writer's life is progressing.
What was your background before you started freelance copywriting?

I've worked in tax and accounting since 2002 and have been a Certified Public Accountant (CPA) since 2005. But I've also worked as a biochemist doing neuroscience research, helped with design and implementation of a relational database, studied linguistics at the graduate level, worked as a back-of-the-book indexer, and even sold Herbalife, in addition to being a stay-at-home mom.

That's quite the background! How did you get into copywriting?

After too many years of long hours during tax season, I was burned out. Every time I thought about doing tax returns for the rest of my life, it was like looking down a dark tunnel with no exit. I wanted to find something new that I could slide into without another college degree when AWAI's Accelerated Program for Six-Figure Copywriting fell into my lap.

I had always gotten kudos at work for my writing, so it was a natural fit. I started out by writing blog posts on tax and accounting topics, which is still the bulk of my business. I've also been writing for several online accounting websites, which has given me the excuse to talk to thought leaders in accounting from around the world.

My AWAI training has given me a tremendous advantage. Many accountants write to impress their readers with how smart they are. From AWAI, I learned to write clearly so the readers feel smart themselves when they understand complicated tax and accounting concepts. I also love helping my web copy clients key in on what makes their practice different from all others out there.

Did you have any other training besides The Accelerated Program?

I joined Circle of Success, so I have access to an incredible range of courses and expertise, including all the Business-to-Business (B2B) courses, which helped me understand the nuances of writing for decision makers in businesses.

Nick Usborne's Web Copy 2.0 has been a life-changer for me by creating the context for writing on the Web. I also love his course on Profitable Freelancing for the help with mindset.

Ilise Benun's pricing course helped me figure out a framework and strategy for pricing and earning a living.

And my new absolute favorites are Brian Clark's Content Marketing and Content Marketing Strategist courses for the empathy-driven strategy they teach.

Joining COS was the best investment I've ever made.

Also, I've been to Bootcamp every year since 2014, and will be there again this year, for my fifth consecutive year. And this year, I went to Web Copy Intensive for the first time. I plan on going again each year, now that I'm no longer chained to a computer during tax season. It's changing the way I'm approaching writing for my web clients, and gave me the training I need to propose new projects to clients.

It sounds like you're successfully combining web writing and B2B writing skills?

The Web is the center of everything these days, and my CPA niche is B2B, so it makes sense to have training in both. The empathy strategy I've been learning from Brian Clark is effective for my niche. The B2B Writing Success community embraces the same kind of low-hype, high-empathy, clear and practical writing I do. I also know whenever I have a question, I'll get a quick and helpful response from the member Facebook community.

Being a member of B2B Writing Success is just one more support that keeps me going. It's a like-minded community of people who speak my language, and who all do the same kinds of projects I do.

Plus, I've learned a lot from Steve Slaunwhite on becoming a successful B2B writer. His recent article on headlines was also a great reminder for making sure my headlines are the best they can be. His articles on productivity and reducing deadline stress have been real life-savers as I move into being a full-time writer.

How are you enjoying the transition to full-time copywriter?

After two years of freelancing and working as a CPA, I'm happy to now be retired permanently from public accounting. My writing clients are thrilled that I'll be able to do more work for them. And I'm looking forward to the flexibility of a job that lets me work anywhere I have an internet connection.

I was more than a little apprehensive when I made the leap from work as a CPA and part-time writer to "just" writing full-time at the beginning of the year. But I'm now pretty much fully booked with ongoing monthly work for a group of great clients. I'm on track to make more this year than I did as a CPA.

Freedom and more money … it's hard to beat that! But I understand your writing has opened even more doors for you?

Just a few weeks ago, I was asked to help a thought leader in accounting based in the UK finish his first book. I gave him a few comments to make it stronger, pointed out a few typos, and gave him a testimonial that will appear in the printed version, available on Amazon, in about a month.

In June, I'll be at an accounting conference in Atlanta, where I'll meet (among others) a visionary from Australia who I've been following for over a year. Can't wait to meet her! And I'll meet the marketing manager for my newest client, who's been named one of the "Top 40 Under 40" in accounting for the last several years.

So, not only am I connected with the thought leaders and visionaries and experts in copywriting, but also those from the world of accounting. I never would have met any of these brilliant people if I were not a writer. It's an exciting time for me!

When did you know you had "made it" as a freelancer?

I've had three moments, actually. The first was when an article I'd written in the Journal of Accountancy went live and it was tweeted out by people I'd never heard of. That was actually how I found out it had gone live. I was on vacation at the time, and it was a bizarre experience to see my name across the Twittersphere for the first time.

My second moment came when I attended a big QuickBooks conference, and met several of the innovative accountants from around the world that I've written about. Seeing their eyes light up when they saw my name, along with the warm hugs that quickly followed, told me that I'm on the right path and doing exactly what I should be doing.

Finally, I was recently interviewed by Intuit, the business and financial software company. Even though Intuit is a huge company, at its core, the focus is on small businesses and the entrepreneurs behind them.

For example, I was at QuickBooks Connect in San Jose, along with 5,000 other people, and the CEO of Intuit, Brad Smith, was willing to wait for a long line of people to take selfies with him (myself included). The people behind Intuit are caring and kind.

I'm a regular contributor to Intuit's Firm of the Future blog. In the last few weeks, I've done website copy for two accounting firms — one in Florida and one in California. I've been ghostwriting blog posts for the Florida firm for about nine months.

What else are you up to today?

I write posts for a local CPA firm. I'll be helping another client who does websites and online marketing for accountants with a newsletter product he's launching.

I have enough steady retainer client work to cover my monthly expenses, and my new work lets me have a relatively flexible schedule, so I plan to travel with my husband in the coming year (he's a teacher who has summers off).

What's your advice to someone just starting out?

Start from where you are. Keep following hunches that take you in the right direction. Think less about the money and freedom (though those are great!) and more about how you can serve your clients and their customers best. An accountant I follow, Marty McCutchen in Dallas, said it best in a recent webinar: he seeks out new staff who have a servant's heart because the skills can be learned.
Do you have any questions about how you could use your work experience to launch your writer's life? Let us know in the comments below so we can guide you.

B2B Writing Success: The Complete Guide to Making More Money as a Top B2B Writer
The business-to-business industry is desperate for trained, professional writers. Learn to write solid B2B copy, land more clients, and be constantly in demand. For beginning and advanced writers. Learn More »

Published: May 1, 2018