What Bob Bly and Princess Leia Have in Common … And How It Led to a Memorable Bootcamp Moment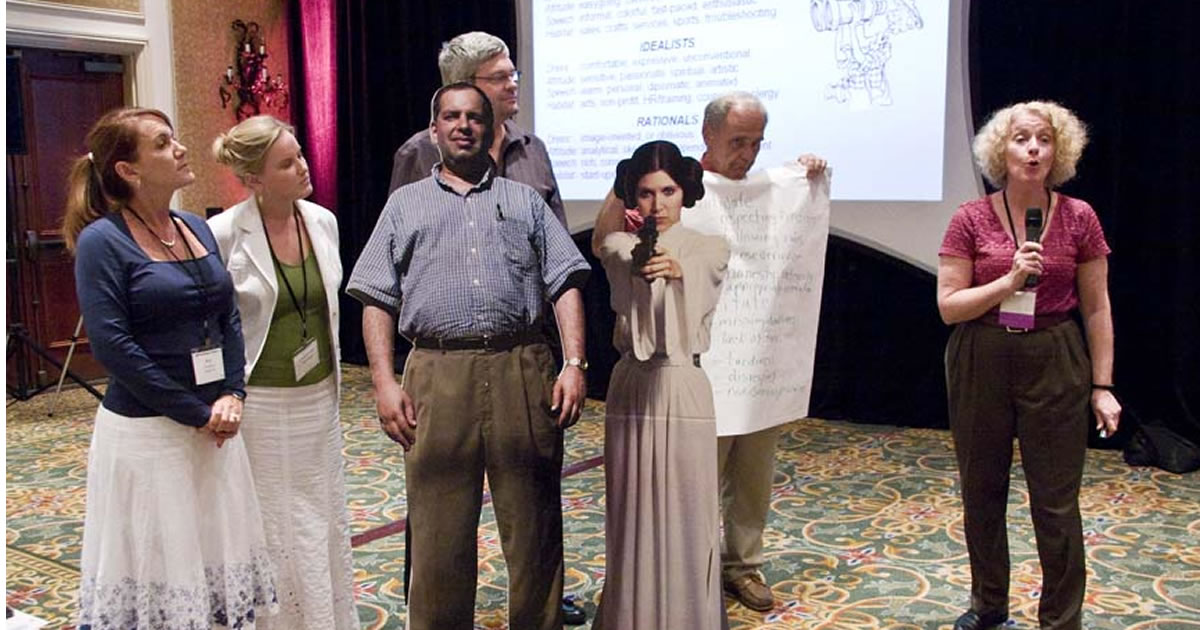 Star Wars Day is the perfect opportunity to look back at a great memory from Bootcamp 2007.
Ilise Benun and Jeff Johannigman had given a presentation on Selling Yourself: Speed Read Your Prospects and They'll Hire You More Quickly!
They wanted to give the Copywriting Bootcamp attendees an understanding of the four main temperaments so they could use the information to be more effective in their marketing efforts.
As part of their clever presentation, they'd displayed large cardboard cut-outs of key Star Wars characters and their copywriting counterparts.
First up were the Guardians, people who believe in duty and service, and are conscientious, detail-oriented, and productive.
Famous Guardians included Princess Leia and "America's Top Copywriter" Bob Bly.
The presentation was a huge success and the cardboard cut-outs stayed front and center throughout the rest of the event.
At the Awards Luncheon on the final day of Bootcamp, one aspiring copywriter said he really, really wanted the Bob Bly large cut-out … that having Bob in his home office would help bring him success.
Other attendees quickly chimed in … And that's when Conference & Events Director Denise Ford jumped in. She spontaneously announced the only solution was an auction and opened up bidding!
With 300 people in the Ballroom, bidding quickly escalated.
When it looked like the eager young man who'd started it all would need to drop out, Bob Bly stepped in on his behalf and won the cardboard cut-out with a bid that exceeded $100. He even paid for the shipping to the young man's home office!
It was a hilarious and heartfelt moment. Bob made that young man's day — and the day of everyone else who was watching. Not really a surprise. After all, he's a Guardian.
It's impossible to explain how dedicated the experts are to the success of the attendees … but I'd say Bob Bly opening his wallet to make that young man's dreams come true was a memorable example.
The thing about Bootcamp is that you never know what's going to happen. You need to put yourself in the right space … and let spontaneity and serendipity work in your favor.
Don't miss your chance to have the powerful "Force" of these dedicated experts behind you. Sign up today you must or the FastTrack to Copywriting Success Bootcamp and Job Fair.

The Professional Writers' Alliance
At last, a professional organization that caters to the needs of direct-response industry writers. Find out how membership can change the course of your career. Learn More »

Published: May 4, 2018