Veteran Freelancer Pinpoints Copywriting as the Smartest Career Option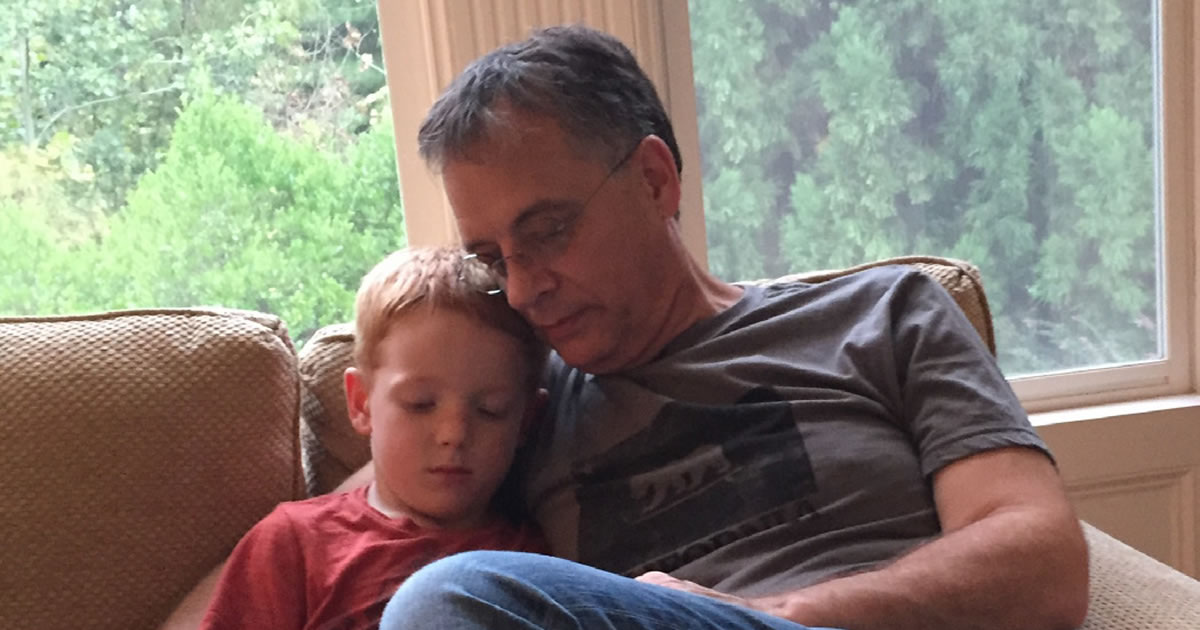 Dave's writing business affords him plenty of free time to spend doing things with his grandson
Dave Vranicar has seen his share of employment options, from low-wage freelance jobs to working for start-ups to positions in Fortune 50-ranked companies.
From those varied experiences came the recognition that writing for the copywriting industry would give him all he wanted: freedom, flexibility, and a proven way to continue earning money long into his golden years. Discover how Dave is making the freelance copywriting lifestyle work for him.
How did you get your start as a freelancer?

I was a freelance magazine writer in the late '70s. I had a graduate degree in journalism, and I loved the variety of the work. But I had small kids. It was pre-internet. In the '70s, I spent a week on an article for Family Handyman that paid about $300.

Freelancing for small magazines just didn't pay enough. So I got a corporate job that started at $14,000 a year. I spent the next 30 years working in PR, then marketing, then sales. I worked for 14 different tech companies, mostly in software.

I returned to freelancing in 2011, at the age of 61. We were three years into the Great Recession. I knew I was going to have a hard time finding a regular job, but I wanted to keep working and earning money. My boss liked my work and knew I was thinking about starting a business. He offered to hire me as a contractor to write marketing content.

What are your current writing interests?

I write sales proposals, video scripts, cold email messages, email-lead nurturing, web pages, lead magnets, and white papers.

What do you do in your business besides write?

I offer sales and marketing consulting for Business-to-Business (B2B) software and tech companies. Most of the companies sell high-ticket products that involve complex buying decisions. I work with some other clients, but this is my niche and sweet spot.

What lessons has your work life taught you?

The most important lesson is to never stop growing and learning. Change is a constant. So don't try to resist it. Embrace it. Find ways to take advantage of it. Watch trends. Read like crazy. Be a sponge. Try to get ahead of change. Do the hard work. Establish strong routines and habits. These sound like clichés, but they've served me very well.

What are the biggest challenges you've faced in your freelance career?

It's always been two things: finding effective ways to market myself, and finding clients that are a good fit.

Freelancers all have different definitions of success. What's yours?

For me, success means doing interesting work. Continuous growth. Working with good people. And making good money at it.

What do you consider the best part of the living the writer's life?

Avoiding meetings and company politics. Traveling less. Being able to kick the soccer ball with my grandson.

What's your advice to newcomers?

Some of the best career advice I ever read was from Harold Geneen, former CEO of ITT. He said, "At work you're always paid in two denominations. The first is money. The second is experience. Of the two, experience is much more valuable."

Today, freelancing is vastly easier than it was in the '70s. I used to have to go to the reference library and look through thick directories to find the names of prospects and sources. Because research is so much easier now, the barriers to entry are almost zero. Nearly anyone can buy a URL, create a website, and call themselves writers or consultants.

So I see five challenges freelancers must address:

Learn your craft and continue improving it. You must find a valuable niche where you know more than your clients do. As comedian Steve Martin said, "Be so good they can't ignore you."
Keep asking yourself how you can add more measurable value for your clients.
Keep learning as much as you can about topics that add value for your clients.
Differentiate and market yourself. How are you different from other people, in ways your target clients value?
Stay close to revenue. Work only with clients who pay well. Don't work with anyone who doesn't pay promptly. If you have a choice between technical writing, writing marketing content, or doing conversion copywriting, the decision is clear. Go for conversion copywriting. That's because its value is measurable. It generates revenue directly.
Dave's interview was originally published in Barefoot Writer Magazine. For more stories about living the writer's life, paid writing opportunities, productivity tips, and much more, go here to sign up.
Do you have any questions about how you can get started in the B2B industry? Comment below so we can get you the answers.

Modern B2B Copywriting
Learn everything you need to know to succeed as a B2B copywriter from marketing your services to writing copy and everything in between. Learn More »

Published: June 13, 2018